24th Mechanized Brigade named after King Danylo (24-та окрема механізована бригада) is a mechanized brigade of Ukrainian Armed Forces. It's a successor of 24th Infantry Division of Soviet Army, which became part of Ukrainian Armed Forces after the collapse of Soviet Union. The brigade participated in peacekeeping missions in Kosovo, Iraq and numerous exercises abroad. In 2014, the first battalion of 24th Mechanized Brigade was sent to Slavyansk and the second to the border with Russia in Luhansk Region, where it came under artillery fire from Russian. Later, the unit defended Georgievka, where they met 76th AirAssault Division of Russian Army. In 2015, 24th Mechanized Brigade was stripped of all its Soviet honorifics.
UNITREP is our new series focusing on the current status of Ukrainian units. We begin with the Royal Brigade.

1st Mechanized Battalion
First assault battalion was one of the first units that were deployed to Eastern Ukraine in 2014. They later participated in the battle of Greorgievka.

2nd Mechanized Battalion
The unit was deployed to the border with Russia in 2014 and later to Bahmutka Highway.

3rd Mechanized Battalion
Former 3rd Territorial Defense Battalion Volya. The battalion was reformed in the fall 2014 and assigned to 24th Mechanized Brigade.

Tank Battalion
Tank battalion of the brigade equipped with T-72AV tanks.

Artillery Group
Brigade artillery group equipped with 2S1 and 2S3 self-propelled artillery vehicles.

Reconnaissance Company
Brigade scouts. The unit is equipped with BRDM-2s.

Anti-Aircraft Company
The company provides protection against danger from the air. It's equipped with 2K22 Tunguska and 2K35 Strela-10 vehicles.

Support units
This includes all rear elements such as engineers, communication, medics, and material support unit.
In summer 2014, additional 4th and 5th mechanized battalions were formed. They were later transferred to 53rd and 54th Mechanized Brigade.
MM-14
The camouflage was officially adopted as standard camouflage of Armed Forces of Ukraine in 2014. The semi-arad, with the addition of digital pattern, works well in Ukrainian nature.
Multicam
Locally made Multicam uniform is a cheap and popular variant for soldiers in Ukraine. The camouflage is designed for usage in various environments.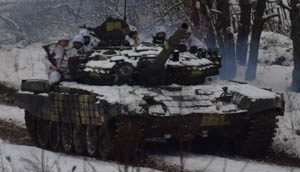 T-72AV
Type: MBT | Quantity: 13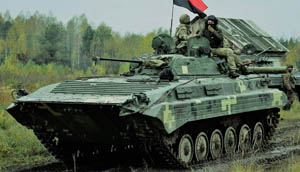 BMP-2
Type: IFV | Quantity: 38
MT-LB
Type: APC | Quantity: 17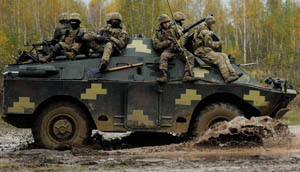 BRDM-2
Type: LAV | Quantity: 2+
2S1 Gvozdika
Type: Artillery | Quantity: 18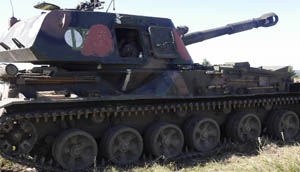 2S3 Akatsiya
Type: Command | Quantity: 18
BM-21 Grad
Type: Artillery | Quantity: 18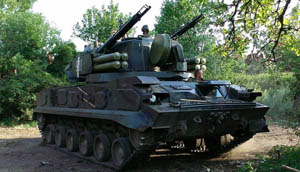 2K22 Tunguska
Type: AA | Quantity: 8
2K35 Strela-10
Type: AA | Quantity: 12
The brigade was equipped with T-64BVs since 2014 but in 2018 T-72AVs appeared in the brigade and T-64BVs disappeared.
The remaining BMP-1s were passed out to other units during 2015.
Lyman
3 June 2014 – 19 June 2014
The operation to liberate Lyman began on June 3 with support of helicopters. The town was liberated on the 5th of June but fighting in the surrounding villages lasted for a few more days.
Slavyansk
6 May 2014 – 14 June 2014
Militants captured governmental buildings in the city and Ukraine announced ATO operation. The battle of Slavyansk was the first major military engagement in this conflict.
Lisichansk
22 July – 24 July 2014
24th Mechanized Brigade with the support of Donbas battalion entered the city on the morning of 23rd of July. The Ukrainian flag was raised above the city in the evening of 24th of July.
The border
12 June – 8 August 2014
An operation to restore control of the border with Russia was initially successful but Ukrainian forces were forced to retreat due to heavy casualties and Russian artillery attacks.
Georgievka
20 July 2014 – 1 September 2014
An initially successful large-scale operation to liberate a strategically important town ceased when Russian troops crossed the border into Ukraine.
Novosvitlivka
7 August 2014 – 26 August 2014
A key town, located on the M04 road, was liberated in mid-August and de-facto cut the supply line between Luhansk and Russia. During the counter-attack, Ukrainian forces were forced to retreat.
Zelenopillya
11 July 2014
In the morning, Russian forces started to shell Ukrainian position near its border. It was the first documented attack by Russian forces from within Russian territory.
32nd Checkpoint
13 October – 28 October 2014
Enemy forces surrounded a Ukrainian checkpoint despite Minsk Agreements. After all attempts to deblock the area failed, both sides agreed on the withdrawal of Ukrainian units.
Manpower
Equipment
According to preliminary data, the unit lost the following equipment:
3 tanks (T-64BV)
more than 40 IFVs (BMP-2)