1st Siverska Tank Brigade (1-ша окрема танкова Сіверська бригада) is a tank brigade of Armed Forces of Ukraine formed in 1997 from the 292nd Tank Regiment. In spring 2014, the brigade moved to the border with Russia in Sumy region to protect the shortest way to Kyiv. A few days later, one battalion was transferred to Donbas and supported mechanized brigades in the Luhansk region, mainly around the Luhansk Airport. In 2015, they supported 30th Mechanized Brigade in Debaltsevo and destroyed at least three enemy tanks.
Ukrainian command has decided to deploy additional troops to Donbas, signaling a possible rotation of Ukrainian units.

1st Tank Battalion
First tank battalion of 1st Tank Brigade.

2nd Tank Battalion
Second tank battalion of 1st Tank Brigade.

3rd Tank Battalion
The third battalion is equipped with the mix of T-64BV and T-64B tanks.

Mechanized Battalion
The battalion rides on BMP-1 vehicles.

Artillery Group
Equipped by BM-21 Grad, 2S1 Gvozdika and 2S3 Akatsyia.

Anti-Aircraft Division
Anti-Aircraft defense of the brigade. The unit is equipped with Tunguska and Strela-10.

Reconnaissance Company
Brigade scouts. The unit is equipped with BRDM-2s.

Support units
This includes all rear elements such as engineers, communication, medics, and material support unit.
MM-14
The camouflage was officially adopted as standard camouflage of Armed Forces of Ukraine in 2014. The semi-arid, with the addition of digital pattern, works well in Ukrainian nature.
Flecktarn
Locally made Flecktarn uniform is very popular among volunteers across Ukraine. It's cheap and widely available. The pattern works well in various environment.
T-64B
Type: MBT | Quantity: 4
T-64BV
Type: MBT | Quantity: 27
BMP-1
Type: IFV | Quantity: 32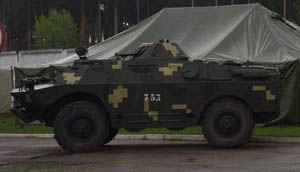 BRDM-2
Type: LAV | Quantity: 3+
MT-LBu
Type: APC | Quantity: 3+
2K22 Tunguska
Type: AA | Quantity: 2+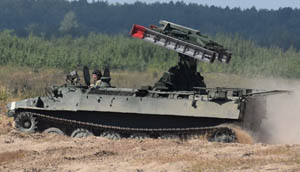 2K35 Strela-10
Type: AA | Quantity: 5+
BM-21 Grad
Type: Artillery | Quantity: 2+
2S1 Gvozdika
Type: Artillery | Quantity: 4+
2S3 Akatsyia
Type: AA | Quantity: 4+
Since 2017, the brigade no longer uses BM Bulats due to insufficient performance in Donbas.
Luhansk Airport
April 8 – September 1, 2014
Paratroopers held the airport for several months until the Russian forces begun an offensive in the area. As the result, Ukrainian troops were forced to retreat amid heavy casualties.
Novosvitlivka
August 7 – August 26, 2014
A key town, located on the M04 road, was liberated in mid-August and de-facto cut the supply line between Luhansk and Russia. During the counter-attack, Ukrainian forces were forced to retreat.
Pisky
July 21, 2014 – today
The operation to de-block Donetsk Airport and clear the outskirts of Donetsk has started on 21st of July. The contact line was changing almost daily until the Minsk-2 agreement.
Donetsk Airport
May 26, 2014 – January 22, 2015
Ukrainian Forces gained full control over the airport on May 27, 2014 and held it until January 22, 2015, when the main building collapsed.
Debaltsevo 2015
January 1 – February 18, 2015
Russian forces launched an offensive to capture important railway crossroad, the city of Debaltsevo. Ukrainian forces had not enough manpower in the area and they had to withdraw.
Manpower
Equipment
At least 3 BMP-1
~15 tanks which majority of them were BM Bulats