Ukrainian volunteer battalions are once again on the frontline and fighting against the Russian invaders.
The volunteer battalions played a key role during the War in Donbas eight years ago. While being incredibly helpful and proved to be indispensable during the early months of the war, one of the biggest downside was that they operated on their own, without any united command.
Ukrainian Army command, well aware of problems like this, stopped the uncontrolled flow of volunteers to the frontline at the very beginning of the Russian Invasion in 2022. Instead, they offered them to fill the gaps and to join already existing units, or create their own within the Ukrainian Army structure with all the benefits. Most of them agreed.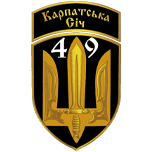 49th Motorized Battalion Carpathian Sich
93rd Mechanized Brigade, Armed Forces of Ukraine
Carpathian Sich has cooperated with 93rd Mechanized Brigade since 2014, it makes only sense to incorporate the volunteer battalion under their command. The second battalion remains independent.
Battalion OUN
1st Tank Brigade, Armed Forces of Ukraine
The battalion OUN has been assigned under the command of 1st Tank Brigade, most likely as a second motorized battalion. The battalion is currently deployed near Zelene Pole.
Battalion Svoboda
4th Rapid Response Brigade, National Guard
The Rapid Response Brigade sustained heavy casualties during the battle of Hostomel. Battalion Svoboda replaces one of the battalions. The second Svoboda battalion serves alongside Kyiv Territorial Defense.
23rd Special Purpose Battalion Legion D
Separate Presidential Brigade, Armed Forces of Ukraine
The Legion D unit reinforces the Separate Presidential Brigade to replace casualties sustained during the battle of Kyiv. The second battalion serves with Ukrainian Territorial Defense of Kyiv.
Special Purpose Unit Honor-Kyiv
1st Detachment, Ukrainian Special Operation Forces
Honor was founded as youth movement of National Corps in Kyiv. When Russia invaded Ukraine, the movement has been transformed to a volunteer company and later reassigned to SSO.
Special Purpose Regiment Azov-Kyiv
Ukrainian Special Operational Forces
Formed from one of the Territorial Defense Battalions in Kyiv and former members of Azov Regiment as Special Purpose Regiment Azov-Kyiv within the structure of SSO.
Brotherhood
Territorial Defense Forces
A volunteer battalion formed in the first days of Russian Invasion, many members were part of the original St Maria Volunteer Battalion in 2014. The unit was later joined the Kyiv Territorial Defense.
Center for Special Operations Ukrainian Volunteer Corps
Ukrainian Special Operation Forces
All four combat battalions of Ukrainian Volunteer Corps has been reformed and assigned under the command of Ukrainian SSO. The dozen of territorial defense companies will soon follow.
Reconnaissance Battalion Sonechko
Separate Presidential Brigade, Armed Forces of Ukraine
The volunteer battalion seems to joined the Separate Presidential Brigade as a separate reconnaissance battalion.
Do you know about any other volunteer battalion that has been reassigned to Ukrainian Army or National Guard? Let us know and we'll update the list.