DaVinci Wolves battalion is the most trained and equipped unit of Volunteer Corps. The unit was originally part (as the 1st Assault Company) of the 5th battalion. On 26th August 2015 the unit became separate of the 5th battalion, which in December 2015 left the structure of Right Sector and joined Ukrainian Volunteer Army. The 1st Battalion was deployed to combat zone since 2014 and fought alongside regular army units in many battles. The unit relies on donations and private funding. In 2022 the unit was complected to the size of a battalion and received the unit "Honor" under their command. The unit fought in the east of Ukraine. Their commander with the callsign "Da Vinci" was awarded the title "Hero of Ukraine" on 30rd November 2021.
On March 7, 2022, the commander Dmytro Kotsyubaylo "Da Vinci" was killed near Bakhmut.
Structure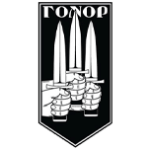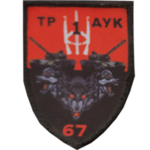 If you find some incorrect information, or have information we're missing, please let us know via info(at)militaryland.net. Thank you!