1st Tank Brigade is a tank brigade of the Armed Forces of Ukraine, formed in 1997 from the 292nd Tank Regiment. In spring 2014, the brigade moved to the border with Russia in Sumy region to protect the shortest way to Kyiv. A few days later, one battalion was transferred to Donbas and supported mechanized brigades in the Luhansk region, mainly around the Luhansk Airport. In 2015, they supported 30th Mechanized Brigade in Debaltseve and destroyed at least three enemy tanks.
On the night of the invasion, the brigade was stationed in Chernihiv Oblast and was the main force defending the area.
Recent News
Ukrainian command has decided to deploy additional troops to Donbas, signaling a possible rotation of Ukrainian units.
Structure

1st Tank Battalion
First tank battalion of 1st Tank Brigade.

2nd Tank Battalion
Second tank battalion of 1st Tank Brigade.

3rd Tank Battalion
The third battalion is equipped with the mix of T-64BV and T-64B tanks.

Mechanized Battalion
The battalion rides on BMP-1 vehicles.

Artillery Group
Equipped by BM-21 Grad, 2S1 Gvozdika and 2S3 Akatsyia.

Anti-Aircraft Division
Anti-Aircraft defense of the brigade. The unit is equipped with Tunguska and Strela-10.

Reconnaissance Company
Brigade scouts. The unit is equipped with BRDM-2s.

Support units
This includes all rear elements such as engineers, communication, medics, and material support unit.
Uniforms
Vehicles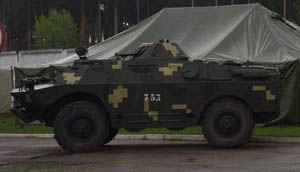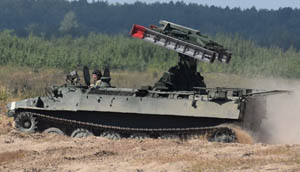 Losses
For Equipment losses, please visit dedicated page at: https://militaryland.net/vendor/1st-tank-brigade/
Manpower losses since the Russian invasion of Crimea and Donbas (2014 - today)
Manpower losses since the Russian invasion of Ukraine (2022 - today)
Disclaimer: Manpower casualties data are based on publicly available sources and social media. They do not represent final or official amount of losses and are subject to change.