The list of Ukrainian units who have been heroically defending the besieged city of Mariupol for longer than 40 days and counting.
Azov Regiment – 1st battalion
National Guard of Ukraine
The 1st battalion, consisting of three companies, is deployed to Mariupol. The 2nd battalion fought near Kyiv and is now deployed somewhere in the eastern Ukraine.

Azov Regiment – tank company
National Guard of Ukraine
The Azov's tank company with its ten T-64B1M tanks is deployed to Mariupol as well. We have so far a visual confirmation of one tank loss.
12th Operational Brigade
National Guard of Ukraine
The 1st patrol battalion, a reserve company and special patrol company are deployed to Mariupol.
36th Marines Brigade
Ukrainian Navy
The 501st battalion and tank company equipped with T-80BVs are fighting inside Mariupol. The 1st battalion of the brigade is deployed near Mykolaiv.
503rd Marines Battalion
Ukrainian Navy
The separate Marines battalion is deployed to Mariupol in its full strength. They closely cooperate with 501st battalion.
Mariupol Sea Border Guards
Border Guards
A coast guard unit. Their boats have been docked in the port since the first day of invasion, but the troops are fighting alongside regular units inside the city.
56th Mechanized Brigade
Armed Forces of Ukraine
The brigade's HQ is located in Mariupol. It's possible there are some rear elements present in Mariupol, but we aren't 100% sure. All combat battalions have been deployed near Donetsk airport since January.
Kord Special Police Unit
Ministry of Internal Affairs
Mariupol's police and Kord special police unit are defending the city alongside the Ukrainian troops.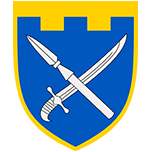 109th Territorial Defense Brigade
Armed Forces of Ukraine
One battalion (of six battalions) and the brigade's HQ staff is present in Mariupol.