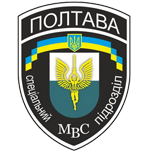 Poltava Battalion (Батальйон Полтава), a volunteer unit in the structure of Ministry of Internal Affairs. Established as a company in April 2014 and in June merged with Cascade unit and reformed to a battalion. The unit was deployed alongside regular armed forces units as well as tasked with guarding checkpoints. Poltava battalion was reformed into a Poltavshina battalion on September 2014 but renewed by November 2014 and Poltavshina was disbanded.
Recent News
List of news posts which mentions the unit.
Poltava battalion's page has been added to our site. The page contains the unit's structure, equipment, uniforms, and warpath.
October 12, 2018
Posted in
News
Tagged
poltava_bat
Comments Off

on Poltava Battalion available
Structure

1st Company
No information about this company is available, but most likely the core of merge Poltava and Cascade Company in 2014.

2nd Company
It's highly possible the second company was formed from members of Mirny company, a standalone unit merged with Poltava battalion in 2015.

3rd Company
Formed in 2014, Kremenchuk company was originally a standalone unit but reformated into Poltava battalion as 3rd company in 2017.
Uniforms
MARPAT Woodland
Uniforms were most likely bought from the internet. It's very rare to see them among Ukrainian personnel and only a few units use them. The camouflage works well in nature environment.
Flecktarn
Locally made Flecktarn uniform is very popular among volunteers across Ukraine. It's cheap and widely available. The pattern works well in the various environment.
Equipment
BRDM-2
Type: LAV | Quantity: 1
BTR-60
Type: APC | Quantity: 1
BTR-70
Type: APC | Quantity: 1
Warpath
The battalion participated in numerous battles, including the one near Debaltsevo and Makiivka. However, not enough information or exact places are known.
Casualties
Manpower
Two soldiers of Poltava Battalion died near Olhovatka, Donetsk Region in 2014.
Equipment
There are no reports of losses of equipment for this unit.
We cannot display this gallery
Recent News
The summary of the situation of Russian re-invasion to Ukraine covering the last 48 hours, as of 24th November 2022 – 22:00 (Kyiv time).
Structure
Uniforms
Vehicles
Losses
For Equipment losses, please visit dedicated page at:
Manpower losses since the Russian invasion of Crimea and Donbas (2014 - today)
Manpower losses since the Russian invasion of Ukraine (2022 - today)
Disclaimer: Manpower casualties data are based on publicly available sources and social media. They do not represent final or official amount of losses and are subject to change.