On February 24, 2022, the brigade was stationed in Kyiv and tasked with the defense of Kyiv and its surroundings. On February 26, soldiers of the brigade repelled an attack of a Russian sabotage unit on its base.
Recent News
Operation Report is a summary of what happened in Joint Forces Operation Zone (previously known as Anti-Terrorist Operation zone or ATO) during the last week.
Structure
Vehicles
All images of equipment listed below are taken from the official social media page of the unit.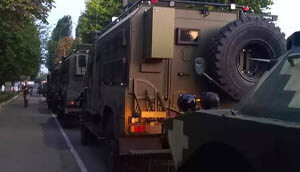 If you find some incorrect information, or have information we're missing, please let us know via info(at)militaryland.net. Thank you!