The situation in Donbas worsens every day.
Ukrainian Armed Forces lost two soldiers today, National Police one of its servicemen.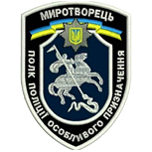 Mironov Denis
Myrotvorets Regiment
He died at 8:30 in the morning during on checkpoint near Svatove Luhansk Oblast. No further details were specified.
Shpak Volodymyr
58th Mechanized Brigade – Anti-tank platoon
He was killed by an enemy mortar attack on Ukrainian positions near Nevelske, Donetsk Oblast.
Steblyanko Maxim
1st Tank Brigade – Mechanized Battalion
An unknown explosive device exploded near a Ukrainian military vehicle. He died on spot. Photo of the incident below.