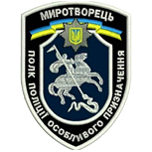 Myrotvorec regiment (Полк Миротворець) was a volunteer battalion of Ministry of Internal Affairs until 2015, when the unit was reformed into a regiment together with other units, namely Kyivschyna, Harpoon and Tornado. In 2017, it was reported that a significant part of the unit, mainly the volunteers, was laid off due to insufficient experience. The unit protects important facilities and ensures public order in Kyiv Region.
Recent News
List of news posts which mentions the unit.
Operation Report is a summary of what happened in the Joint Forces Operation Zone (previously known as Anti-Terrorist Operation zone or ATO) during the last week.
The situation in Donbas worsens every day.
Kyiv's and Myrotvorets's regiment pages have been added to our site. The pages contain the unit's structure, equipment, uniforms, and warpath.
Structure
Uniforms
Multicam
Locally made Multicam uniform is a cheap and popular variant for soldiers in Ukraine. The camouflage is designed for usage in various environments.
Flecktarn
Locally made Flecktarn uniform is very popular among volunteers across Ukraine. It's cheap and widely available. The pattern works well in the various environment.
TTsKO Urban
Soviet uniform wore mainly by Special Forces within Ministry of Internal Affairs such as Berkut and Kobra. After the revolution in 2014, the uniforms ended mostly in storage. Some volunteers still wear them but in small quantity.
Equipment
Warpath
Slavyansk
6 May 2014 – 14 June 2014
Militants captured governmental buildings in the city and Ukraine announced ATO operation. The battle of Slavyansk was first major military engagement in this conflict.
Popasna
18 July 2014 – 22 June 2014
On July 8, 2014, the Pro-Russian forces captured the town and set up checkpoints on its outskirts. Ukrainian side responded with force and liberated the town.
Illovaisk
6th August 2014 – 3rd September 2014
An initially successful large-scale operation to liberate strategically important train crossroad ceased when Russian regular forces crossed the border into Ukraine and encircled Ukrainian forces there.
Casualties
Manpower
One soldier died during an assault on Slavyansk. The unit lost 10 soldiers during the battle of Illovaysk, one died near Horlivka and one during a skirmish near Lisichansk.
Equipment
There are no reports of losses of equipment for this unit.

We cannot display this gallery
Recent News
The summary of the situation of Russian re-invasion to Ukraine covering the last 48 hours, as of 4th December 2022 – 22:00 (Kyiv time).
Structure
Uniforms
Vehicles
Losses
For Equipment losses, please visit dedicated page at:
Manpower losses since the Russian invasion of Crimea and Donbas (2014 - today)
Manpower losses since the Russian invasion of Ukraine (2022 - today)
Disclaimer: Manpower casualties data are based on publicly available sources and social media. They do not represent final or official amount of losses and are subject to change.