Despite the long silence about Yarosh's Volunteer Army, the army still exist and is prepared to defend Ukraine.
Dmitry Yarosh, the ex-leader of Pravy Sektor and commander of Ukrainian Volunteer Army (UDA), announced readiness of UDA to defend Ukraine in case of hostilities. He recently visited Donbas and other unspecified areas in Ukraine and checked the units under his command.
"Ukrainian Volunteer Army, under the full command of the Ukrainian Army, is ready to deploy and effectively counter-attack where needed." – Dmitry Yarosh
An interesting piece to learn is that Ukrainian Volunteer Army, according to Yarosh, is under the full command of Ukrainian Army and no longer a standalone element.
Despite reports of some units being disarmed in 2019, it seems that's no longer the case. Futhermore, Yarosh stated that two units actively participate in the hostilities and are deployed in Donbas.
Yarosh also shared updated information about UDA units to public.
The 5th, 8th Arrata and Hospitalers battalion still exist and are ready to deploy at any moment.
There are two new units – Odessa company and 3rd battalion.
Chechen battalion Sheykha Mansura is now under the command of Ukrainian Volunteer Army, not Volunteer Crops of Pravy Sektor.
Belarusian Tactical Group has been reformed into battalion and assigned under the command of Ukrainian Volunteer Army.
There are two units actively deployed to Donbas – Volyn company and Brakonyeriv sniper group.
All territorial defense detachments are ready to resume formations in case of need.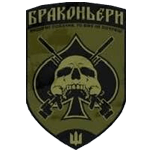 Insignia of Brakonyeriv sniper group
Our list of Ukrainian Volunteer Army was updated to reflect changes above.