The summary of the situation of Russian re-invasion to Ukraine covering the last 48 hours, as of 17th January 2023 – 22:00 (Kyiv time).
Sloboda Front
includes the area of between Oskil and Aydar river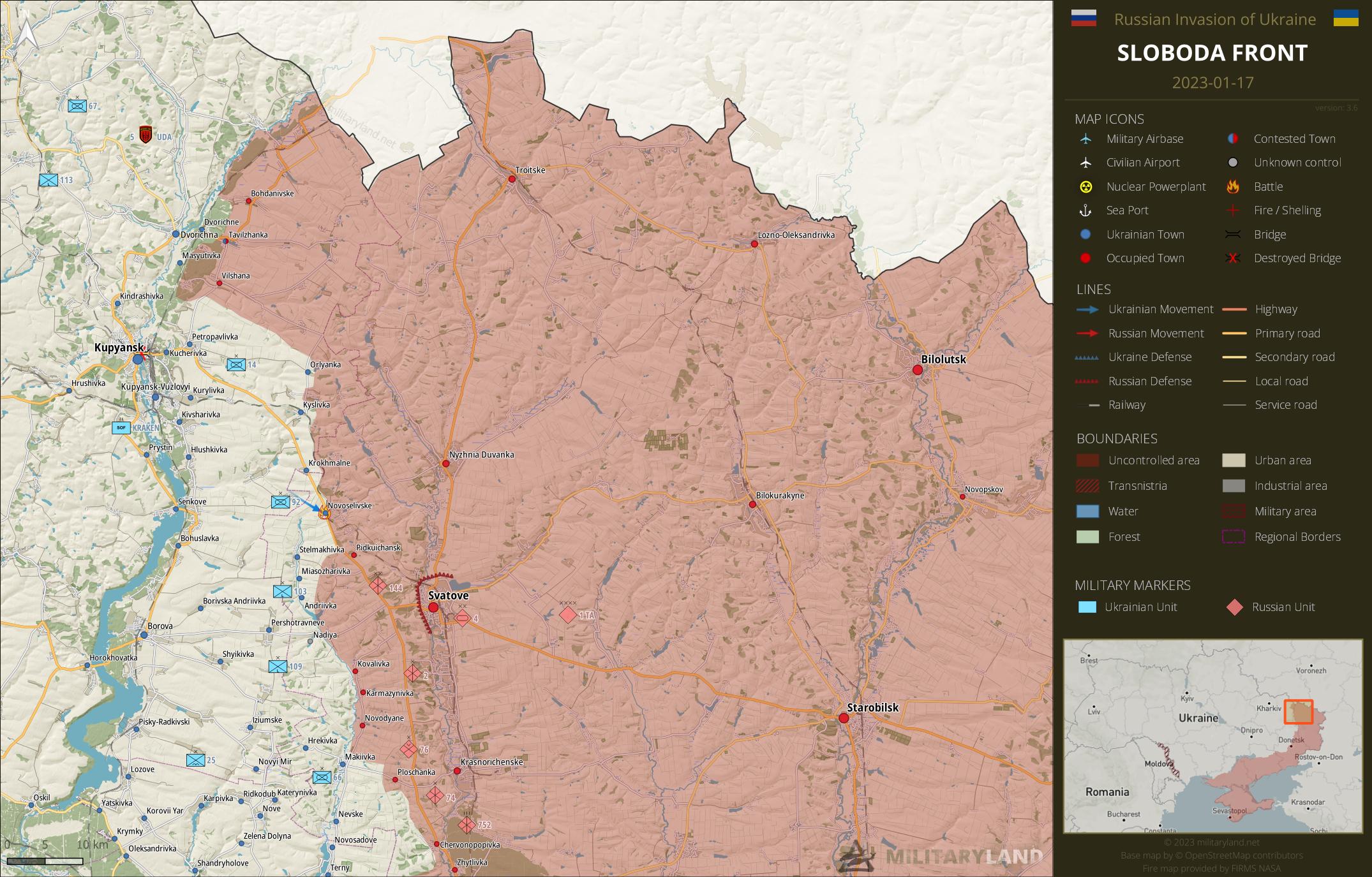 Svatove direction
A recent footage shows Ukrainian troops at the eastern edge of Novoselivske. The settlement is ruined, but it seems Ukrainians control of what's left.
---
Siverskyi Donets
overview map of Slovyansk, Kramatorsk, Bakhmut and Lysychansk vicinity

Russian forces attacked Ukrainian positions near Bilohorivka (Luhansk O.), Verkhnokamyanske, Spirne and Bilohorivka (Donetsk O.). Neither attack was successful.
---
Bakhmut Front
includes the vicinity of Bakhmut
Wagner mercenaries entered Sil and captured the train station. The urban area is now under Russian control.
The enemy attempted to use the newly gained positions at Sil to advance towards Krasnopolivka. The attempt wasn't successful.
Russian troops reportedly entered the outskirts of Klishchiivka, but given Ukrainian fortified positions on the high ground nearby, it's not a big deal if true.
Ukrainian defenders repelled Russian attacks in the area of Mayorsk and Pivnichne.
---
Bakhmut City

the city of Bakhmut

Fighting continues on the north-easter, eastern and south-eastern outskirts.
---
Avdiivka Front
includes the vicinity of Avdiivka

The enemy, again, tried to break through Ukrainian lines in the vicinity of Krasnohorivka and Kamyanka. As usual, Russian forces failed to do so here.
Russian troops assaulted Ukrainian positions near Vodyane, but the attack was repelled.
A Russian recon element probed Ukrainian positions near Nevelske, but the soldiers of 59th Motorized Brigade repulsed the attempt.
---
Donetsk Front
includes the center and southern part of Donetsk Oblast

A complicated situation is reported from Marinka, where the enemy continues to advance by a few meters every day.
Ukrainian forces repelled Russian attacks towards Pobieda, Novomykhailivka, Prechystivka and Velyka Novosilka. Russian army seems to be looking for a weak spot in this area for potential upcoming offensive operation.
---
Zaporizhzhia Front
includes the Zaporizhzhia Oblast

Zaporizhzhia Oblast
No change on the ground during the past 48 hours.
---
Kalanchak Front
includes the left bank of Dnipro river south of Kherson and Kakhovka

No change on the ground during the past 48 hours.
---
Full map
The full overview map of current situation.
---
Looking for an interactive map? We got you covered. Visit our original Deployment map.
If you would like to use our maps in your project, video or any other media, please visit Invasion maps page for more information.
This summary and detailed maps are based on the following sources:
General Staff of the Armed Forces of Ukraine, official media channels of Ukrainian regional administrations, Ukrainian Ministry of Internal Affairs, Security Service of Ukraine (SBU), geolocated footage and press releases of Russian Armed Forces, self-proclaimed DPR and LPR.