The summary of the situation of Russian re-invasion to Ukraine covering the last 48 hours, as of 14th November 2022 – 22:00 (Kyiv time).
Briefly:
Russian forces remain focused on regaining of the lost ground in Luhansk Oblast and also on seizing a new one in the vicinity of Bakhmut. They were partially successful and captured one settlement in Donetsk Oblast, all other attempts along the front were successfully repelled by Ukrainian defenders.
---
Sloboda Front
includes the area of between Oskil and Aydar river

Svatove direction
Clashes continue in the area of Novoselivske. The village is contested.
The defenders repelled a Russian attack towards Stelmakhivka.
---
Bakhmut Front
includes the vicinity of Bakhmut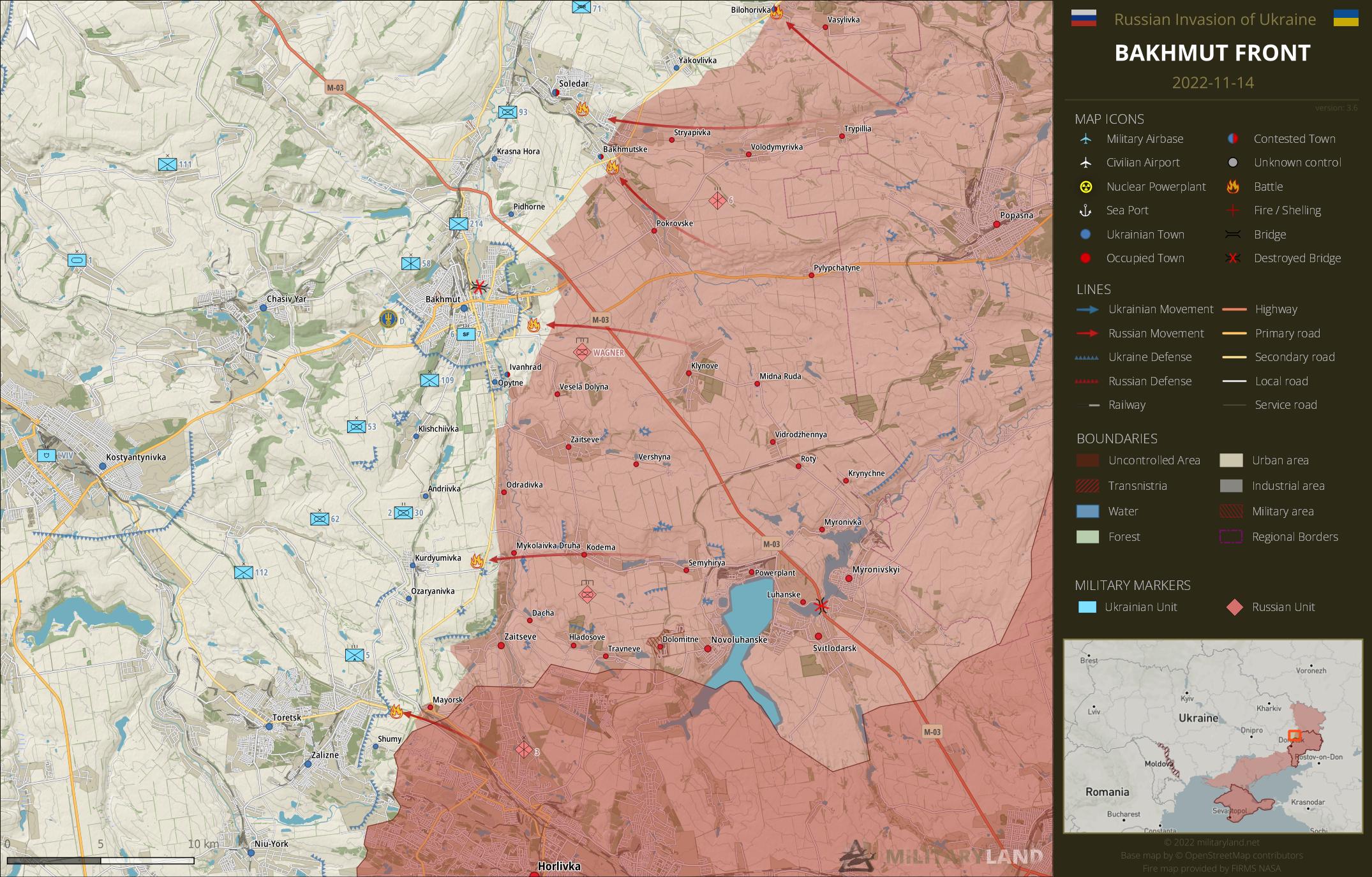 Fighting continues in the area of Bakhmutske, Soledar and Bakhmut.
Ukrainian defenders repelled a Russian attack in the direction of Kurdyumivka settlement.
Russian forces managed to capture the small settlement of Mayorsk, but the subsequent attack towards Toretsk was repulsed.
---
Siverskyi Donets
overview map of Slovyansk, Kramatorsk, Bakhmut and Lysychansk vicinity

Lyman direction
The enemy attempted to gain new grounds in the direction of Torske. The attempt was repelled.
Lysychansk direction
Russian forces attacked Ukrainian positions in the area of Bilohorivka (Luhansk Oblast), but without success.
The enemy activity increased in the vicinity of Bilohorivka (Donetsk Oblast), but the Russian troops were unable to advance further.
---
Avdiivka Front
includes the vicinity of Avdiivka

The enemy attempted to seize new positions in the vicinity of Krasnohorivka, but they didn't succeed.
Russian attacks in the area of Vodyane, Pervomaiske and Nevelske were repelled, but the situation remains uneasy.
---
Donetsk Front
includes the center and southern part of Donetsk Oblast

Fighting also continues in Marinka and Pavlivka. Both towns remain contested as of today.
Yet another Russian attack towards Novomykhailivka failed.
---
Zaporizhzhia Front
includes the Zaporizhzhia Oblast

Zaporizhzhia Oblast
No change on the ground during the past 48 hours.
---
Kalanchak Front
includes the left bank of Dnipro river south of Kherson and Kakhovka

There are a lot of rumors regarding the left bank of Dnipro river and Kinburn Spit this evening. As of today, there hasn't been a single visual confirmation of Ukrainian forces on the left bank, only multiple videos of Ukrainian boats crossing, very likely, the Dnipro river. We shall know more tomorrow.
---
Full map
The full overview map of current situation.
---
Looking for an interactive map? We got you covered. Visit our original Deployment map.
If you would like to use our maps in your project, video or any other media, please visit Invasion maps page for more information.
This summary and detailed maps are based on the following sources:
General Staff of the Armed Forces of Ukraine, official media channels of Ukrainian regional administrations, Ukrainian Ministry of Internal Affairs, Security Service of Ukraine (SBU), geolocated footage and press releases of Russian Armed Forces, self-proclaimed DPR and LPR.