The summary of the 261st day on Kherson Front, as of 22:00 – 11th November 2022 (Kyiv time).
Due to the Ukrainian offensive in Kherson Oblast, we're releasing an extra summary solely focused on the Kherson Front. The classic summaries remain bi-daily.
Kherson Front
includes the vicinity of Kherson and Mykolaiv
Kherson direction

The retreating Russian army blew up Antonovsky bridge and the nearby railway bridge during the night.
Ukrainian forces liberated Kalynivka, Klapaya, Bilozerka and entered the western outskirts of Kherson city in the morning.
The forward elements of Ukrainian Army reached the city center in the afternoon. An hour later, Ukrainian HUR announced the liberation of Kherson. Ukrainian forces were warmly welcomed by the local population.
Ukrainian SBU and National Guard are currently conducting a cleanup operation in Kherson, looking for Russian soldiers who were left behind and collaborators.
Nova Kakhovka direction
Russian forces blew up the bridge at Kakhovka Power Plant.
Ukrainian troops liberated Chaikyne, Beryslav, Tyahynka settlements and reached Kozatske.
11.11.2022, the day when Ukrainian Army liberated Kherson, the only regional capital Russians managed to capture.
---
Full map
The full overview map of current situation.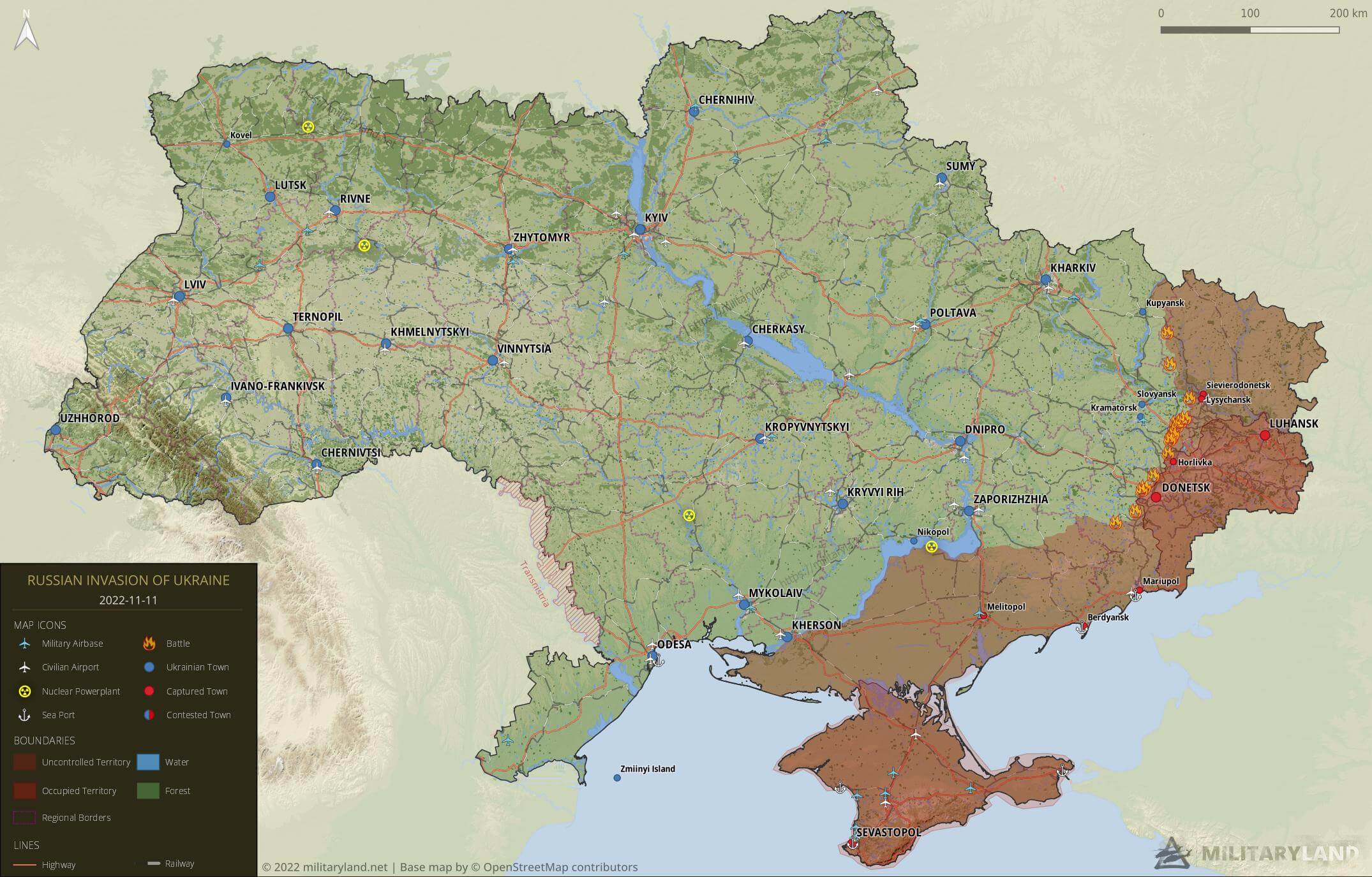 ---
Looking for an interactive map? We got you covered. Visit our original Deployment map.
If you would like to use our maps in your project, video or any other media, please visit Invasion maps page for more information.
This summary and detailed maps are based on the following sources:
General Staff of the Armed Forces of Ukraine, official media channels of Ukrainian regional administrations, Ukrainian Ministry of Internal Affairs, Security Service of Ukraine (SBU), geolocated footage and press releases of Russian Armed Forces, self-proclaimed DPR and LPR.