The summary of the 212th day of Russian invasion to Ukraine, as of 22:00 – 23rd September 2022 (Kyiv time).
Day summary:
Ukrainian forces are slowly advancing in the northern part of Donetsk Oblast and continue to repel Russian attacks in the vicinity of Bakhmut.
The Russian army attacked the city of Odesa with Iran-supplied kamikaze drones. Two of the drones made it pass the Ukrainian air defense and hit a building in Odesa port.
Kharkiv Front
includes the area of Kharkiv and Chuhuiv

Kharkiv & Chuhuiv direction
Ukrainian forces repelled a Russian attack in the area of Kupyansk.
---
Bakhmut Front
includes the vicinity of Bakhmut
Fighting has resumed in Soledar and Bakhmutske.
Russian troops attempted to break Ukrainian lines in the vicinity of Odradivka, Zaitseve and Mayorsk towards Kurdyumivka. The enemy wasn't successful.
Mykolaivka Druha disappeared from the reports of Ukrainian General Staff, potentially signaling that Ukrainian forces lost control over the settlement.
A representative of Ukrainian General Staff reported that Ukrainian forces counter-attacked south of Bakhmut and recovered unspecified lost positions.
---
Slovyansk Front
includes the vicinity of Slovyansk and Kramatorsk

Slovyansk direction
Russian forces attacked Ukrainian positions in the area of Spirne, but without success.
---
Siverskyi Donets
overview map of Slovyansk, Kramatorsk, Bakhmut and Lysychansk vicinity

Ukrainian forces liberated Yatsivka settlement near Oskil.
Ukrainian General Staff reported shelling of Ukrainian positions in the vicinity of Korovii Yar and Olexandrivka. Both settlements were marked as contested.
Given the two reports above, it's safe to mark Studenok and Sosnove settlements as liberated and the nearby forest area as Russia-free.
---
Donetsk Front
includes the center and southern part of Donetsk Oblast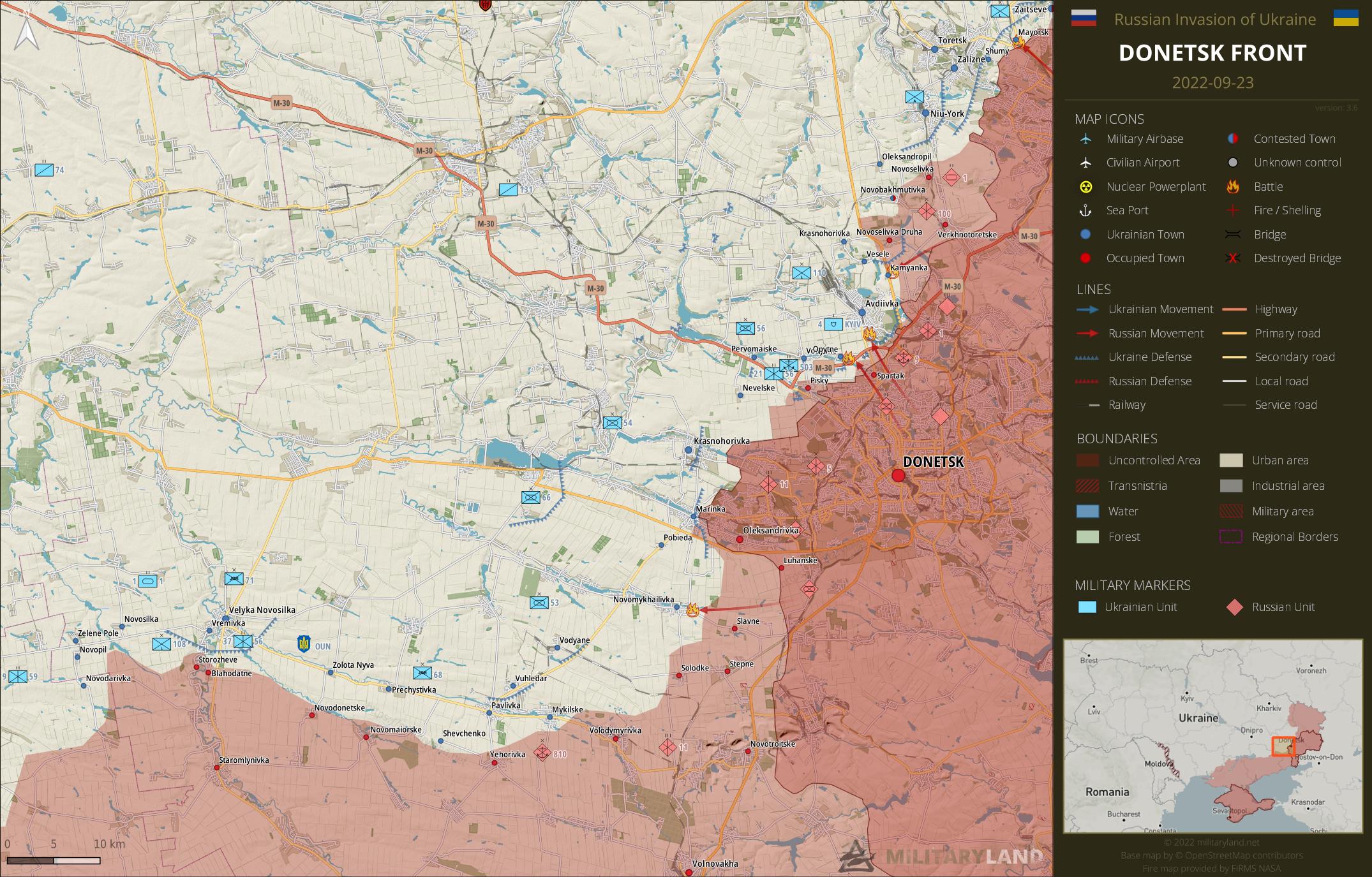 Donetsk Oblast
Ukrainian defenders repulsed Russian attacks towards Kamyanka, Opytne nad Avdiivka.
The invasion forces continue to try to advance towards Novomykhailivka, but the attacks continue to be repelled as usual.
---
Zaporizhzhia Front
includes the Zaporizhzhia Oblast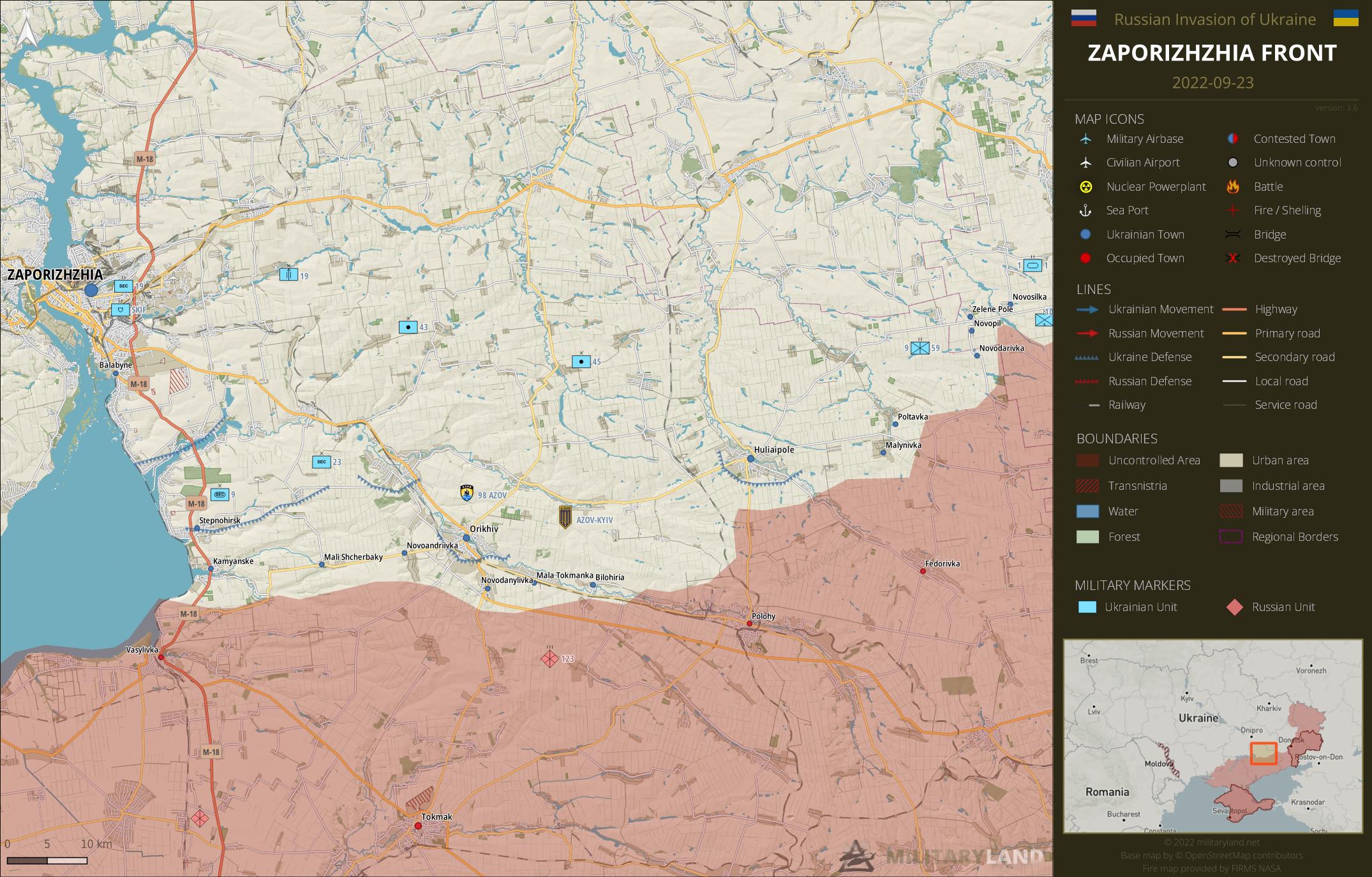 Zaporizhzhia Oblast
No change on the ground during the past 48 hours.
---
Kherson Front
includes the vicinity of Kherson and Mykolaiv

No change on the ground during the past 48 hours.
---
Full map
The full overview map of current situation.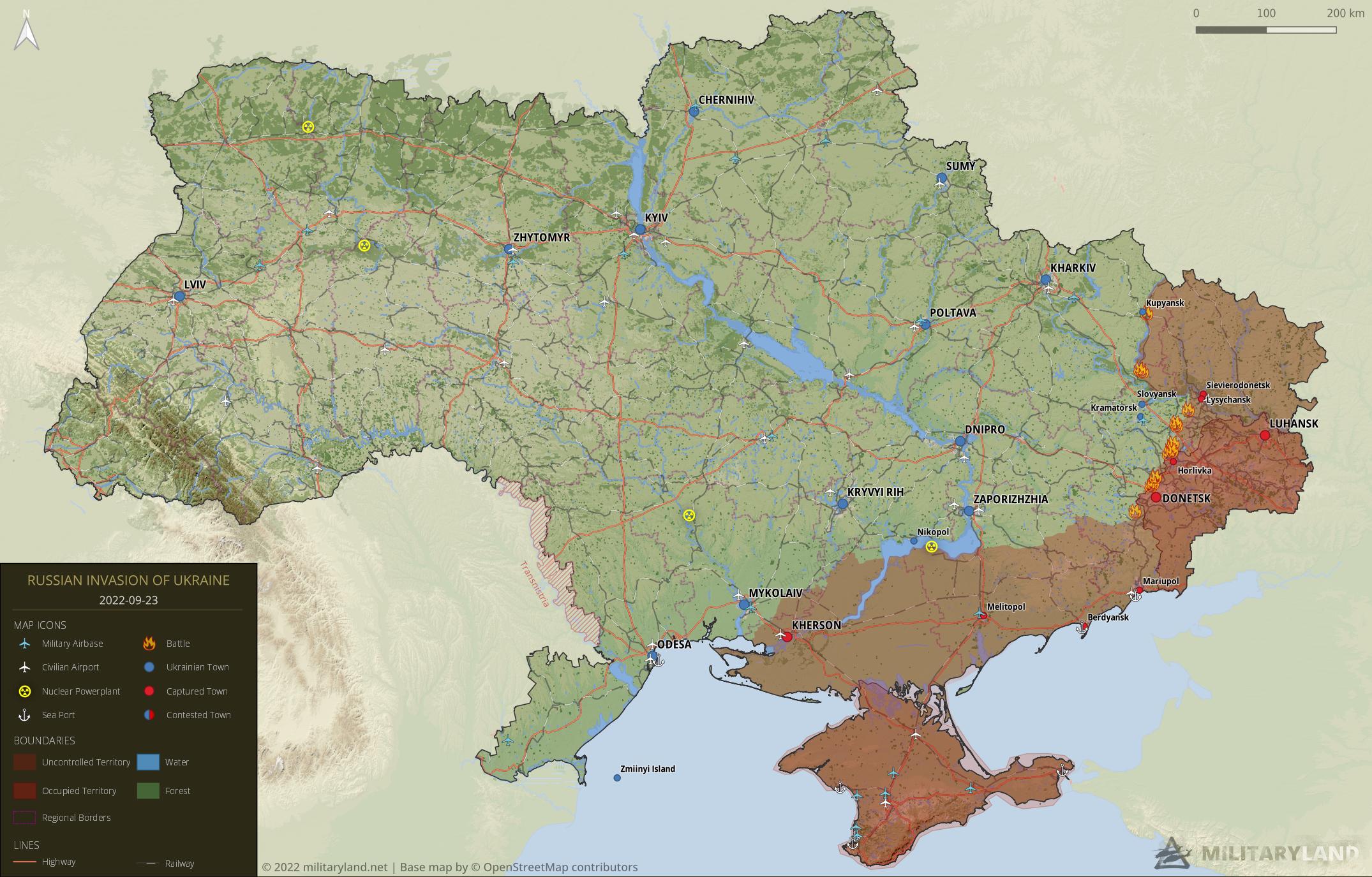 ---
Looking for an interactive map? We got you covered. Visit our original Deployment map.
If you would like to use our maps in your project, video or any other media, please visit Invasion maps page for more information.
This summary and detailed maps are based on the following sources:
General Staff of the Armed Forces of Ukraine, official media channels of Ukrainian regional administrations, Ukrainian Ministry of Internal Affairs, Security Service of Ukraine (SBU), geolocated footage and press releases of Russian Armed Forces, self-proclaimed DPR and LPR.