The summary of the 210th day of Russian invasion to Ukraine, as of 22:00 – 21st September 2022 (Kyiv time).
Day summary:
The situation in Ukraine remains unchanged. Russia remains focused on Bakhmut and also managed to repel a Ukrainian attack in Kherson Oblast.
Russia declared partial mobilization on September 21, signaling the invasion isn't going according to plan and more manpower is needed. A large prisoner exchange also happened on September 21. In total, 215 Ukrainian servicemen returned home, including the commander and deputy commander of Azov Regiment.
Kharkiv Front
includes the area of Kharkiv and Chuhuiv

Kharkiv & Chuhuiv direction
Ukrainian forces repelled a Russian attack in the vicinity of Kupyansk.
---
Bakhmut Front
includes the vicinity of Bakhmut
Russian forces assaulted Ukrainian positions in the direction of Mykolaivka Druha and Kurdyumivka. Both attacks were repelled.
The enemy tried to advance and capture new positions in the area of Zaitseve and Mayorsk, but without success.
---
Slovyansk Front
includes the vicinity of Slovyansk and Kramatorsk

Slovyansk direction
Russian forces shelled Ukrainian positions in the vicinity of Studenok. We still lack a solid proof the town is under Ukrainian control.
---
Siverskyi Donets
overview map of Slovyansk, Kramatorsk, Bakhmut and Lysychansk vicinity

---
Donetsk Front
includes the center and southern part of Donetsk Oblast

Donetsk Oblast
Ukrainian forces repelled Russian attacks in Marinka and towards Novomykhailivka.
---
Zaporizhzhia Front
includes the Zaporizhzhia Oblast

Zaporizhzhia Oblast
---
Kherson Front
includes the vicinity of Kherson and Mykolaiv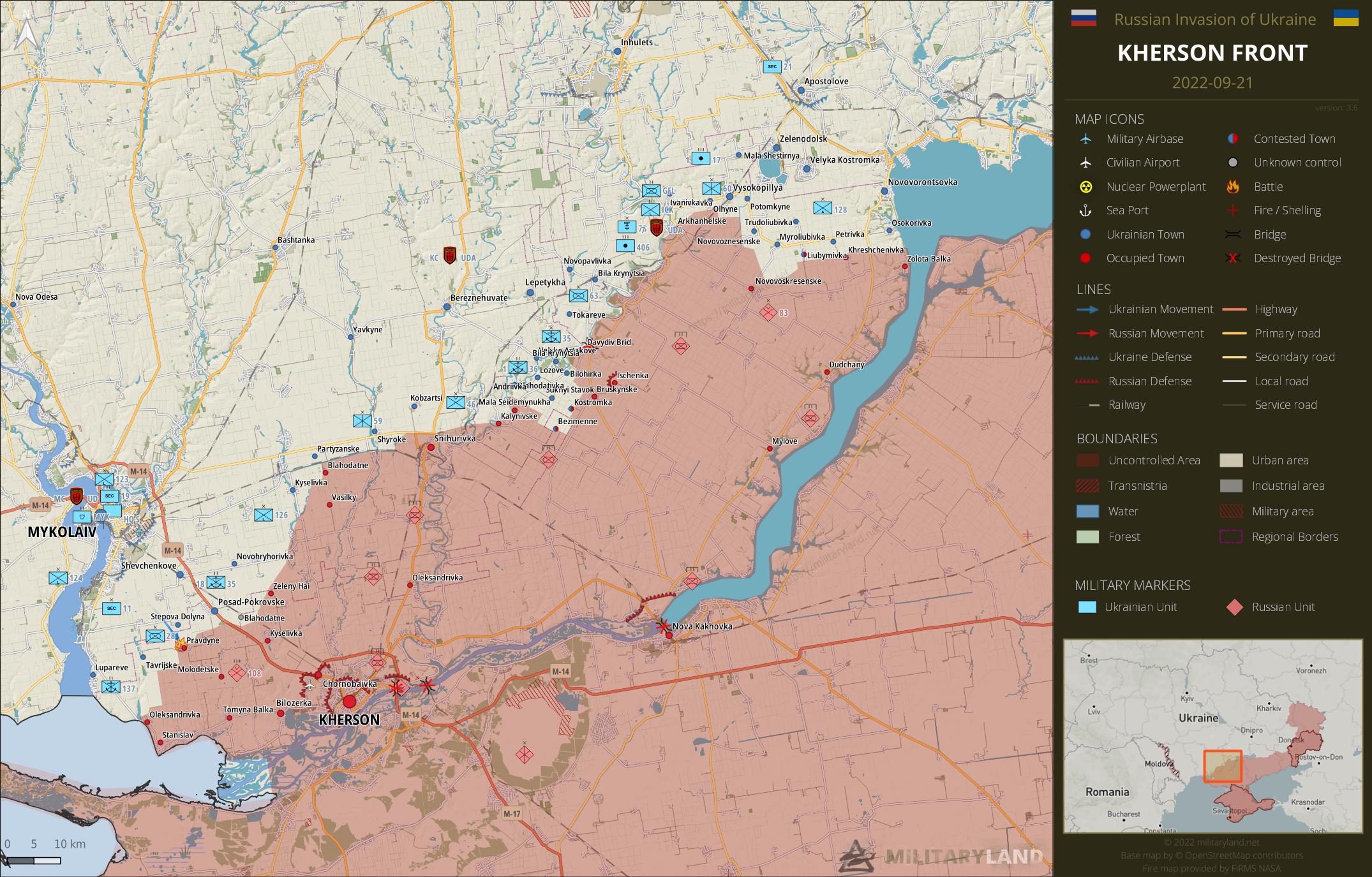 Based on the released footage, elements of Ukrainian 28th Mechanized Brigade attacked Russian controlled Pravdyne and reached the outskirts. However, during the counter-attack of Russian troops, Ukrainians were pushed back and lost several vehicles.
---
Full map
The full overview map of current situation.
---
Looking for an interactive map? We got you covered. Visit our original Deployment map.
If you would like to use our maps in your project, video or any other media, please visit Invasion maps page for more information.
This summary and detailed maps are based on the following sources:
General Staff of the Armed Forces of Ukraine, official media channels of Ukrainian regional administrations, Ukrainian Ministry of Internal Affairs, Security Service of Ukraine (SBU), geolocated footage and press releases of Russian Armed Forces, self-proclaimed DPR and LPR.