The summary of the 208th day of Russian invasion to Ukraine, as of 22:00 – 19th September 2022 (Kyiv time).
Day summary:
Ukrainian Army secured the remaining part of Kupyansk and liberated several settlements in Donetsk Oblast. They also re-entered Luhansk Oblast and liberated Bilohorivka.
Russian forces continue to focus solely on Bakhmut and its nearby vicinity, where they're having a minor success, but at large cost.
Kharkiv Front
includes the area of Kharkiv and Chuhuiv

Kharkiv & Chuhuiv direction
Ukrainian forces crossed the Oskil river in Kupyansk and liberated the eastern part of the city.
Ukrainian Army is in no rush to advance pass the Oskil river. It currently focuses primarily on the securing the newly liberated area and setting up fortification system in order to repel any potential Russian attack.
---
Bakhmut Front
includes the vicinity of Bakhmut
Russian forces attempted to advance closer to Vesela Dolyna, Zaitseve and also tried to reach the eastern outskirts of Bakhmut. Neither attempt was successful. They did, however, captured an electrical substation near Vesela Dolyna.
Ukrainian forces repelled Russian attack towards Kurdyumivka, Mykolaivka Druha and Odradivka.
---
Slovyansk Front
includes the vicinity of Slovyansk and Kramatorsk

Slovyansk direction
Ukrainian forces liberated Yarova near Svyatohirsk.
Ukrainian Army built a pontoon bridge near Bohorodychne, indicating well secured left bank in the area.
According to the recent report by Ukrainian General Staff, Ukrainian forces repulsed Russian attack in the vicinity of Sosnove. The settlement was marked as contested.
Several Russian and Ukrainian sources reported about the liberation of Studenok. However, as there's been no visual proof yet, we cannot confirm or deny it.
Note: During my vacation, Ukrainian forces liberated Pasika, Yeremivka, Svyatohirsk, Shchurove and Dibrova.
---
Siverskyi Donets
overview map of Slovyansk, Kramatorsk, Bakhmut and Lysychansk vicinity

---
Donetsk Front
includes the center and southern part of Donetsk Oblast

Donetsk Oblast
Russian forces assaulted Ukrainian positions in the area of Marinka and Novomykhailivka. Both attacks were successfully repelled by the defenders.
---
Zaporizhzhia Front
includes the Zaporizhzhia Oblast

Zaporizhzhia Oblast
---
Kherson Front
includes the vicinity of Kherson and Mykolaiv

According to the Ukrainian General Staff, Russian forces attacked Ukrainian positions in the vicinity of Pravdyne. Ukrainian forces likely advanced closer to the settlement, but we lack any visual proof at this moment.
---
Full map
The full overview map of current situation.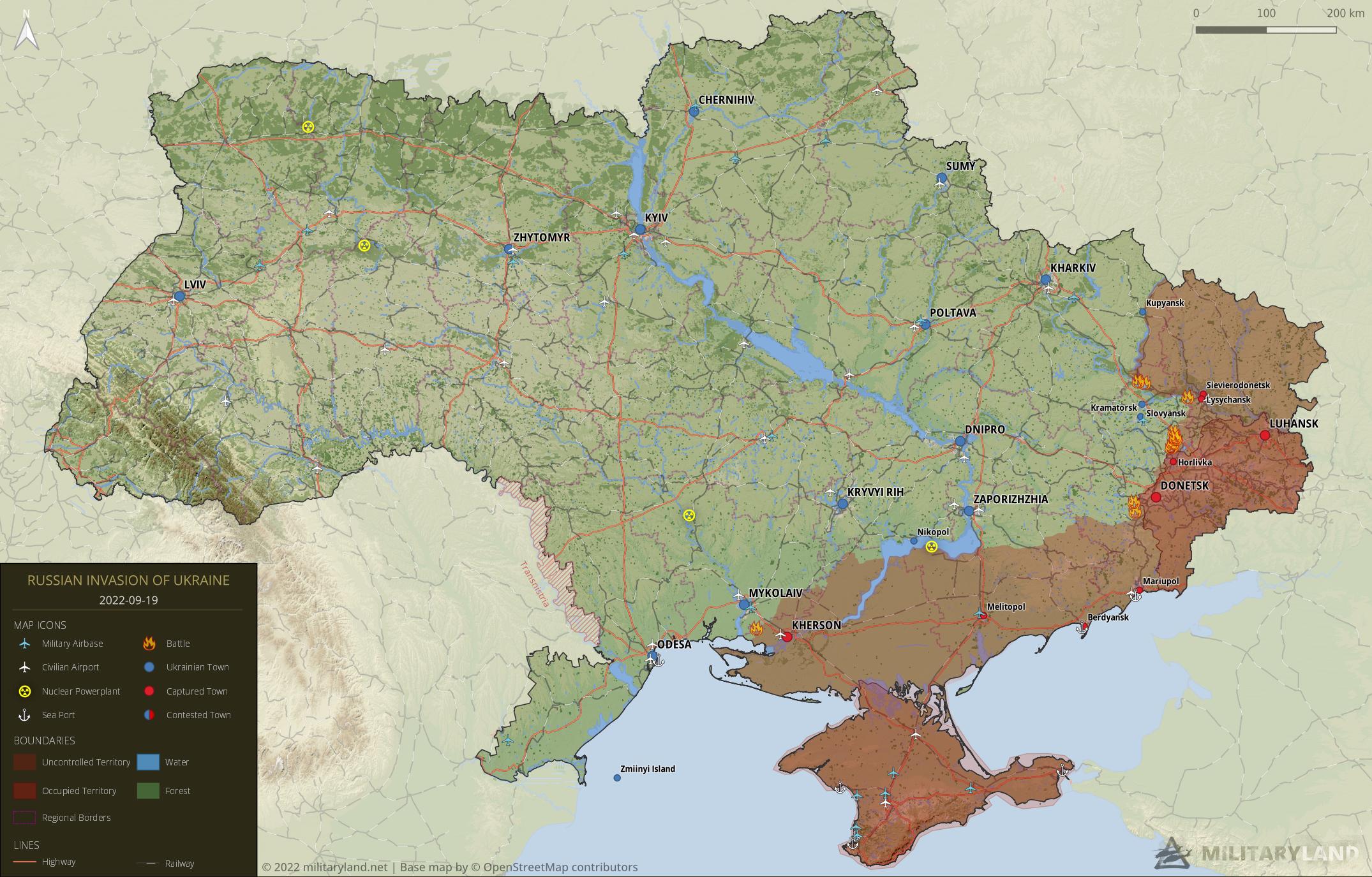 ---
Looking for an interactive map? We got you covered. Visit our original Deployment map.
If you would like to use our maps in your project, video or any other media, please visit Invasion maps page for more information.
This summary and detailed maps are based on the following sources:
General Staff of the Armed Forces of Ukraine, official media channels of Ukrainian regional administrations, Ukrainian Ministry of Internal Affairs, Security Service of Ukraine (SBU), geolocated footage and press releases of Russian Armed Forces, self-proclaimed DPR and LPR.