The summary of the 138th day of Russian invasion to Ukraine, as of 22:00 – 11th July 2022 (Kyiv time).
Day summary:
Russian forces continue its attempts to break through Ukrainian lines north of Slovyansk, but almost completely ceased all ground operations on other fronts.
Ukrainian President Zelensky ordered the Ukrainian Armed Forces to re-estabilish control over the coastal regions of southern Ukraine. The General Staff now prepares an offensive plan and says that up to one million Ukrainian soldiers might be ready to participate in the offensive.
Ukrainian Forces also continue to target Russian ammunition depots behind the frontline. The recently delivered HIMARS multiple rocket launchers are indeed causing trouble for the Russian army.
Kharkiv Front
includes the area of Kharkiv and Chuhuiv

Kharkiv & Chuhuiv direction
There was no change on Kharkiv Front.
---
Bakhmut Front
includes the vicinity of Bakhmut
There was no change on Bakhmut Front.
---
Slovyansk Front
includes the vicinity of Slovyansk and Kramatorsk

Slovyansk direction
Geotagged photos on social media dated to July 7 reveled Russian presence on the southern outskirts of Kurulka. Russian troops possibly bypassed Dibrovne and captured the settlement. However, it's important to note the settlement is located in a valley and poses no advantage for the enemy.
Ukrainian forces continue to defend favorable terrain in the vicinity of Mazanivka, Krasnopillya and Dolyna. The enemy is unable to advance south towards Slovyansk in this area.
Correction: Based on the available information and reports by the head of Luhansk Oblast Haidai, it seems Bilohorivka settlement is contested.
---
Siverskyi Donets
overview map of Slovyansk, Kramatorsk, Bakhmut and Lysychansk vicinity

---
Donetsk Front
includes the center and southern part of Donetsk Oblast

Donetsk Oblast
The enemy attacked Ukrainian positions near Avdiivka, without success.
Ukrainians continue to resist in Marinka and repelled yet another Russian assault on the town.
---
Zaporizhzhia Front
includes the Zaporizhzhia Oblast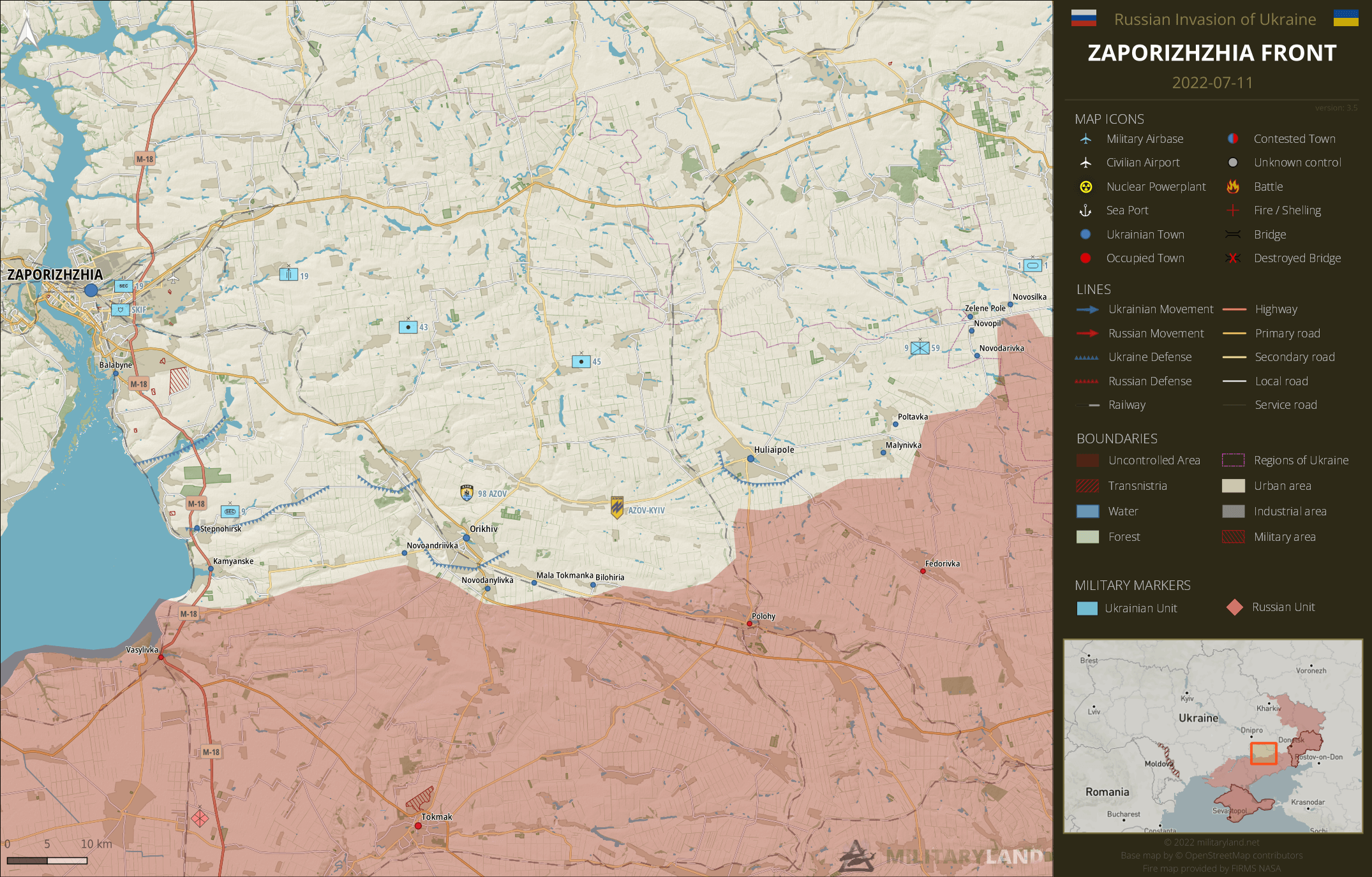 Zaporizhzhia Oblast
There was no change on the ground in Zaporizhzhia Oblast.
---
Kherson Front
includes the vicinity of Kherson and Mykolaiv

There was no change on the ground in Kherson Oblast.
Ukrainian side announced a strict embargo on all information regarding Kherson Oblast and advance of Ukrainian troops. The only allowed source for this area are the reports by Ukrainian General Staff.

---
Full map
The full overview map of current situation.
---
Looking for an interactive map? We got you covered. Visit our original Deployment map.
If you would like to use our maps in your project, video or any other media, please visit Invasion maps page for more information.
This summary and detailed maps are based on the following sources:
General Staff of the Armed Forces of Ukraine, official media channels of Ukrainian regional administrations, Ukrainian Ministry of Internal Affairs, Security Service of Ukraine (SBU), geolocated footage and press releases of Russian Armed Forces, self-proclaimed DPR and LPR