The summary of the 136th day of Russian invasion to Ukraine, as of 22:00 – 9th July 2022 (Kyiv time).
Day summary:
Russian forces continue to attack and advance towards Bakhmut and Slavyansk, despite the announced break by the Russian president.
The threat of Russian/Belarusian invasion from the north remains high. Ukrainian forces are building additional fortification and prepare for the possible new front.
Note: due to changes on the battlefield, the maps has been repositioned to reflect the changes
Kharkiv Front
includes the area of Kharkiv and Chuhuiv

Kharkiv & Chuhuiv direction
Ukrainian defenders repelled yet another attack on Dementivka.
Russian reconnaissance element attacked Ukrainian positions near Petrivka from the direction of Male Vesele. The information released by Ukrainian General Staff confirms not only the Russian forces are in control of Vesele, but also Male Vesele settlement nearby.
---
Bakhmut Front
includes the vicinity of Bakhmut
Russian troops crossed the M-03 highway east of Klynove and advanced towards Vesela Dolyna. The advance was stopped somewhere between the highway and the mentioned settlement.
The enemy tried to establish control over Vuhlehirsk Power plant, but the assault was repelled and the enemy retreated.
---
Slovyansk Front
includes the vicinity of Slovyansk and Kramatorsk

Slovyansk direction
Russian attack on Ukrainian positions at Dolyna and Krasnopillya was repulsed.
The enemy controls most of Bohodorychne. Ukrainian forces remain stationed on the high ground south of the settlement.
Russian forces entered the eastern outskirts of Hryhorivka. Fighting is ongoing.
The enemy also entered the eastern outskirts of Verkhnokamyanske and subsequently gained control over a larger portion of the village. Ukrainian forces were able to counter-attack and regain some parts of the village.
Russian troops attacked Ukrainian positions in the vicinity of Ivano-Darivka and Spirne. Russian sources claim that Spirne is under Russian control, but has not released any visual evidence yet. The settlement remains marked as contested for now.
---
Siverskyi Donets
overview map of Slovyansk, Kramatorsk, Bakhmut and Lysychansk vicinity

---
Donetsk Front
includes the center and southern part of Donetsk Oblast

Donetsk Oblast
Russian forces attempted to break through Ukrainian lines at Avdiivka and Marinka. Both attempts were repulsed.
---
Zaporizhzhia Front
includes the Zaporizhzhia Oblast

Zaporizhzhia Oblast
There was no change on the ground in Zaporizhzhia Oblast.
---
Kherson Front
includes the vicinity of Kherson and Mykolaiv

Ukrainian General Staff reported a Russian attack towards Velyke Artakove. It seems that Lozove and possibly also Bilohirka is back under Russian control.
Situation at Davydiv Brid remains unclear.
Ukrainian side announced a strict embargo on all information regarding Kherson Oblast and advance of Ukrainian troops. The only allowed source for this area are the reports by Ukrainian General Staff.

---
Full map
The full overview map of current situation.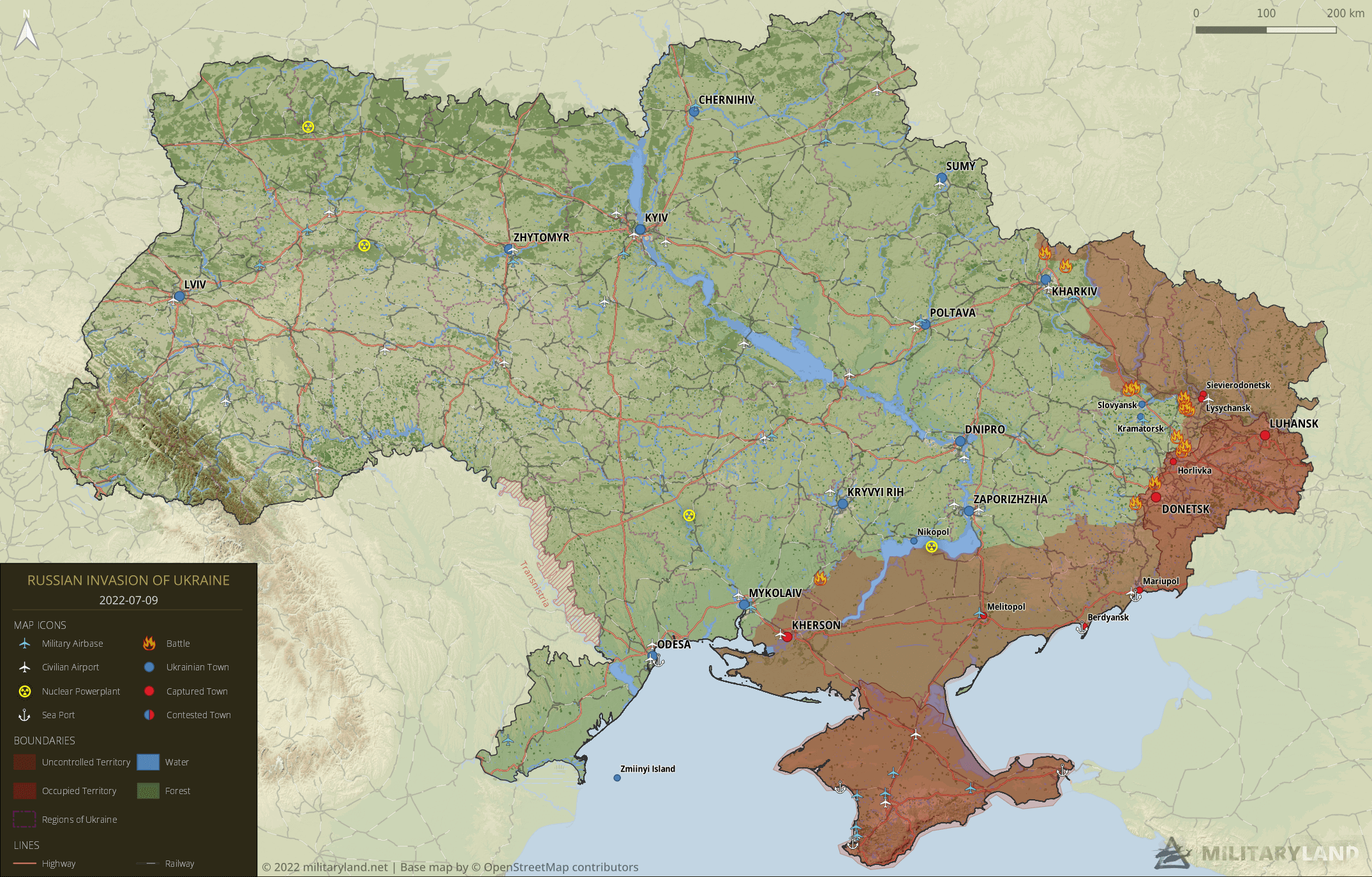 ---
Looking for an interactive map? We got you covered. Visit our original Deployment map.
If you would like to use our maps in your project, video or any other media, please visit Invasion maps page for more information.
This summary and detailed maps are based on the following sources:
General Staff of the Armed Forces of Ukraine, official media channels of Ukrainian regional administrations, Ukrainian Ministry of Internal Affairs, Security Service of Ukraine (SBU), geolocated footage and press releases of Russian Armed Forces, self-proclaimed DPR and LPR