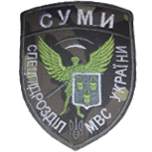 Sumy Company (Рота Суми) was created in Sumy region to protect public order in the city and patrol areas near the border with Russia, originally as a battalion. Volunteers were invited to join the battalion, the only requirements were to have Ukrainian password and clear criminal record. The battalion disrupted an attempt to destabilize Sumy region and seizure of local government buildings by separatists. In 2016, the unit was reformed into a company and serves under the command of the newly established National Police. In February 2016 the unit conducted joint training with Azov Regiment.
[tabs class="tabs-unit"]
[tab title="RECENT NEWS" active="true"]
List of news posts which mentions the unit.
Sumy company's page has been added to our site. The page contains the unit's history, equipment, uniforms, and warpath.
[/tab]
[tab title="STRUCTURE"]
The structure is unknown.
[/tab]
[tab title="UNIFORMS"]
Multicam
Locally made Multicam uniform is a cheap and popular variant for soldiers in Ukraine. The camouflage is designed for usage in various environments.
Flecktarn
Locally made Flecktarn uniform is very popular among volunteers across Ukraine. It's cheap and widely available. The pattern works well in the various environment.
[/tab]
[tab title="EQUIPMENT"]
There is no information available about the equipment of this unit.
[/tab]
[tab title="WARPATH"]
There are no official reports of deployed to the frontline.
[/tab]
[tab title="CASUALTIES"]
One soldier died in the ATO zone in 2015 but the location is not specified.
Equipment
There are no reports of losses of equipment for this unit.
[/tab][/tabs]