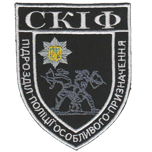 Skif Battalion (Батальйон Скіф) is volunteer battalion established in the Zaporozhye region. The personnel of the battalion is made up of volunteers and former police officers. The unit was deployed to an area around Slavyansk and later Kramatorsk. Their main duty was to protect public order in towns near to the frontline. Skif battalion supported Azov Regiment during offensive and later defensive of Shyrokyne. The unit was reformed to serve under the command of the newly established National Police in 2016.
List of news posts which mentions the unit.
1st Company
No information about this company is available.

2nd Company
No information about this company is available.

3rd Company
No information about this company is available.

4rd Company "Berda"
Formed in August 2014 as a separate company of Ministry of Internal Affairs. In late 2014, the unit was merged into Skif battalion.
PC-LW Olive
Punisher Combat – Light Weight (PC-LW) is a uniform developed by Ukrainian company P1G-Tac. The uniform is used mainly for rear units. Due to lack of any pattern, its performance in the combat zone is abysmal.
Border Guards type
Camouflage developed specially for border guards of Ukraine. Due to lack of other uniforms, it is also used by other units.
Flecktarn
Locally made Flecktarn uniform is very popular among volunteers across Ukraine. It's cheap and widely available. The pattern works well in the various environment. The camouflage is mainly used by 4th company Berda.
There is no information available about the equipment of this unit.
Slavyansk
6 May 2014 – 14 June 2014
Militants captured governmental buildings in the city and Ukraine announced ATO operation. The battle of Slavyansk was first major military engagement in this conflict.
Shyrokyne
10th February 2015 – today
Regiment Azov met heavy resistance in Shyrokyne during their offensive in 2015. After a year of static battles, militants withdrew from the town.
Manpower
There are no reports of losses for this unit.
Equipment
There are no reports of losses of equipment for this unit.