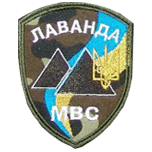 Lavender company (Батальйон Лаванда) is a consolidated detachment of traffic and special police in Rivne region. The unit was formed on the basis of disbanded Berkut unit in Rivne. While Lavander is the official name of the unit, it didn't gain much popularity and consolidated detachment is used instead. Insignias weren't distributed although they exist. The unit wears standard Ministry of Internal Affairs insignias.
Recent News
List of news posts which mentions the unit.
East company's and Lavender company's pages have been added to our site. The pages contain the unit's structure, equipment, uniforms, and warpath.
Structure
The current structure of the unit is unknown.
Uniforms
Flecktarn
Locally made Flecktarn uniform is very popular among volunteers across Ukraine. It's cheap and widely available. The pattern works well in the various environment.
Border Guards type
Camouflage developed specially for border guards of Ukraine. Due to the lack of other uniforms, it is also used by other units.
Equipment
There is no information available about the equipment of this unit.
Warpath
The unit was not deployed to the frontline.
Casualties
Manpower
There are no reports of losses for this unit.
Equipment
There are no reports of losses of equipment for this unit.
We cannot display this gallery
Recent News
The summary of the situation of Russian re-invasion to Ukraine covering the last 48 hours, as of 24th November 2022 – 22:00 (Kyiv time).
Structure
Uniforms
Vehicles
Losses
For Equipment losses, please visit dedicated page at:
Manpower losses since the Russian invasion of Crimea and Donbas (2014 - today)
Manpower losses since the Russian invasion of Ukraine (2022 - today)
Disclaimer: Manpower casualties data are based on publicly available sources and social media. They do not represent final or official amount of losses and are subject to change.