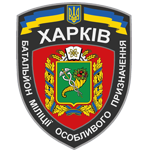 Kharkiv battalion (Батальйон Харків) is a police unit formed from three volunteer battalions, namely Kharkiv-1, Kharkiv-2 and Slobozhanshchina. The unit serves in the vicinity of Mariupol, on the temporary border crossing located near Marinka in Donetsk Region and guarded football matches of Shakhtar Donetsk in Champions League. In 2018, Kharkiv battalion participated in action against several members of Eastern Corps company.
Recent News
List of news posts which mentions the unit.
Kharkiv battalion's page has been added to our site. The page contains the unit's structure, equipment, uniforms, and warpath.
December 15, 2018
Posted in
News
Tagged
kharkiv_bat
Comments Off

on Kharkiv Battalion Available
Structure

1st Company "Kharkiv-1"
Former volunteer battalion founded in April 2014. The unit participated in the defense of Volnovakha.

2nd Company "Kharkiv-2"
Volunteer unit founded in April 2014. The company's main job is reconnaissance and sabotage.

3rd Company
The third company was formed from members of disbanded Slobozhanshchina battalion as well as new recruits.
Uniforms
Multicam
Locally made Multicam uniform is a cheap and popular variant for soldiers in Ukraine. The camouflage is designed for usage in various environments.
Flecktarn
Locally made Flecktarn uniform is very popular among volunteers across Ukraine. It's cheap and widely available. The pattern works well in the various environment.
Equipment
BRDM-2
Type: LAV | Quantity: 4
Warpath
Kharkiv battalion serves on checkpoints and guards important facilities. Kharkiv-2 company conducts various reconnaissance operations but no information is publicly available.
Casualties
Manpower
There are no reports of losses for this unit.
Equipment
There are no reports of losses of equipment for this unit.
We cannot display this gallery
Recent News
The summary of the situation of Russian re-invasion to Ukraine covering the last 48 hours, as of 4th December 2022 – 22:00 (Kyiv time).
Structure
Uniforms
Vehicles
Losses
For Equipment losses, please visit dedicated page at:
Manpower losses since the Russian invasion of Crimea and Donbas (2014 - today)
Manpower losses since the Russian invasion of Ukraine (2022 - today)
Disclaimer: Manpower casualties data are based on publicly available sources and social media. They do not represent final or official amount of losses and are subject to change.