No photos available to display.
Special Detachment Kraken is a separate reconnaissance and sabotage unit of Main Directorate of Intelligence of the Ministry of Defence of Ukraine. The unit was formed by veterans of Azov Regiment shortly after the Russian full scale invasion in February 2022.
The unit was formed on the basis of 225th and 226th Territorial Defense Battalion of 127th Territorial Defense Brigade.
Structure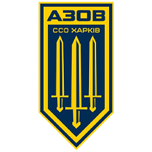 If you find some incorrect information, or have information we're missing, please let us know via info(at)militaryland.net. Thank you!