The summary of the 98th day of Russian invasion to Ukraine, as of 22:00 – 1st June 2022 (Kyiv time).
Day summary:
Ukrainian forces managed to advance in the southern Ukraine and also regained control of Vesele in Kharkiv Oblast.
Russian army continues to target border areas of Ukrainian Chernihiv and Sumy Oblasts and focuses its main force on Sievierodonetsk, where they are slowly pushing Ukrainian troops out of the city.
Belarusian army has reportedly strengthened its presence on the border with Ukraine.
Kharkiv Frontline
includes the area of Kharkiv and Chuhuiv

rain showers | ~29 °C
Shelling: Zolochiv, Slatine, Derhachi, Rusky Tyshky, Oleksandrivka, Vesele, Ternova, Rudneve, Protopopivka
Ukrainian officials reported shelling of Ukrainian positions at Vesele, confirming the previous rumors of the settlement liberation.
Russian army, aware of the Ukrainian success in the vicinity of Kharkiv, has reportedly started to built defensive positions in the area of Kupiansk.
Russian forces have repaired a railway bridge near Kupiansk, allowing them to resume operations on the Kupiansk – Lyman railway branch.
---
Siverskyi Donets
includes the area of Slovyansk, Kramatorsk and Bakhmut
light rain | ~30 °C
Shelling: Velyka Komyshuvakha, Rudne, Virnopillya, Dovhenke, Svyatohirsk, Vidrodzhennya, Novoluhanske
Russian troops assaulted Ukrainian positions at Dovhenke and Dibrovne, but were pushed back.
The enemy is reportedly preparing to cross Siverskyi Donets river and advance towards Raihorodok and Siversk to further complicate the situation for the Ukrainian defenders.
Fighting continues on the streets of Sievierodonetsk, mainly in the south-eastern district. The eastern and northern districts were captured by the advancing Russian troops. Ukrainian troops retreated from Oskolonivka to avoid encirclement.
In the area of Popasna and Zolote, Russian forces attacked Ukrainian positions at Toshkivka, Zolote, Komyshuvakha, Vrubivka, Nyrkove, Berestove, Bilohorivka and reached the outskirts of Pokrovske. Furthermore, all indicates the Russian troops captured Lypove and Pylypchytyne settlements.
---
South-Eastern Front
includes Donetsk and Zaporizhzhia Oblast
partly sunny | ~33 °C
Donetsk Oblast
Shelling: Avdiivka, Niu-York, Novoselivka
There was no change on the ground in Donetsk Oblast.
Zaporizhzhia Oblast
Shelling: Mala Tokmachka, Novoandriivka
There was no change on the ground in Zaporizhzhia Oblast.
---
Kherson Frontline
includes the vicinity of Kherson and Mykolaiv

partly sunny | ~32 °C
Shelling: Posad-Pokrovske, Davydiv Brid, Mykolaivka, Trudoliubivka, Osokorivka
Ukrainian officials stated in the evening that Russian forces shelled Ukrainian positions in the area of Snihurivka (Mykolaiv O.), Vysokopillya (Kherson O.) and Zolota Balka (Kherson O.), indicating Ukrainian troops have made some progress in those areas and most likely reached the outskirts of the said towns/settlements.
Russian forces managed to destroy a bridge at Davydiv Brid in order to slow down the ongoing Ukrainian offensive in the area. The situation at Andriivka and Bilohirka remains covered by the fog of war.
---
Full map
The full overview map of current situation.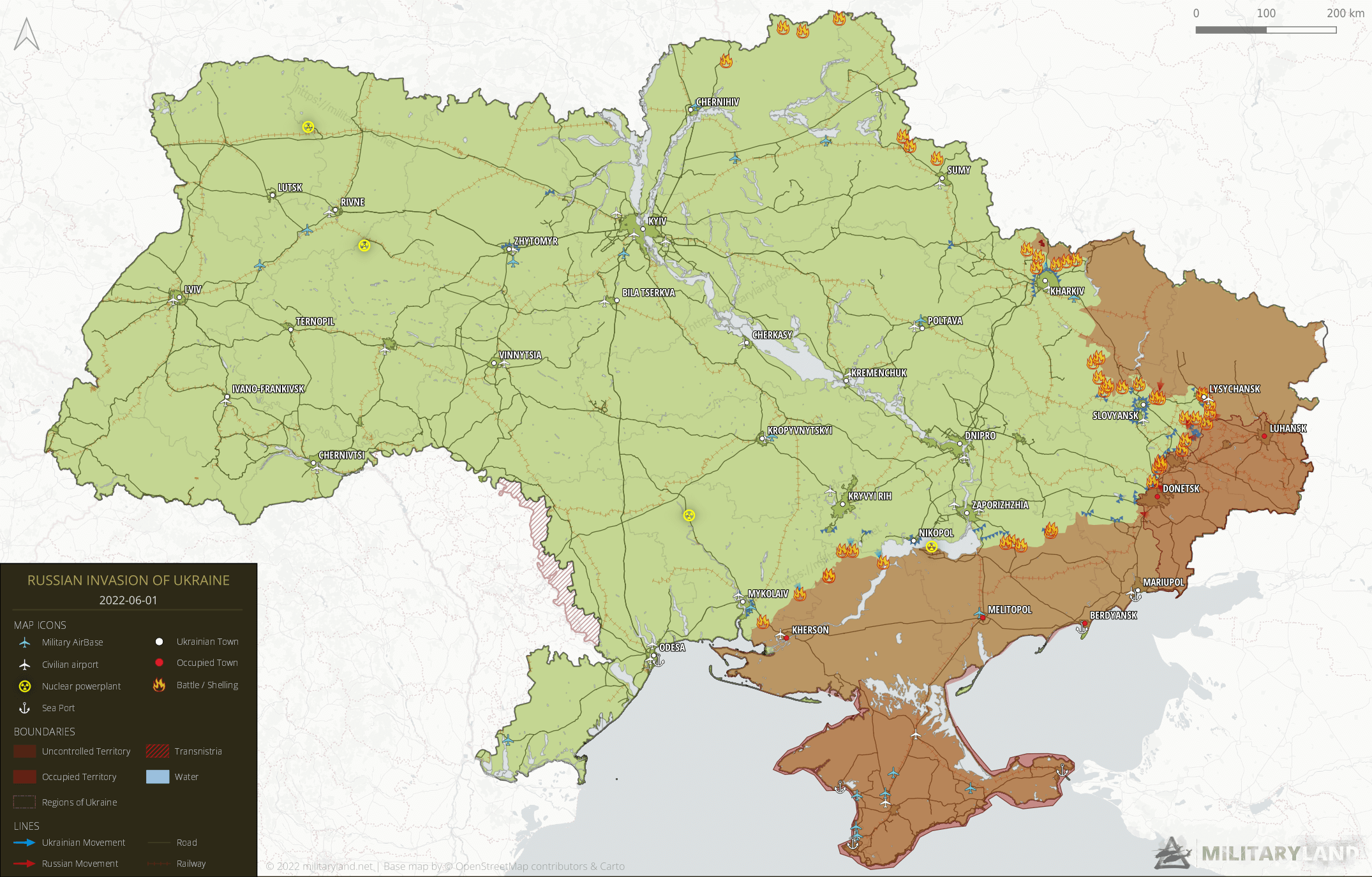 Maps and article are based on the following sources:
General Staff of the Armed Forces of Ukraine, official channels of Ukrainian regional administrations, Ukrainian Ministry of Internal Affairs, Ukrainian Ministry of Defense, Security Service of Ukraine (SBU), press released of Russian Army, DPR and LPR (taken with a grain of salt)
Visit our Deployment map for updated interactive map of captured areas and Ukrainian units.
Make sure to follow us on Twitter & Telegram for the latest updates on Ukraine.