The summary of the 89th day of Russian invasion to Ukraine, as of 22:00 – 23rd of May 2022 (Kyiv time).
Day summary:
The most difficult situation remains in the area of Siverskyi Donets. Ukrainian troops retreated from Svitlodarsk Arc and nearby areas to avoid encirclement. Russian forces have launched an attack on Lyman and have a partial success. The situation remains unchanged on other frontlines.
Russia continues to shell Ukrainian positions near the border in Sumy and Chernihiv Oblasts.
Kharkiv Frontline
includes the area of Kharkiv and Chuhuiv

partly sunny | ~17 °C
Shelling: Prudianka, Ternova, Husarivka, Chepil
Russian forces attempted to regain control of Ternova, but the attack wasn't successful, and the enemy retreated to its original positions.
---
Siverskyi Donets
includes the area of Slovyansk, Kramatorsk and Bakhmut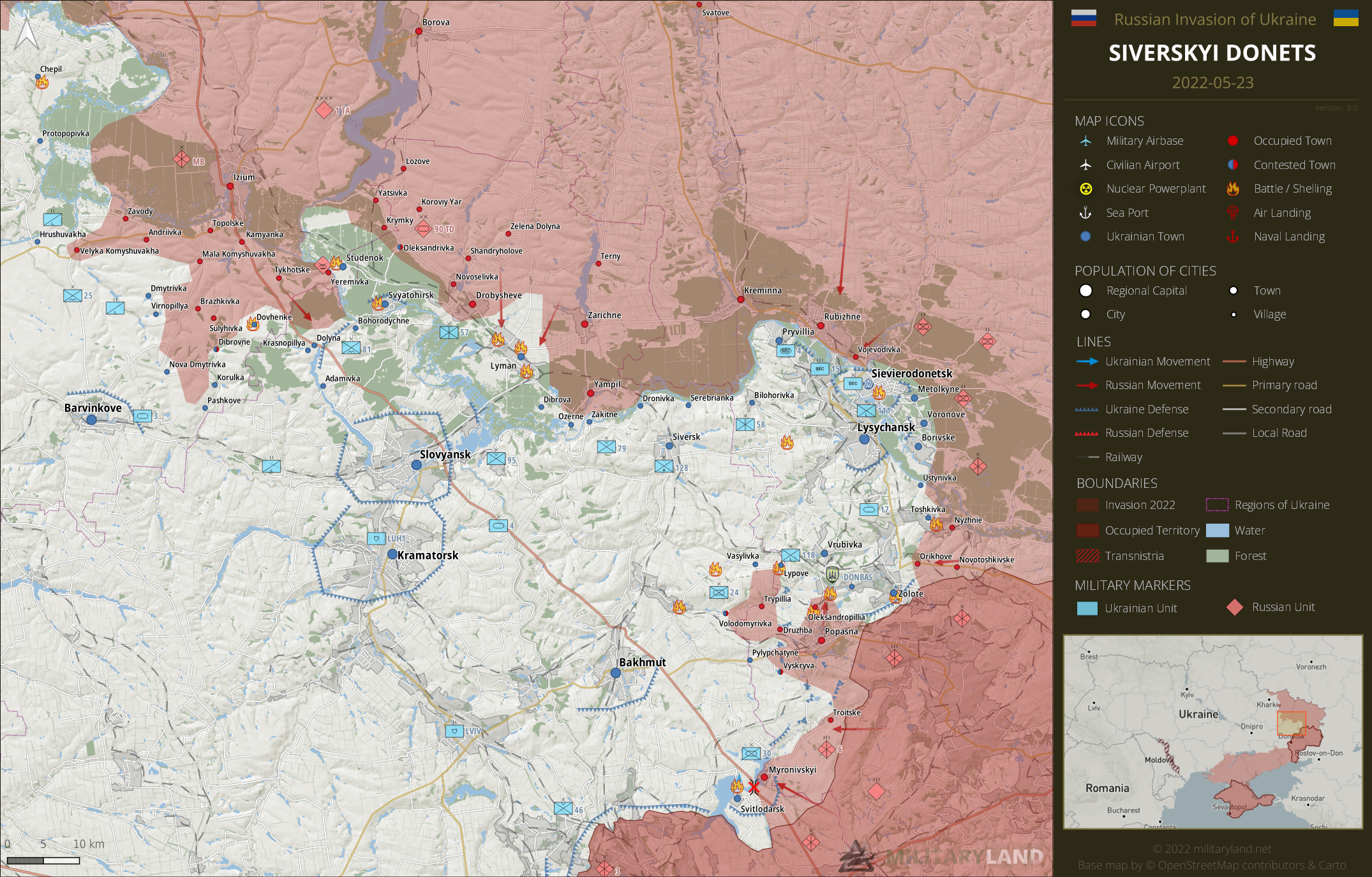 partly sunny | ~18 °C
Shelling: Dolyna, Bohorodychne, Studenok, Svyatohirsk, Lyman, Dibrova, Ozerne, Sievierodonetsk, Zolote
Russian troops attacked Ukrainian positions at Dovhenke, but the assault was repelled. The enemy also attempted to capture Toshkivka and Lypove, but wasn't successful.
After a few days of preparations, Russian forces have launched an attack on Lyman and reportedly entered the outskirts in the evening.
Russian troops captured a forwarded Ukrainian checkpoint at Zolote, but the situation in the town itself is unclear. It's likely the Ukrainian forces retreated or will retreat in coming hours to more favorable positions.
At Svitlodarsk Arc, Ukrainian troops retreated from the contact line to avoid encirclement. They also blew a bridge and nearby dam to slow down the Russian advance. The enemy has captured Troitske and Myronivskyi as the result. They haven't yet entered Svitlodarsk itself, but Ukrainian forces reportedly retreated today.
---
South-Eastern Front
includes Donetsk and Zaporizhzhia Oblast
cloudy | ~18 °C
Donetsk Oblast
Shelling: Avdiivka, Novoselivka Druha, Novomykhalivka, Mykilske
Ukrainian forces noted a decrease of combat activity in the vicinity of Avdiivka and Marinka.
Zaporizhzhia Oblast
Shelling: Orikhiv, Huliaipole
There was no change on the ground in Zaporizhzhia Oblast.
---
Kherson Frontline
includes the vicinity of Kherson and Mykolaiv

rain | ~16 °C
Mykolaiv Oblast
There was no change on the ground in Mykolaiv Oblast.
Kherson Oblast
Ukraine reports that Russian forces are building trenches and fortification in the area of Posad-Pokrovske, indicating they are much closer to the town than we previously knew.
---
Full map
The full overview map of current situation.
Maps and article are based on the following sources:
General Staff of the Armed Forces of Ukraine, official channels of Ukrainian regional administrations, Ukrainian Ministry of Internal Affairs, Ukrainian Ministry of Defense, Security Service of Ukraine (SBU), press released of Russian Army, DPR and LPR (taken with a grain of salt)
Visit our Deployment map for updated interactive map of captured areas and Ukrainian units.
Make sure to follow us on Twitter & Telegram for the latest updates on Ukraine.