The summary of the 73rd day of Russian invasion to Ukraine, as of 22:00 – 7th of May 2022 (Kyiv time).
Day summary:
Ukrainian forces withdrew from the most of Popasna and lost a small settlement in the Siverskyi Donets area. Ukrainian troops continue to conduct successful offensive in Kharkiv Oblast and liberated another village.
Ukrainian intelligence reports that Russian forces are building trenches and fortification systems near the border with Ukraine in Kursk Oblast.
Kharkiv Frontline
includes the area of Kharkiv and Chuhuiv

rain showers | ~18 °C
Shelling: Prudianka, Slatine, outskirts of Kharkiv
Ukrainian forces liberated the town of Tsyrkuny near Kharkiv. Russian army, in order to slow down advancing Ukrainian troops, blew up three bridges in the vicinity of Tsyrkuny and Rusky Tyshky.
---
Siverskyi Donets
includes the area of Slovyansk, Kramatorsk and Bakhmut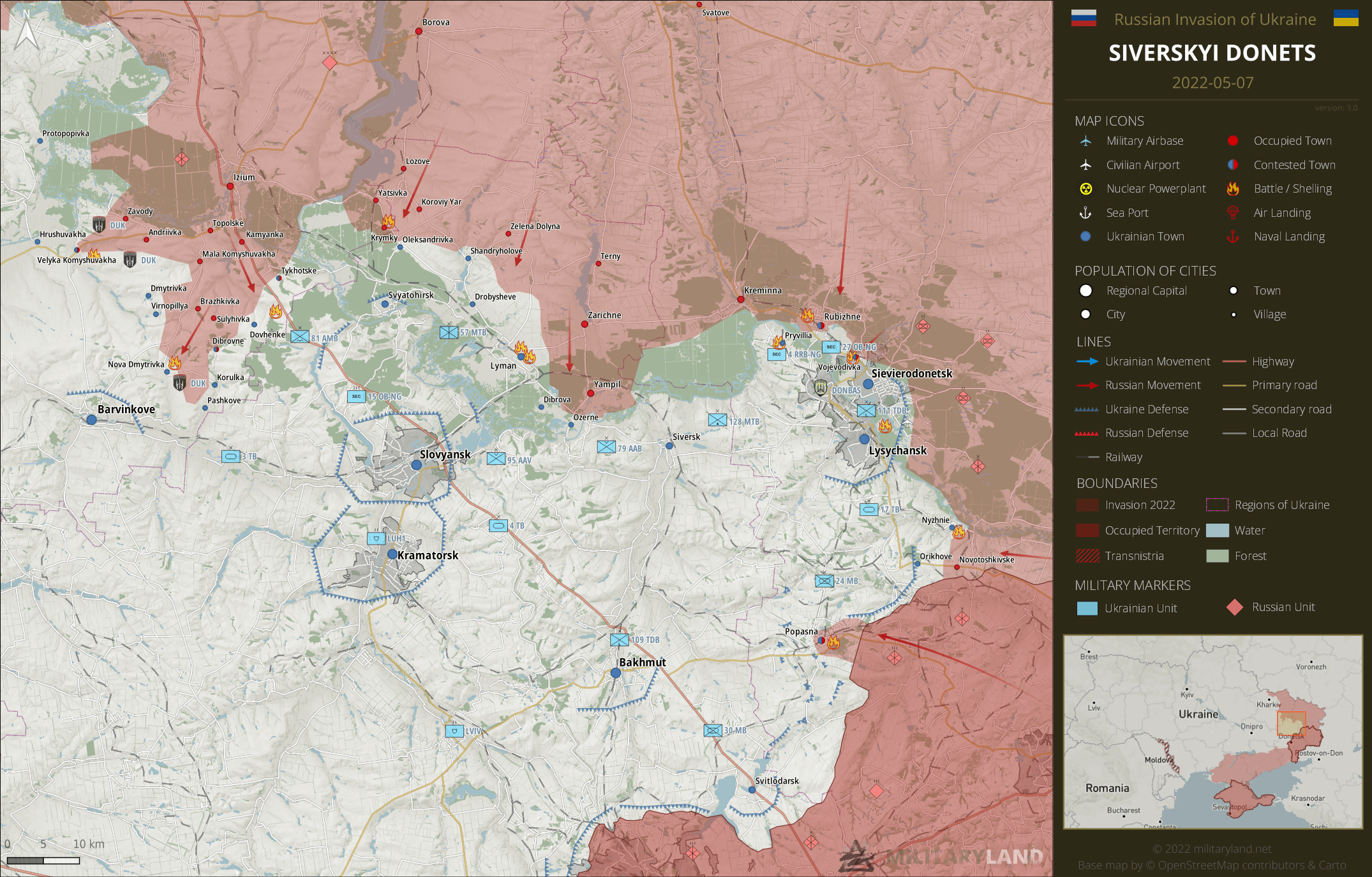 sunny | ~17 °C
Shelling: Velyka Komyshuvakha, Nova Dmytrivka, Dovhenke, Lyman, Rubizhne
Russian troops attacked Ukrainian positions at Virnopillya, but the attack was repelled. The enemy has advanced towards Oleksandrivka, Nyzhnie and captured Krymsky.
Russian forces managed to seize most of Popasna and all published footage indicates that Ukrainian troops are no longer present in the city. The city lies in the rubble after two months of fighting and Russian indiscriminate shelling. Ukrainian forces most likely withdrew to nearby fortified positions.
---
South-Eastern Front
includes Donetsk and Zaporizhzhia Oblast
mostly sunny | ~18 °C
Donetsk Oblast
Shelling: Velyka Novosilka, Vuhledar, Marinka, Avdiivka
There was no change on the ground in Donetsk Oblast.
Zaporizhzhia Oblast
Shelling: Orikhiv, Huliaipole
There was no change on the ground in Zaporizhzhia Oblast.
---
Azovstal
includes the Azovstal Plant in Mariupol
partly sunny | ~18 °C
Russian troops used the civilian evacuation to its advantage and improved its positions around Azovstal. Furthermore, during today's evacuation, three Ukrainian soldiers were killed and six more wounded.
According to Ukrainian deputy prime minister, all women, children and elderly people were evacuated from Azovstal today.
---
Kherson Frontline
includes the vicinity of Kherson and Mykolaiv

sunny | ~19 °C
Mykolaiv Oblast
Ukrainian forces reportedly targeted a Russian military warehouse in Ivano-Kepyne near Snihurivka.
Kherson Oblast
Shelling: n/a
There was no change on the ground in Kherson Oblast.
---
Full map
The full overview map of current situation.
Maps and article are based on the following sources:
General Staff of the Armed Forces of Ukraine, official channels of Ukrainian regional administrations, Ukrainian Ministry of Internal Affairs, Ukrainian Ministry of Defense, Security Service of Ukraine (SBU), press released of Russian Army, DPR and LPR (taken with a grain of salt)
Visit our Deployment map for updated interactive map of captured areas and Ukrainian units.
Make sure to follow us on Twitter for the latest updates on Ukraine.