The summary of the 72nd day of Russian invasion to Ukraine, as of 22:00 – 6th of May 2022 (Kyiv time).
Day summary:
Ukrainian Army reports another successful liberation of several villages in Kharkiv Oblast. Russian troops are slowly advancing in Luhansk Oblast, but we are talking about meters, maybe a dozen meters in some areas.
Two days remaining till the May 9 and the Victory Parade. It's now clear Russian troops cannot achieve its goals and capture the whole Luhansk and Donetsk Oblast till the mentioned date.
Kharkiv Frontline
includes the area of Kharkiv and Chuhuiv

sunny | ~17 °C
Shelling: outskirts of Kharkiv, Valkovskii (Belgorod Oblast, Russia), Cherkasky Tyshky
Ukrainian forces liberated Oleksandrivka, Shestakove, Fedorivka, Peremoha, Ukrainka and part of Cherkasky Tyshky village.
---
Siverskyi Donets
includes the area of Slovyansk, Kramatorsk and Bakhmut
mostly sunny | ~16 °C
Shelling: Velyka Komyshuvakha, Nova Dmytrivka, Dovhenke, Lyman, Rubizhne, Nyzhnie
Russian troops attacked Ukrainian positions near Nova Dmytrivka, but had no success. The fighting continues in Rubizhne, Popasna and in the vicinity of Lyman. Heavy fighting was also reported from the area of Vojevodivka.
The enemy attacked Ukrainian positions at Shandryholove and Nyzhnie in the afternoon. Both attacks were repelled.
---
South-Eastern Front
includes Donetsk and Zaporizhzhia Oblast
partly cloudy | ~17 °C
Donetsk Oblast
Shelling: Velyka Novosilka, Vuhledar, Avdiivka, Marinka
Russian forces assaulted Ukrainian positions in Avdiivka, but retreated to its original positions after a few hours long battle.
Zaporizhzhia Oblast
Shelling: Orikhiv, Huliaipole
There was no change on the ground in Zaporizhzhia Oblast.
---
Azovstal
includes the Azovstal Plant in Mariupol
mostly cloudy | ~17 °C
Another 50 civilians successfully exited the Azovstal plant today. According to Azov Regiment, Russian troops have broken the ceasefire agreement and targeted an evacuation truck. One Ukrainian soldier was killed and six more wounded as the result.
---
Kherson Frontline
includes the vicinity of Kherson and Mykolaiv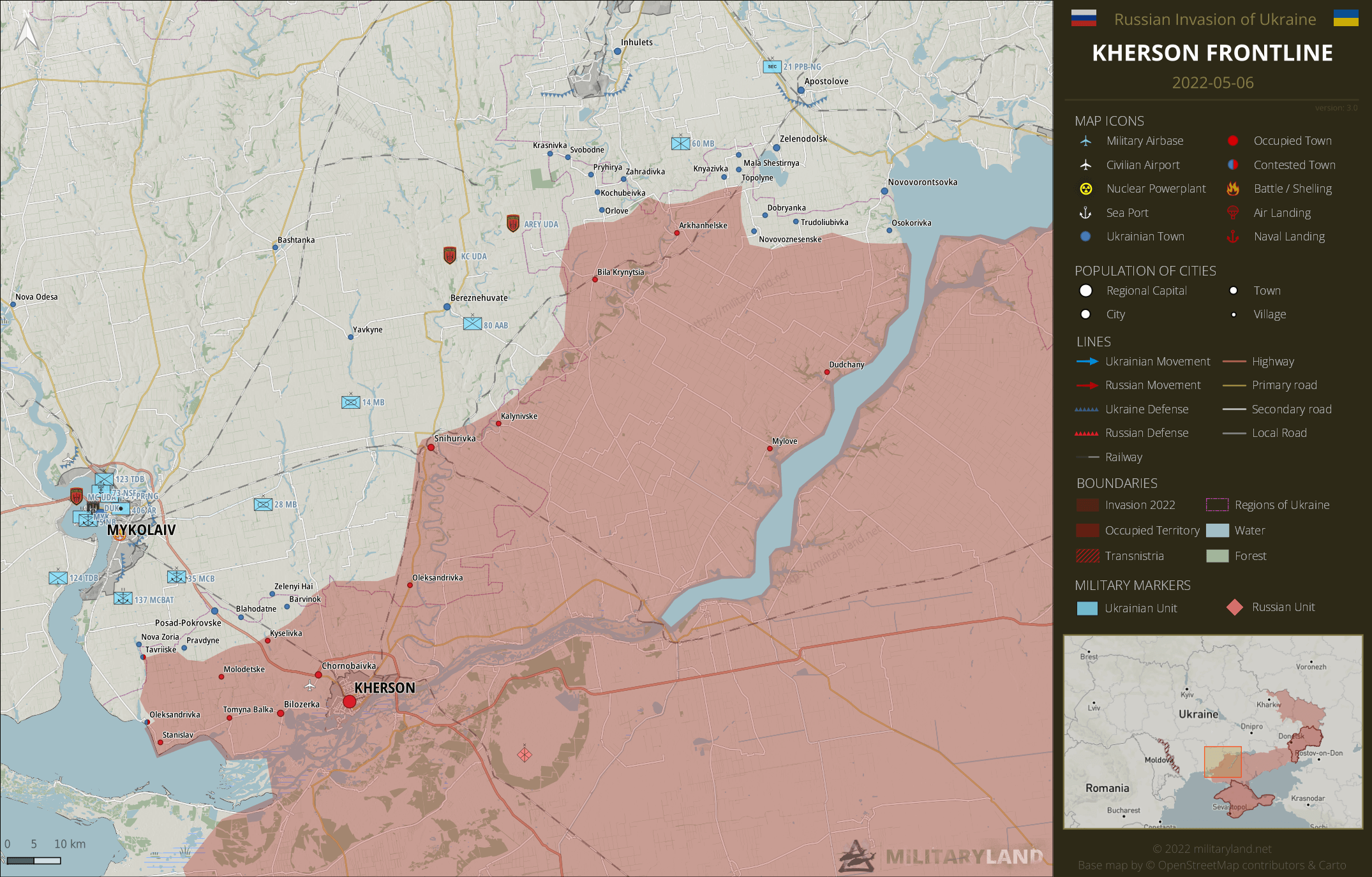 sunny | ~20 °C
Mykolaiv Oblast
There was no change on the ground in Mykolaiv Oblast.
Kherson Oblast
Shelling: n/a
There was no change on the ground in Kherson Oblast.
---
Full map
The full overview map of current situation.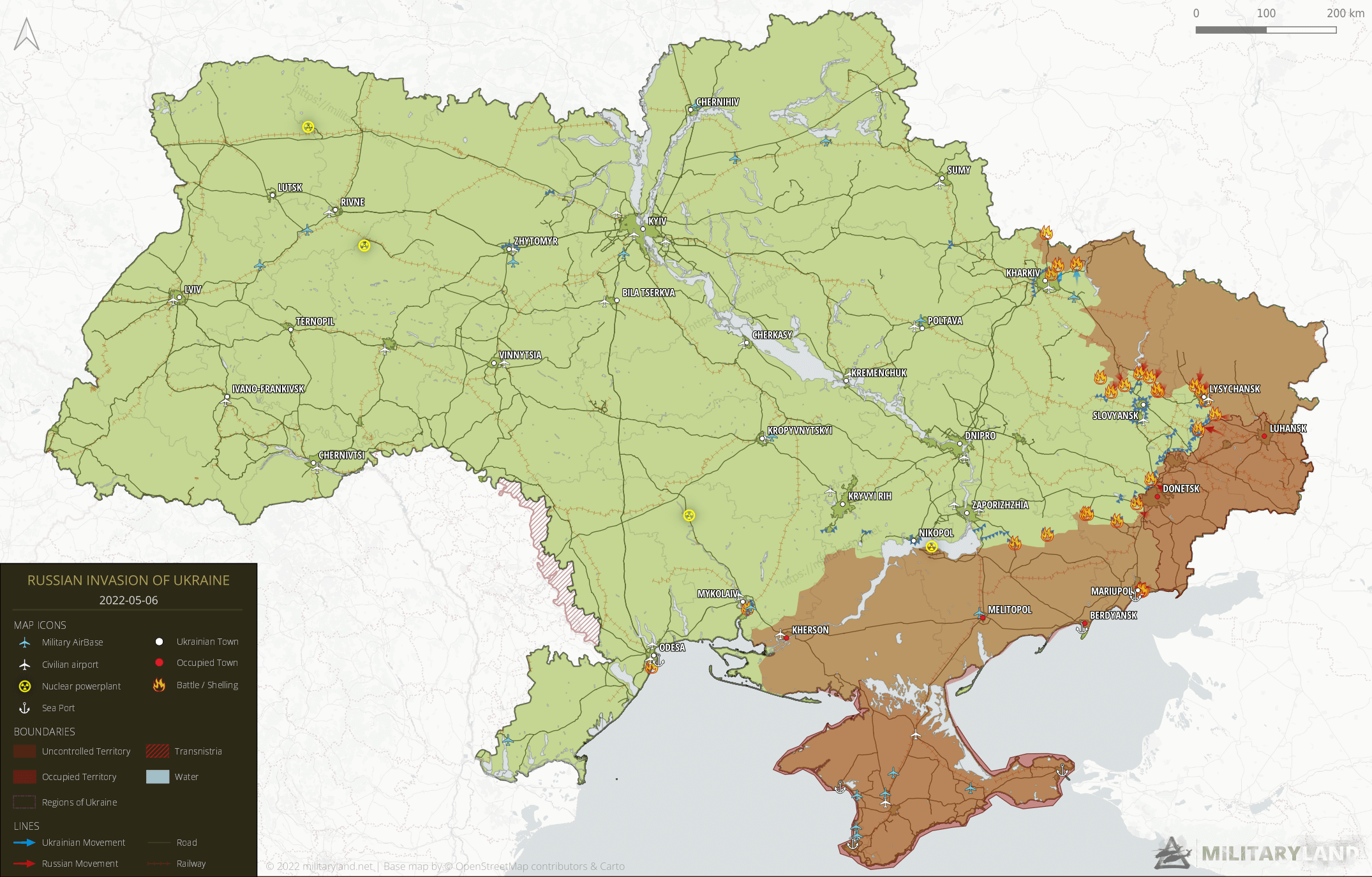 Maps and article are based on the following sources:
General Staff of the Armed Forces of Ukraine, official channels of Ukrainian regional administrations, Ukrainian Ministry of Internal Affairs, Ukrainian Ministry of Defense, Security Service of Ukraine (SBU), press released of Russian Army, DPR and LPR (taken with a grain of salt)
Visit our Deployment map for updated interactive map of captured areas and Ukrainian units.
Make sure to follow us on Twitter for the latest updates on Ukraine.