The summary of the 71st day of Russian invasion to Ukraine, as of 22:00 – 5th of May 2022 (Kyiv time).
Day summary:
Ukrainian forces continue to conduct successful operation in the vicinity of Kharkiv and also announced the start of counter-offensive near Izium. The success in the north is however very likely at the cost of Mariupol.
Russia tries to create panic among the Ukrainian civilian population and to disrupt the supply lines in the rear, but has minimum success on the battlefield.
This summary includes events of Day 70 and 71. Thank you all for your great support. I really appreciate it.
Kharkiv Frontline
includes the area of Kharkiv and Chuhuiv

sunny | ~14 °C
Shelling: outskirts of Kharkiv, Protopopivka
Ukrainian forces have advanced north of Molodova and liberated Stary Saltiv. The subsequent Russian counter-attack in the afternoon was successfully repelled.
---
Siverskyi Donets
includes the area of Slovyansk, Kramatorsk and Bakhmut
partly sunny | ~16 °C
Shelling: Hrushuvakha, Nova Dmytrivka, Korulka, Lyman, Rubizhne, Lysychansk, Popasna
Russian troops attempted to push in the area of Dovhenke and the highway Izium – Slovyansk, but the advance was denied by the defenders. Situation remain tense in the vicinity of Krymky and Oleksandrivka. Russian forces tried to open a new breakthrough at Shandryholove, but the attempt wasn't successful.
The enemy attempted to cut off Ukrainian defenders in Rubizhne and stormed the village of Vojevodivka. The assaulted was repelled. The fighting continues in Rubizhne, Popasna and in the vicinity of Lyman. Russian troops reached the outskirts of Sievierodonetsk from the north.
Russian attack towards Orikhove was repulsed.
---
South-Eastern Front
includes Donetsk and Zaporizhzhia Oblast
mostly cloudy | ~18 °C
Donetsk Oblast
Shelling: Zelene Pole, Velyka Novosilka, Huliaipole, Novosilka
There was no change on the ground in Donetsk Oblast. Ukrainian defenders repelled all attacks.
Zaporizhzhia Oblast
Shelling: Orikhiv
There was no change on the ground in Zaporizhzhia Oblast.
---
Azovstal
includes the Azovstal Plant in Mariupol
mostly cloudy | ~20 °C
Russian troops have been storming and shelling the Azovstal plant basically nonstop for the past three days. The enemy has reportedly broken into the plant, but all key structures and the underground bunkers are in Ukrainian hands.
---
Kherson Frontline
includes the vicinity of Kherson and Mykolaiv

partly sunny | ~19 °C
Mykolaiv Oblast
There was no change on the ground in Mykolaiv Oblast.
Kherson Oblast
Shelling: Nova Zoria, the northern frontline
There was no change on the ground in Kherson Oblast.
---
Full map
The full overview map of current situation.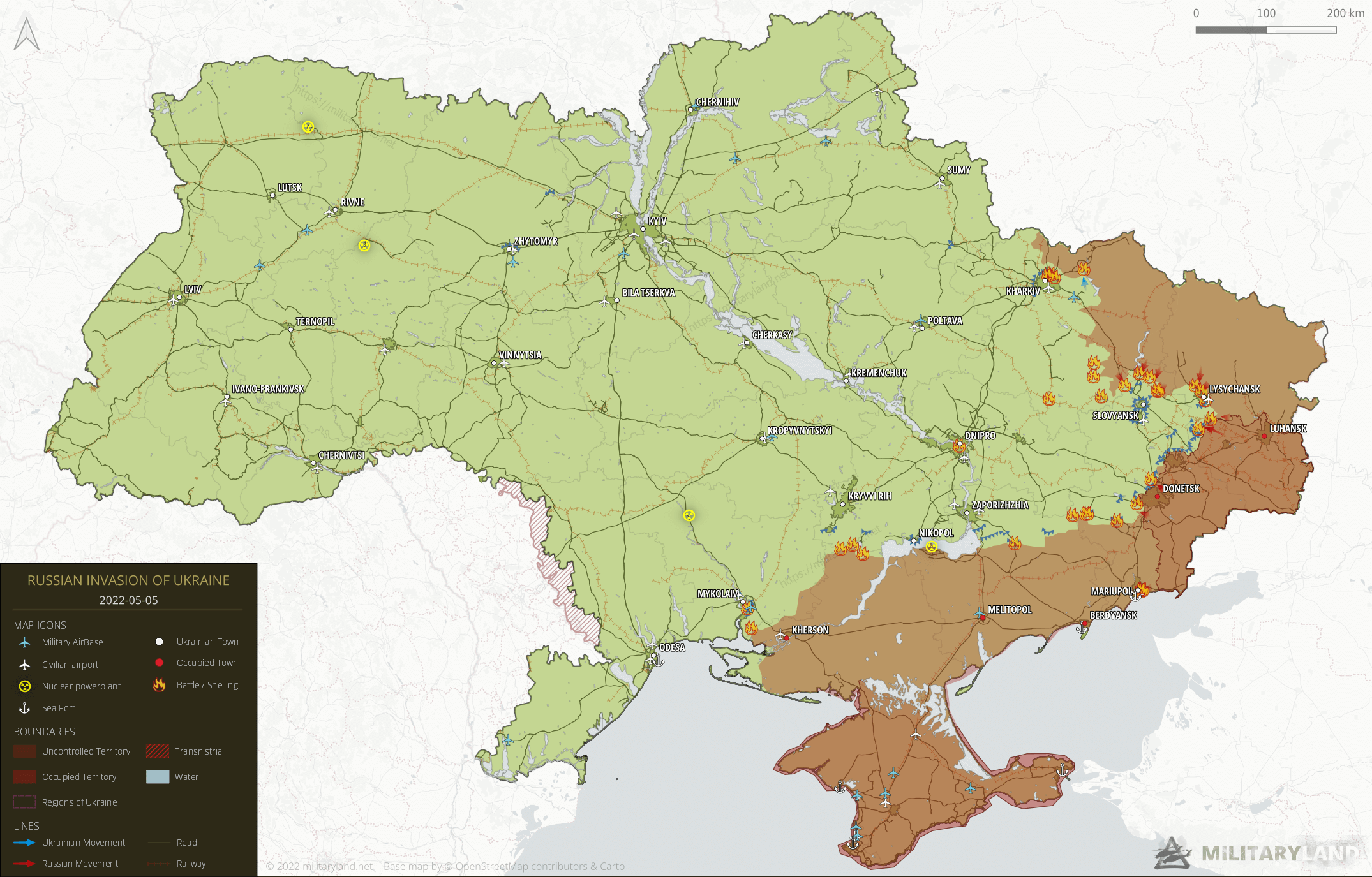 Maps and article are based on the following sources:
General Staff of the Armed Forces of Ukraine, official channels of Ukrainian regional administrations, Ukrainian Ministry of Internal Affairs, Ukrainian Ministry of Defense, Security Service of Ukraine (SBU), press released of Russian Army, DPR and LPR (taken with a grain of salt)
Visit our Deployment map for updated interactive map of captured areas and Ukrainian units.
Make sure to follow us on Twitter for the latest updates on Ukraine.