The summary of the 65th day of Russian invasion to Ukraine, as of 22:00 – 29th of April 2022 (Kyiv time).
Day summary:
Ukrainian forces liberated another settlement near Kharkiv and are slowly gaining ground in the area. The situation on other frontlines didn't change significantly on Friday.
Kharkiv Frontline
includes the area of Kharkiv and Chuhuiv

mostly cloudy | ~16 °C
Shelling: outskirts of Kharkiv, Chuhuiv
Ukrainian forces liberated Ruska Lozova north of Kharkiv and Momotove near Kutuzivka.
---
Siverskyi Donets
includes the area of Slovyansk, Kramatorsk and Bakhmut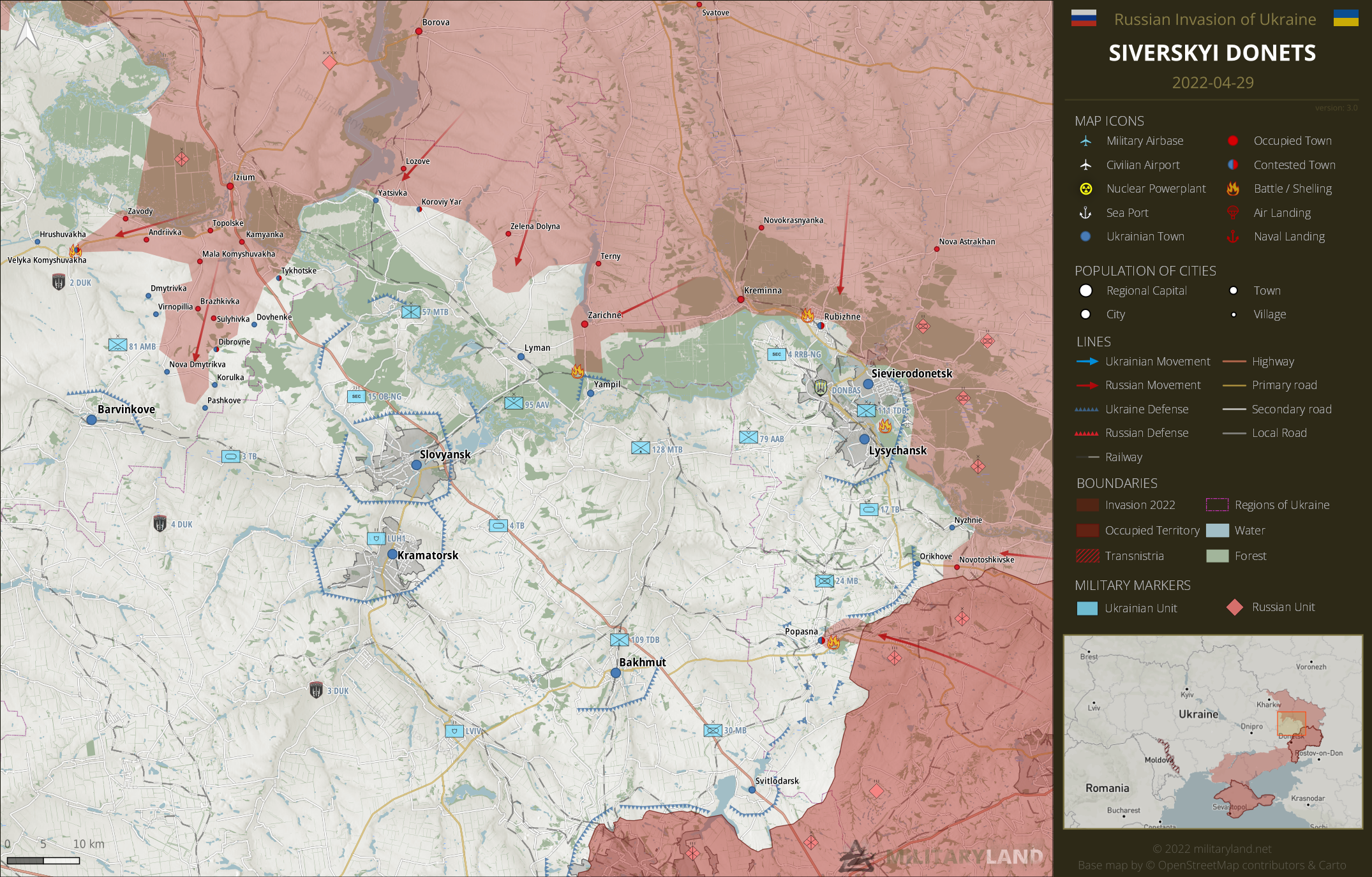 rain showers | ~16 °C
Shelling: Velyka Komyshuvakha, Yampil, Lysychansk, Popasna
The fighting continues in the area of Velyka Kumyshuvakha, Yampil, Rubizhne and Popasna. Russian troops have reportedly set up an additional pontoon bridge across Siverskyi Donets river near Izium.
---
South-Eastern Front
includes Donetsk and Zaporizhzhia Oblast
partly sunny | ~14 °C
Donetsk Oblast
Shelling: Marinka, Avdiivka
There was no change on the ground in Donetsk Oblast.
Zaporizhzhia Oblast
Shelling: the vicinity of Novosilka and Velyka Novosilka
There was no change on the ground in Zaporizhzhia Oblast.
---
Azovstal
includes the Azovstal Plant in Mariupol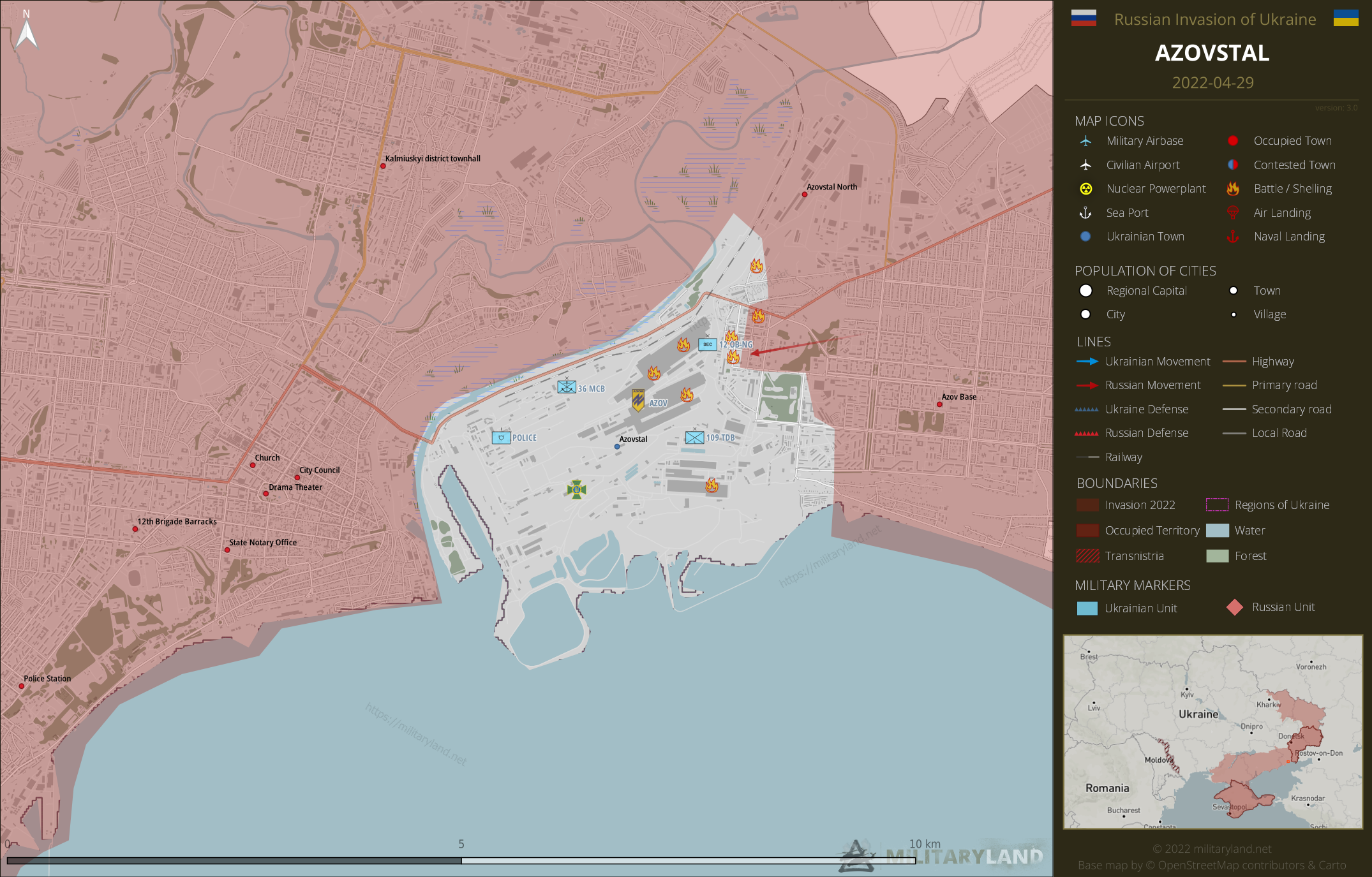 partly sunny | ~21 °C
Russian forces are attacking the Azovstal main complex from the east. The fighting is ongoing outside the Azovstal's perimeter.
---
Kherson Frontline
includes the vicinity of Kherson and Mykolaiv

partly sunny | ~18 °C
Mykolaiv Oblast
There was no change on the ground in Mykolaiv Oblast.
Kherson Oblast
Shelling: Tavriiske, Nova Zoria, Oleksandrivka, Zahradivka, vicinity of Zelenodolsk
There was no change on the ground in Kherson Oblast.
---
Full map
The full overview map of current situation.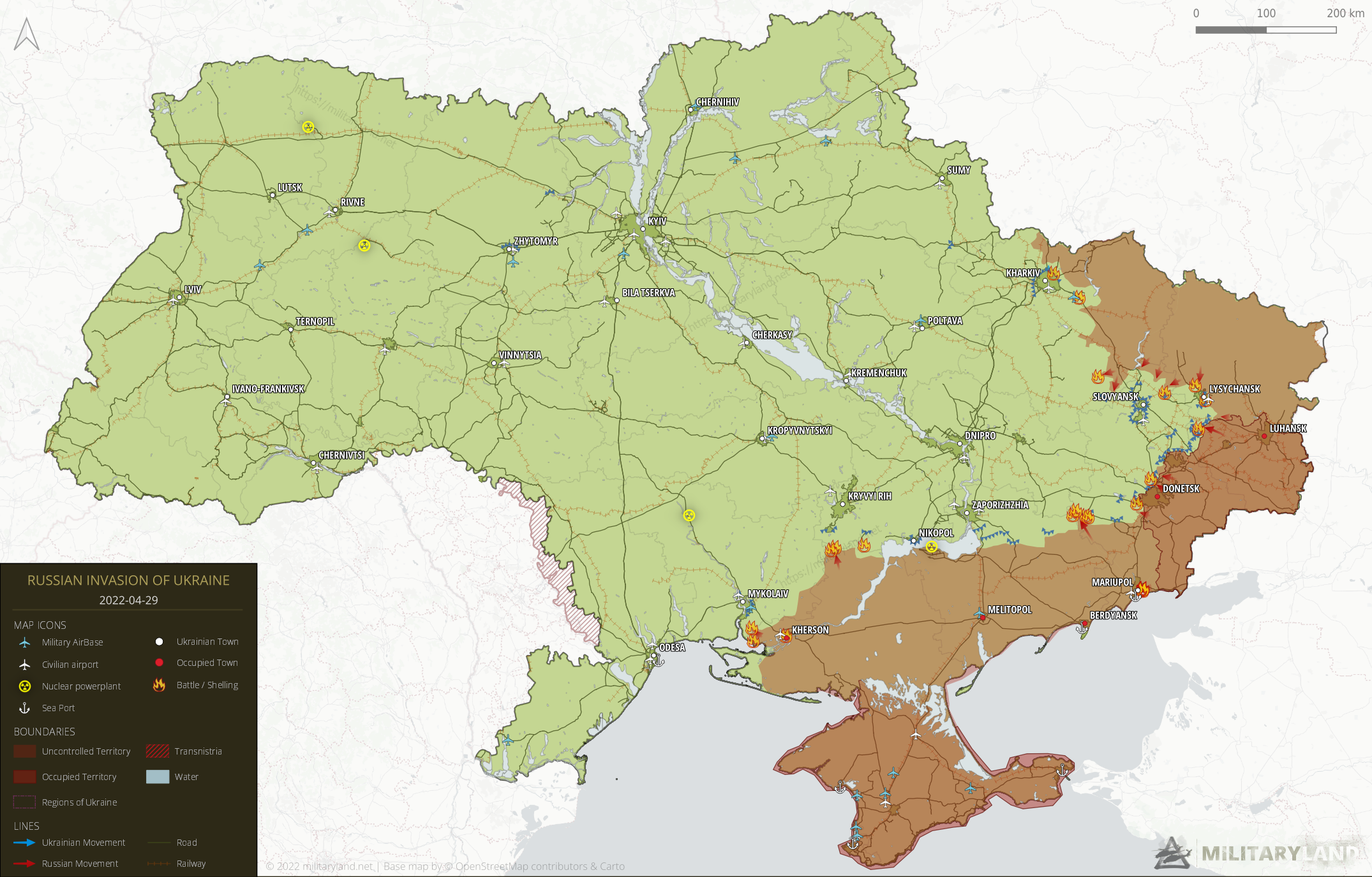 Maps and article are based on the following sources:
General Staff of the Armed Forces of Ukraine, official channels of Ukrainian regional administrations, Ukrainian Ministry of Internal Affairs, Ukrainian Ministry of Defense, Security Service of Ukraine (SBU), press released of Russian Army, DPR and LPR (taken with a grain of salt)
Visit our Deployment map for updated interactive map of captured areas and Ukrainian units.
Make sure to follow us on Twitter for the latest updates on Ukraine.