The summary of the 58th day of Russian invasion to Ukraine, as of 22:00 – 22nd of April 2022 (Kyiv time).
Russian forces have captured a dozen of settlements in the direction of Slovyansk. Ukrainian reinforcements and guns supplied by the west are being moved to eastern Ukraine in mass. Most noticeable are manpads, Ukrainian soldiers downed at least five air targets during the last two days, including Ka-52 attack helicopter.

Kharkiv Frontline
includes the area of Kharkiv and Chuhuiv

Russian army shelled Udy (north of Zolochiv), which indicates the town is under Ukrainian control. It seems that Ukrainian troops are slowly and quietly advancing alongside the Russian border in the north.
---
Siverskyi Donets
includes the area of Slovyansk, Kramatorsk and Bakhmut
Russian elements assaulted Ukrainian positions near Zavody and Diborvne. The defenders repulsed both attacks.
The enemy have advanced south of Borova and captured Lozove and Zelena Dolyna, securing the northern gap. Heavy fighting was reported from Zarichne, where Russian army is attacking from two sides – Terny and Kreminna. Ukrainian command is aware of the worsening situation in the area and prepares to withdraw its forces behind Siverskyi Donets river if needed.
The situation in Popasna is complicated, but Ukrainian soldiers are holding all key positions. Same for Novotoshkivske.
---
Pryazovia Frontline
includes Donetsk and Zaporizhzhia Oblast
Donetsk Oblast
Russian troops attacked Ukrainian positions at Vuhledar, Marinka, Avdiivka and near Horlivka, without success. However, the enemy have advanced alongside the regional border of Zaporizhzhia and Donetsk Oblast and reached Zelene Pole.
Zaporizhzhia Oblast
Russian elements have reached Malynivka, but it remains unclear if Ukrainian forces are still in control of the village, or they withdrew to the north.
---
Azovstal
includes the Azovstal Plant in Mariupol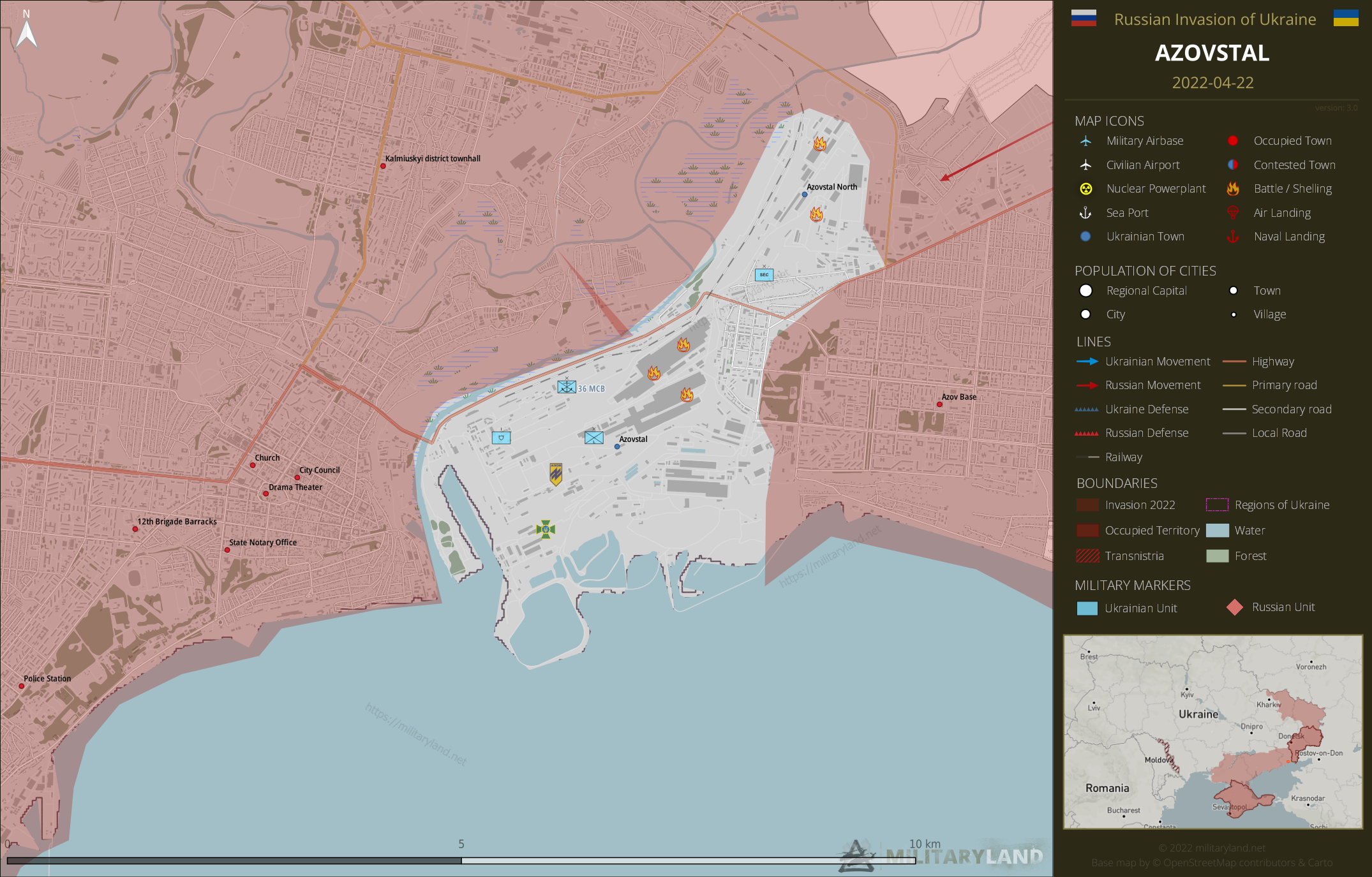 Without change today.
---
Kherson Frontline
includes the vicinity of Kherson and Mykolaiv

Mykolaiv Oblast
There was no change on the ground in Mykolaiv Oblast.
Kherson Oblast
Russian elements attacked Trudoliubivka in the northern part of Kherson Oblast. Ukrainian defenders successfully repelled the attack. The enemy have reached the outskirts of Oleksandrivka, it seems to be contested.
Note: There are conflicting reports about Oleksandrivka, even Ukrainian sources cannot agree on the situation there.
---
Full map
The full overview map of current situation.
Maps and article are based on the following sources:
General Staff of the Armed Forces of Ukraine, official channels of Ukrainian regional administrations, Ukrainian Ministry of Internal Affairs, Ukrainian Ministry of Defense, Security Service of Ukraine (SBU), press released of Russian Army, DPR and LPR (taken with a grain of salt)
Visit our Deployment map for updated interactive map of captured areas and Ukrainian units.
Make sure to follow us on Twitter for the latest updates on Ukraine.