The summary of the 41st day of Russian invasion to Ukraine, as of 23:59 – 5th of April 2022 (Kyiv time).
Russian army continues to move its forces to eastern parts of Ukraine. Russian troops have reached the city center of Popasna, but they remain to be unable to advance further near Rubizhne and Lysychansk.
Northern Frontline
includes Chernhiv and Sumy Oblast
Chernihiv Oblast
Ukrainian forces have continued to clear out the forests and the border areas.
Sumy Oblast
Russian forces had been seen withdrawing from Putyvl and Buryn, but Ukrainian forces haven't entered the said towns yet.
---
Sloboda Frontline
includes Kharkiv and Luhansk Oblast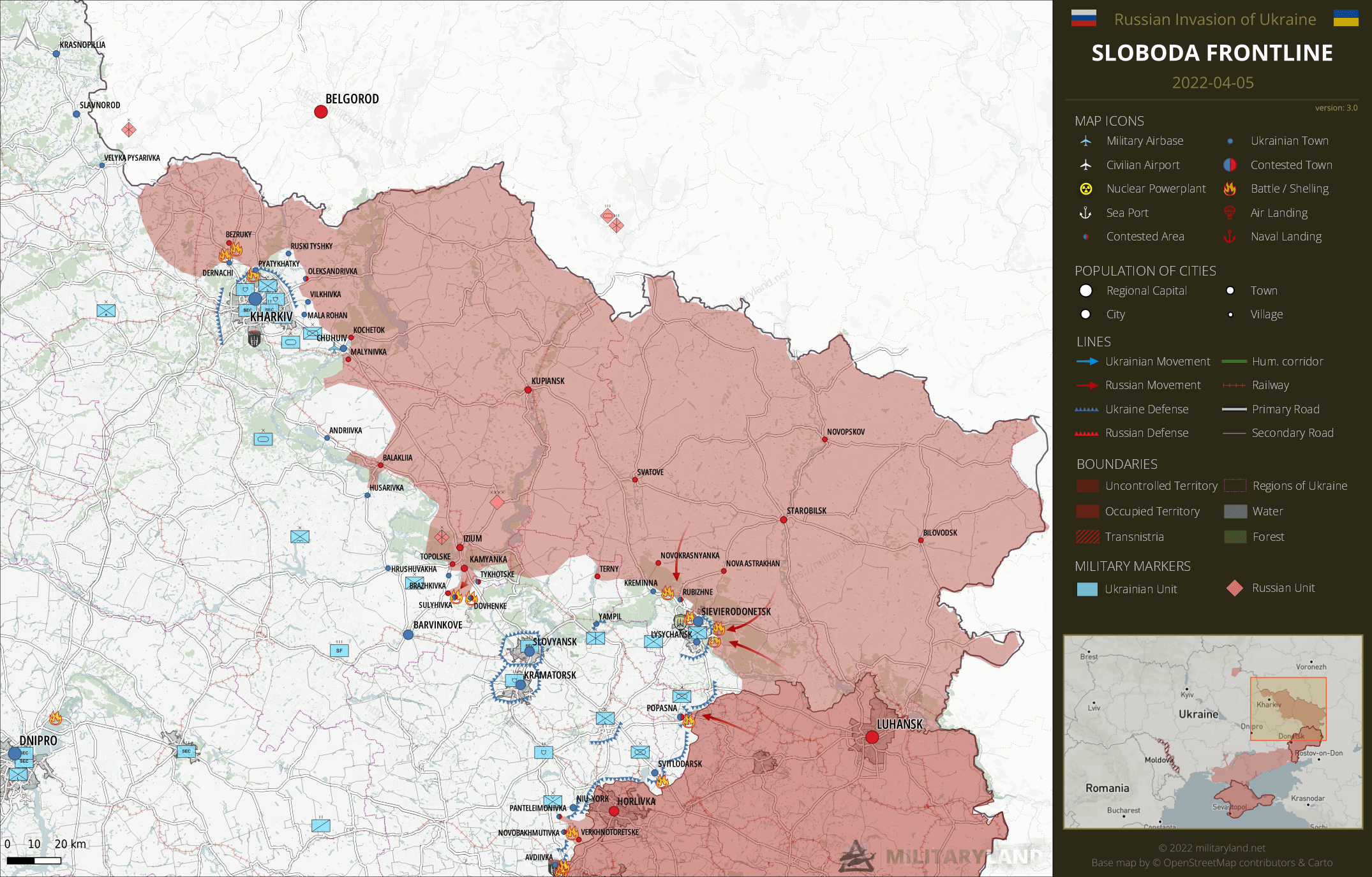 Kharkiv Oblast
Ukrainian troops ambushed a Russian convoy in the direction of Barvinkove, and they have reportedly stopped the advance of Russian troops in this direction. Russian forward elements have reached Sulyhivka and Dovhenke, but we cannot confirm or deny if they gained full control. The Russian army shelled the outskirts of Kharkiv, causing damage to civilian structures.
Luhansk Oblast
Russian troops have reached a train depot in the center of Popasna. The northern and western part of the city remains in Ukrainian hands. Heavy fighting was reported from Rubizhne and Lysychansk. No significant advances reported from the area.
---
Pryazovia Frontline
includes Donetsk and Zaporizhzhia Oblast
Donetsk Oblast
Russian army shelled Avdiivka and Marinka, but there hasn't been any change on the ground.
Zaporizhzhia Oblast
There was no change on the ground in Zaporizhzhia Oblast.
---
Mariupol
Ukrainian 503rd Marines Battalion denied Russian claims of their surrender in Mariupol. Whatever the video was fabricated or not remains unknown at this point.
---
Southern Frontline
includes Kherson, Mykolaiv and Odesa Oblast
Mykolaiv Oblast
There was no change on the ground in Mykolaiv Oblast.
Kherson Oblast
The village of Pravdyne was heavy shelled during the day (unknown by whom). Local council reports that 90% of houses were damaged.
---
Full map
The full overview map of current situation.
Maps and article are based on the following sources:
General Staff of the Armed Forces of Ukraine, official channels of Ukrainian regional administrations, Ukrainian Ministry of Internal Affairs, Ukrainian Ministry of Defense, Security Service of Ukraine (SBU), press released of Russian Army, DPR and LPR (taken with a grain of salt)
Visit our Deployment map for updated interactive map of captured areas and Ukrainian units.
Make sure to follow us on Twitter for the latest updates on Ukraine.