The summary of the 40th day of Russian invasion to Ukraine, as of 23:59 – 4th of April 2022 (Kyiv time).
Ukrainian forces have reached the border in Chernihiv and Sumy Oblast. The main focus for upcoming days is Donbas, and possibly the southern frontline.
Northern Frontline
includes Chernhiv and Sumy Oblast
Chernihiv Oblast
Ukrainian troops have reached the border with Belarus and Russia. The forces hoisted Ukrainian flag at Dniprovske, Dobryanka and Hremyach border crossing.
Sumy Oblast
Ukrainian Army has reportedly reached the border in certain areas. According to regional council, there is still presence of Russian military in the area of Putyvl, Buryn and north of Romny. Bilopillia has been liberated and the train line Bilopillia – Sumy – Troistanec is working again.
---
Sloboda Frontline
includes Kharkiv and Luhansk Oblast
Kharkiv Oblast
Russian forward elements have reached Brazhkivka and established a defensive position in the village. The enemy concentrates a large amount of forces in the area of Izium, prepares for the push towards Slovyansk.
Luhansk Oblast
Russian Army focuses all its forces in the area to capture Rubizhne, Sievierodonetsk, Lysychansk and Popasna.
---
Pryazovia Frontline
includes Donetsk and Zaporizhzhia Oblast
Donetsk Oblast
Ukrainian troops successfully repelled attacks near Marinka, Makiivka and Svitlodarsk. Russian troops entered Novobakhmutivka and control at least a portion of the village.
Zaporizhzhia Oblast
There was no change on the ground in Zaporizhzhia Oblast.
---
Mariupol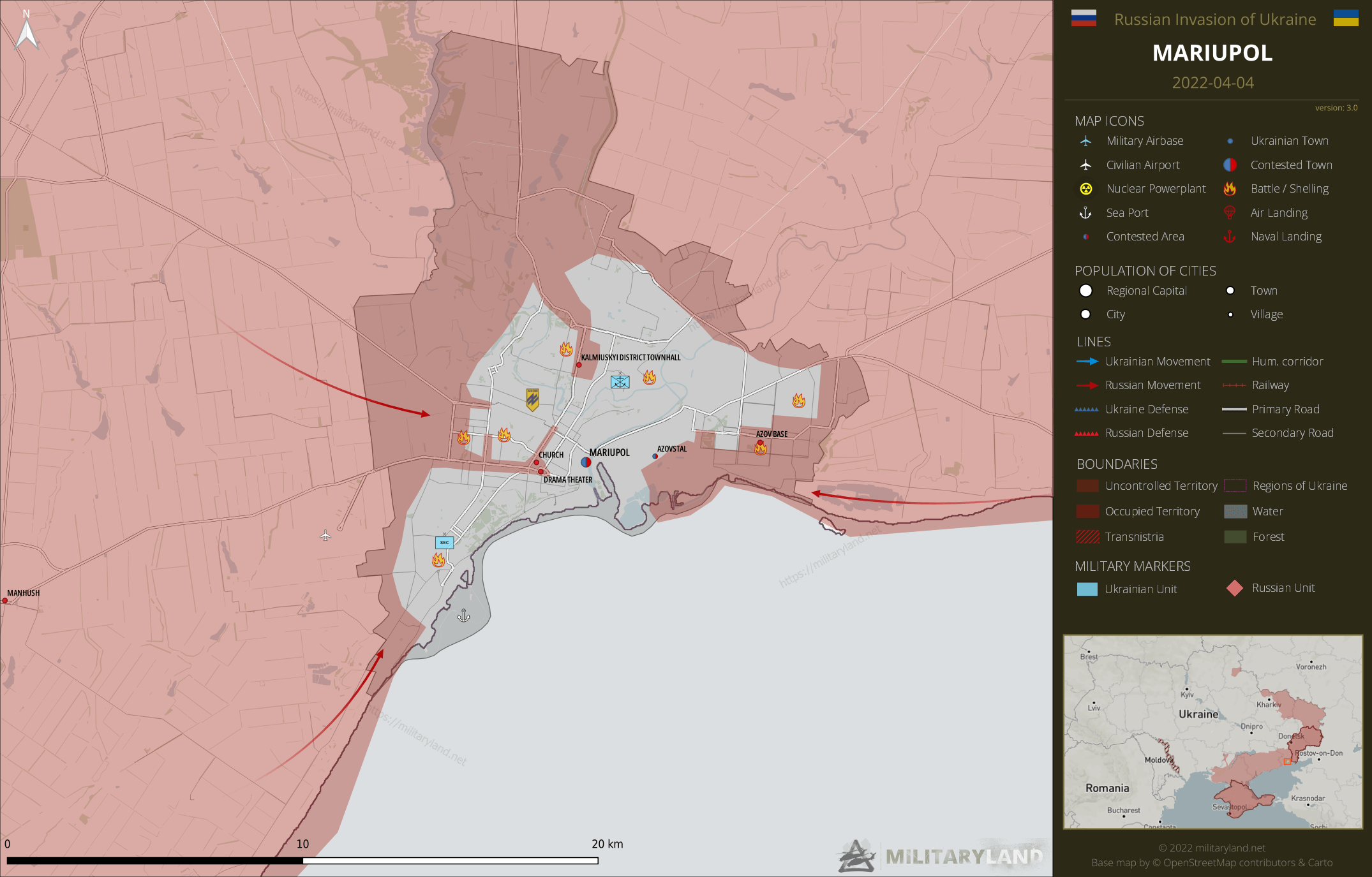 Russian media claims that more than 250 Ukrainian marines of 503rd Marines Battalion surrendered in Mariupol today. It might be real, but also a fake video. We'll have to wait to find out.
---
Southern Frontline
includes Kherson, Mykolaiv and Odesa Oblast
Mykolaiv Oblast
The Russian Army targeted Mykolaiv again, causing damage to civilian infrastructure.
Kherson Oblast
Ukrainian troops have been reportedly pushing towards Kherson from the area of Blahodatne and Oleksandrivka.
---
Full map
The full overview map of current situation.
Maps and article are based on the following sources:
General Staff of the Armed Forces of Ukraine, official channels of Ukrainian regional administrations, Ukrainian Ministry of Internal Affairs, Ukrainian Ministry of Defense, Security Service of Ukraine (SBU), press released of Russian Army, DPR and LPR (taken with a grain of salt)
Visit our Deployment map for updated interactive map of captured areas and Ukrainian units.
Make sure to follow us on Twitter for the latest updates on Ukraine.