The summary of the 35th day of Russian invasion to Ukraine, as of 23:59 -30th of March 2022 (Kyiv time).
Ukrainian troops continue to mount counter-attacks and drive enemy forces away from the western outskirts of Kyiv. Okhtyrka is no longer besieged, Russian troops withdrew across the border. Ukrainian counter-offensive is also reported from Kharkiv Oblast.
Polesia Frontline
includes Kyiv and Zhytomyr Oblast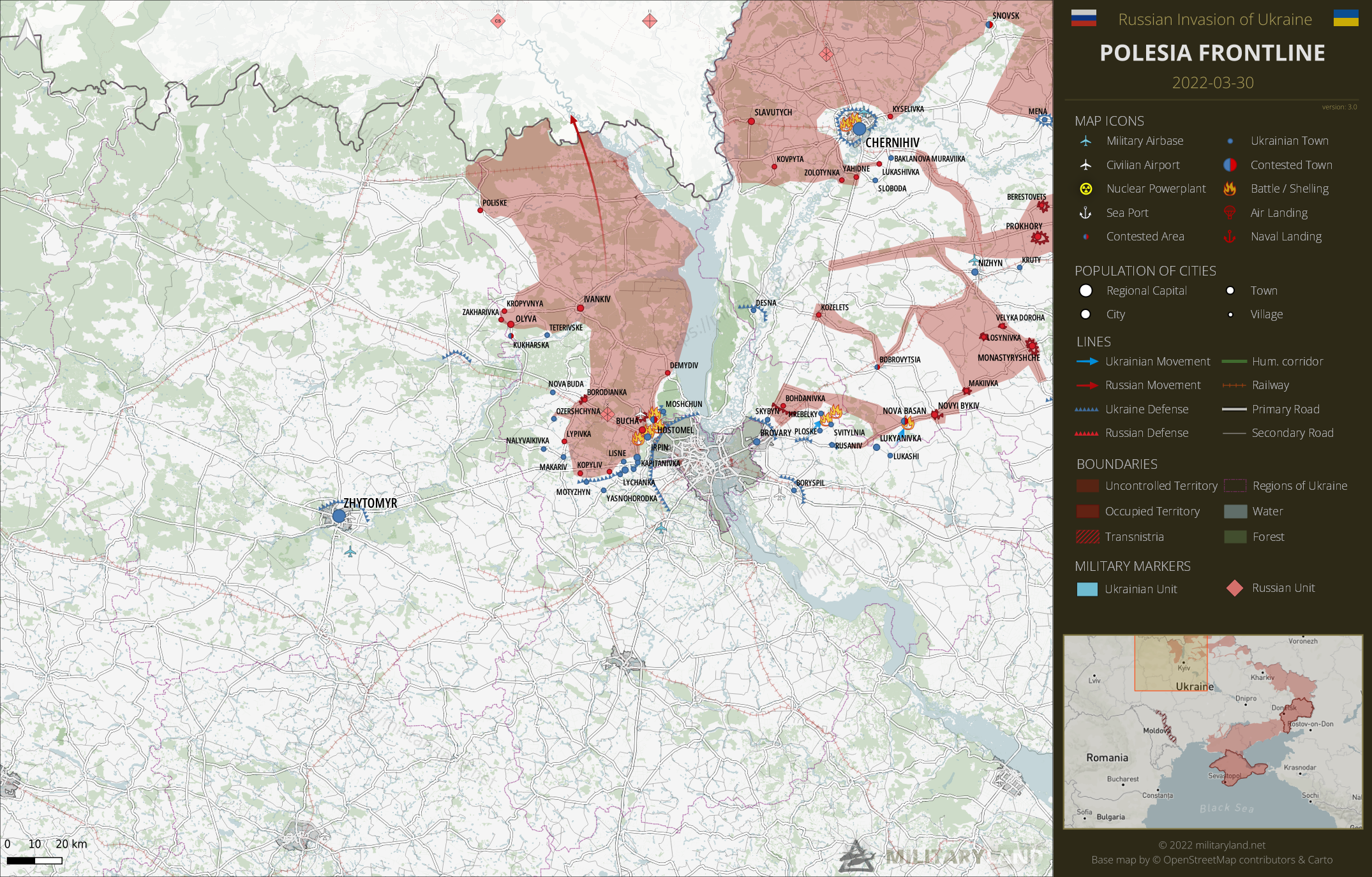 Kyiv Oblast
Ukrainian officials reported heavy fighting from the area of Irpin, Bucha and Hostomel. Russian troops have reportedly begun to withdraw from Chornobyl zone towards Belarus. Ukrainian Army liberated Svitylnia, Hrebelky and Ploske in the east and have also reached Nova Basan. Locals report heavy battle in the area.
Zhytomyr Oblast
There was no change on the ground in Zhytomyr Oblast.
---
Northern Frontline
includes Chernhiv and Sumy Oblast
Chernihiv Oblast
Russian Army intensified the shelling of Chernihiv. Ukrainian forces managed to reach and liberated Sloboda village in the south, unclear from which direction at this moment.
Sumy Oblast
According to Sumy deputy governor, the road connecting Sumy and Poltava is open again. The remaining Russian troops in the area withdrew across the border.
---
Sloboda Frontline
includes Kharkiv and Luhansk Oblast
Kharkiv Oblast
Russian Army have resumed shelling of the outskirts of Kharkiv. Ukrainian troops have launched a counter-offensive in the direction of Derhachi and Mala Rohan.
The most critical point in Kharkiv Oblast remains Izium. Russian forces have reportedly strengthened their forces and prepare to intensify the attacks towards Izium.
Luhansk Oblast
Russian forces shelled Sievierodonetsk, Rubizhne, Lsysychansk and Kreminina. Ukrainian forces are holding defensive positions within the city limits. Evacuation of the civilians is ongoing.
---
Pryazovia Frontline
includes Donetsk and Zaporizhzhia Oblast
Donetsk Oblast
There was no change on the ground in Donetsk Oblast. However, Russian Army is reportedly amassing large amount of troops in the vicinity of Svitlodarsk and Horlivka. Slovyansk and Kramatorsk are the main target of Russian forces, and a morale boost for whichever side controls these two iconic towns.
Zaporizhzhia Oblast
The situation on the frontline remains under the control. Russian artillery shelled Orikhiv and Huliaipole, but didn't launch any ground offensive in the area.
---
Mariupol
The fog of war prevents to report anything new. The battle is still ongoing.
---
Southern Frontline
includes Kherson, Mykolaiv and Odesa Oblast
Mykolaiv Oblast
There was no change on the ground in Mykolaiv Oblast.
Kherson Oblast
Russian forces shelled Novovorontsovka in the north. Preparations for a public referendum regarding Kherson's People's Republic have reportedly resumed.
---
Full map
The full overview map of current situation.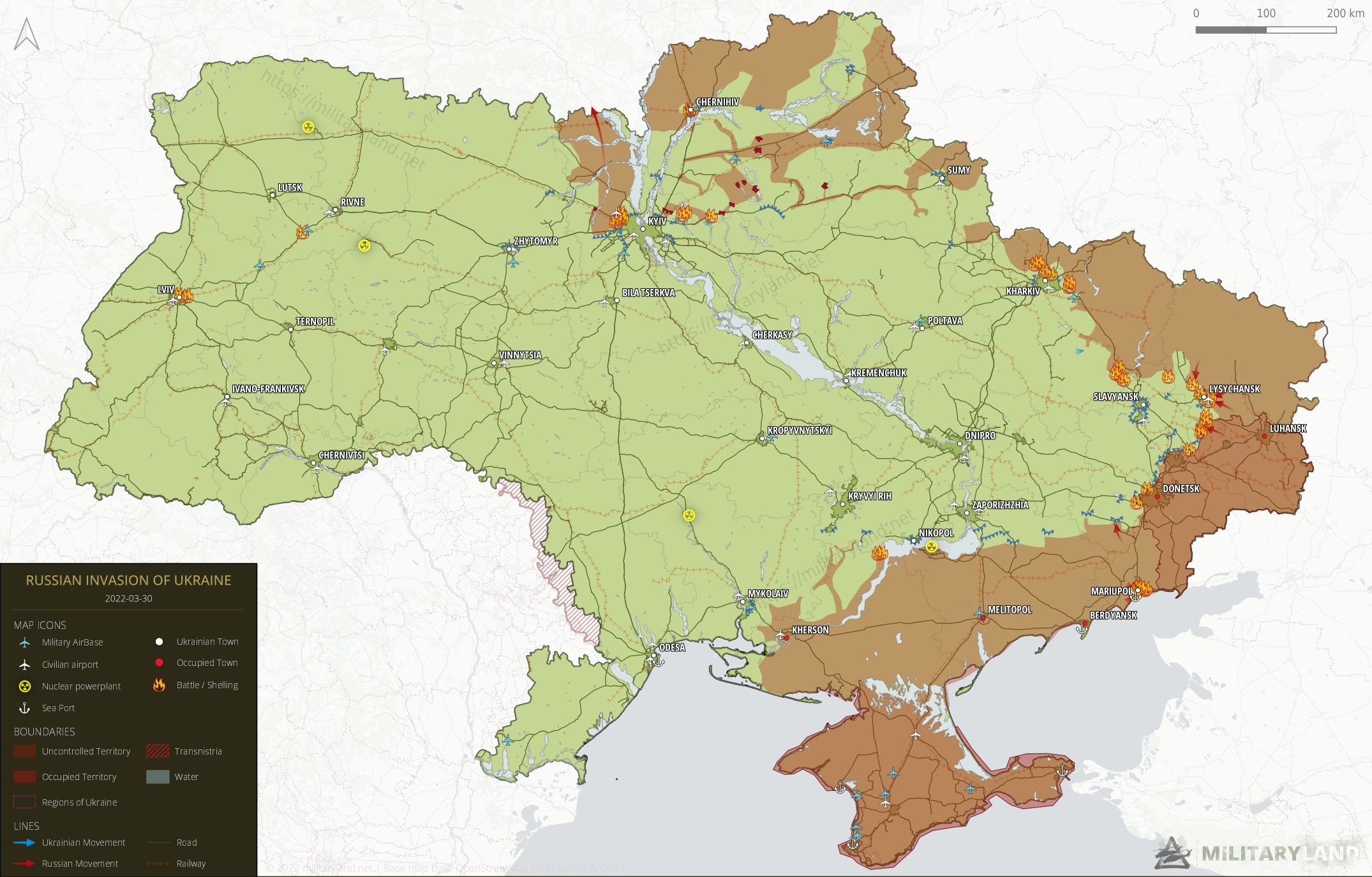 Maps and article are based on the following sources:
General Staff of the Armed Forces of Ukraine, official channels of Ukrainian regional administrations, Ukrainian Ministry of Internal Affairs, Ukrainian Ministry of Defense, Security Service of Ukraine (SBU), press released of DPR and LPR (taken with a grain of salt)
Visit our Deployment map for updated interactive map of captured areas and Ukrainian units.
Make sure to follow us on Twitter for the latest updates on Ukraine.