The summary of the 31st day of Russian invasion to Ukraine, as of 23:59 – 26th of March 2022 (Kyiv time).
Russian command announced change of tactics and the new primary goal – Donetsk and Luhansk Regions. Ukrainian forces liberated Trostianets in Sumy region.
Polesia Frontline
includes Kyiv and Zhytomyr Oblast
Kyiv Oblast
Journalists located in Kyiv reported heavy battles in Irpin and Hostomel. We have no further intel on the situation there.
Zhytomyr Oblast
There was no change on the ground in Zhytomyr Oblast.
---
Northern Frontline
includes Chernhiv and Sumy Oblast
Chernihiv Oblast
Russian troops entered Slavutych and set up checkpoints at the entrances. The residents gathered on the main square and protested against the occupation.
Sumy Oblast
The elements of Ukrainian 93rd Mechanized Brigade fully liberated Trostianets. The remaining Russian troops have reportedly withdrawn towards Russian border. Ukrainian Territorial Defense units regained control of Boromlya, west of Trostianets.
I wrongly marked Boromlya as unoccupied until today, apologies. The fog of war.
---
Sloboda Frontline
includes Kharkiv and Luhansk Oblast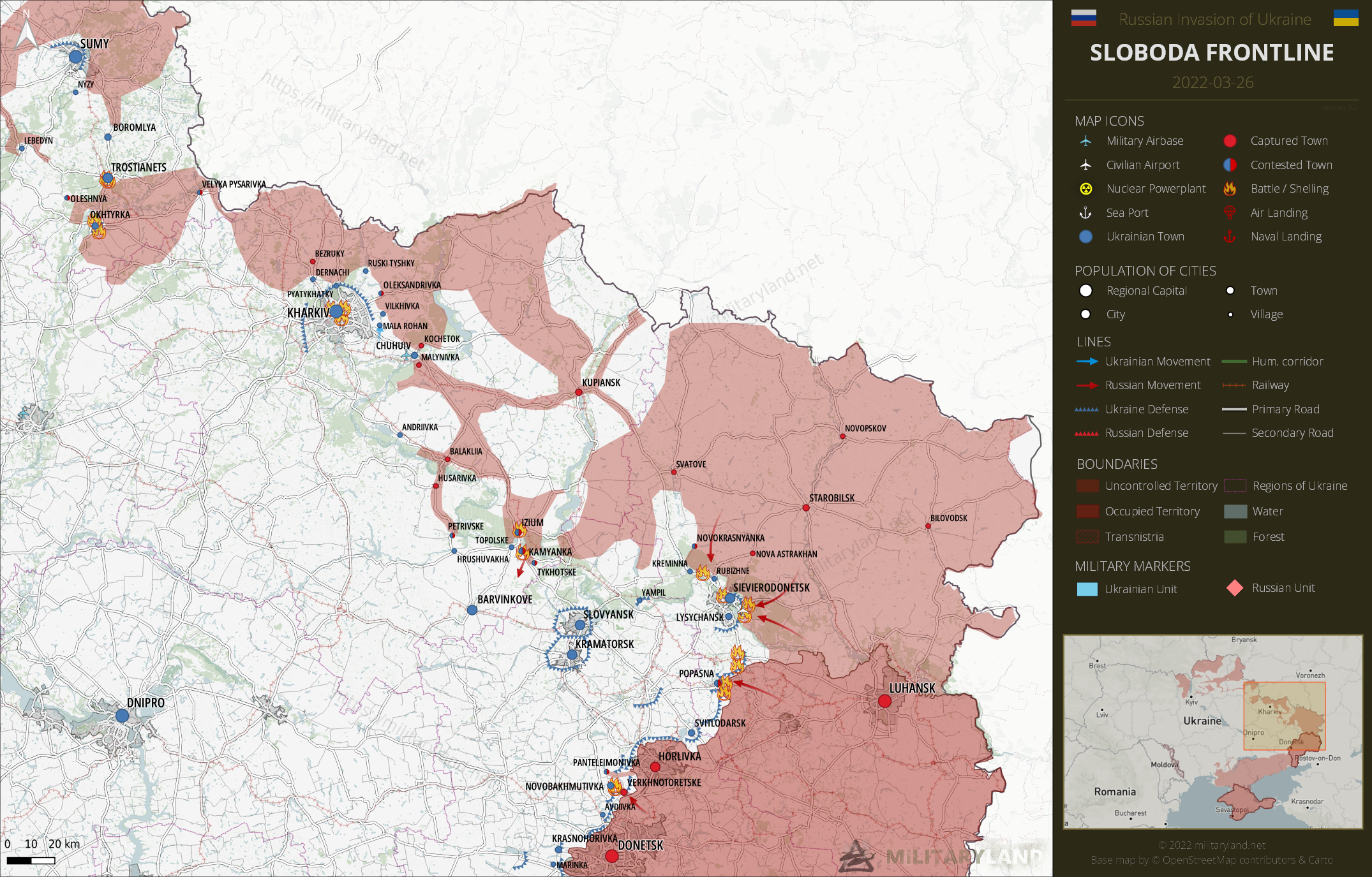 Kharkiv Oblast
Russian forces shelled Kamyanka (near Izium) by TOS-1 flamethrower system. Ukrainian troops are reportedly still present in the southern part of Izium. The command of Ukrainian Forces said that Russian reconnaissance groups have advanced towards Barvinkove and Slovyansk.
Luhansk Oblast
The enemy assaults on Rubizhne, Sievierodonetsk and Popasna remains unsuccessful.
---
Pryazovia Frontline
includes Donetsk and Zaporizhzhia Oblast
Donetsk Oblast
Ukrainian troops repelled an enemy attack on Novobakhmutivka, which indirectly confirms that Russian forces gained full control of Verkhnotoretske.
Zaporizhzhia Oblast
There was no change on the ground in Zaporizhzhia Oblast.
---
Mariupol
The fighting continues.
---
Southern Frontline
includes Kherson, Mykolaiv and Odesa Oblast
Mykolaiv Oblast
The status of the Russian element in the area of Inhulka, Yavkyne and Partyzanske remains unknown at this moment.
Kherson Oblast
Russian Army shelled Novovorontsovka, the village they lost yesterday. Ukrainian forces reportedly advancing towards Kherson, but we have to yet see the proof.
---
Full map
The full overview map of current situation.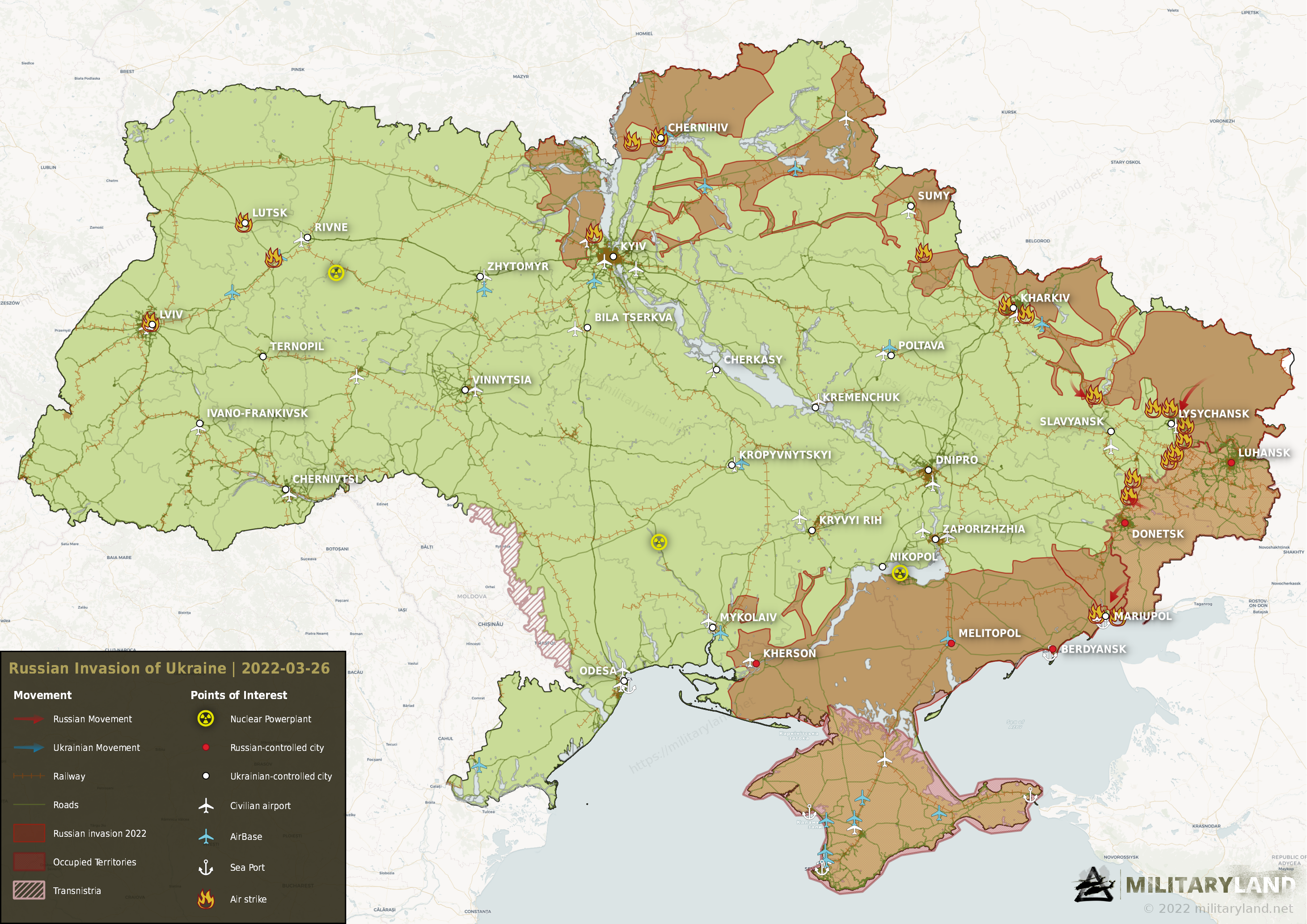 Maps and article are based on the following sources:
General Staff of the Armed Forces of Ukraine, official channels of Ukrainian regional administrations, Ukrainian Ministry of Internal Affairs, Ukrainian Ministry of Defense, Security Service of Ukraine (SBU), press released of DPR and LPR (taken with grain of salt)
Visit our Deployment map for updated interactive map of captured areas and Ukrainian units.
Make sure to follow us on Twitter for the latest updates on Ukraine.