The summary of the 25th day of Russian invasion to Ukraine, as of 23:59 – 20th of March 2022 (Kyiv time).
The map didn't change much on Sunday. Russian forces continued to push towards Kryvyi Rih, but failed to advance in Luhansk Region. Ukrainian forces successfully ambushed several convoys behind the enemy lines in Sumy and Chernihiv Region.
According to Ukrainian intelligence, Belarus has decided to enter the war on the side of aggressor. We'll see in upcoming days if it's true or not.
Polesia Frontline
includes Kyiv and Zhytomyr Oblast
Kyiv Oblast
The Russian Army attempted to break through Ukrainian lines towards Kyiv, but the attackers suffered heavy loses and withdrew. According to the Ukrainian officials, a combined detachment of Russian 6th Tank Regiment was eliminated.
A Russian cruise missile hit a mall area in Podilskyi District of Kyiv a few minutes before the midnight. Rescue operations are underway.
Zhytomyr Oblast
There was no change on the ground in Zhytomyr Oblast.
---
Northern Frontline
includes Chernhiv and Sumy Oblast
Chernihiv Oblast
Ukrainian troops hit a number of Russian convoys in the rear, and reportedly have cut off supply routes to Russian units in Brovary.
Sumy Oblast
Ukrainian forces managed to ambush a few convoys through the day, causing more troubles for the invaders in the area.
---
Sloboda Frontline
includes Kharkiv and Luhansk Oblast
Kharkiv Oblast
Russian troops reached Dernachi again, but failed to take it. The enemy was again unsuccessful to capture the southern part of Izium. Instead, Ukrainian forces hit another Russian convoy nearby and eliminated a number of Russian hardware.
Ukrainian intelligence believes Russian troops might cease the operation near Izium and will attempt to cross the Seversky Donets river somewhere else.
Luhansk Oblast
Russian forces continue to focus on Sievierodonetsk and Rubizhne. All attempts to bypass the cities or advance into the outskirts have failed so far. The battle of Popasna has continued on Sunday as well.
---
Pryazovia Frontline
includes Donetsk and Zaporizhzhia Oblast
Donetsk Oblast
Russian forces consolidated gains around Volnovkha and captured Stepne near Novotroitske. In the north, the enemy attempted to break through the lines north of Avdiivka, but Ukrainian troops repulsed the attack.
Zaporizhzhia Oblast
Russian forces did not conduct any offensive operation in the area.
---
Mariupol
Russian ships shelled Mariupol for the first time. The city is under nonstop artillery fire, but Russian forces are unable to advance deep into the city and cut Ukrainian forces in half. Despite the fact the Ukrainian defenders are holding out and putting up a fierce resistance, this cannot go on forever and sooner or later, they run out of supplies.
Russian forces offered a green corridor to all Ukrainian soldiers in Mariupol, if they lay down their weapons. Ukrainian forces refused.
---
Southern Frontline
includes Kherson, Mykolaiv and Odesa Oblast
Mykolaiv Oblast
Neither Russian nor Ukrainian forces conducted any offensive operation in the area on Sunday.
Kherson Oblast
Russian elements have pushed north towards Kryvyi Rih. They reportedly reached the vicinity of the city, but we cannot verify such information. Nevertheless, Kryvyi Rih seems to be the current priority of occupation forces in the south, while Mykolaiv has been put aside for now.
Ukrainian forces might try to use this opportunity to reach Kherson. If they could blow up the road bridge near the city, it might turn the tide for them in the area.
---
Full map
The full overview map of current situation.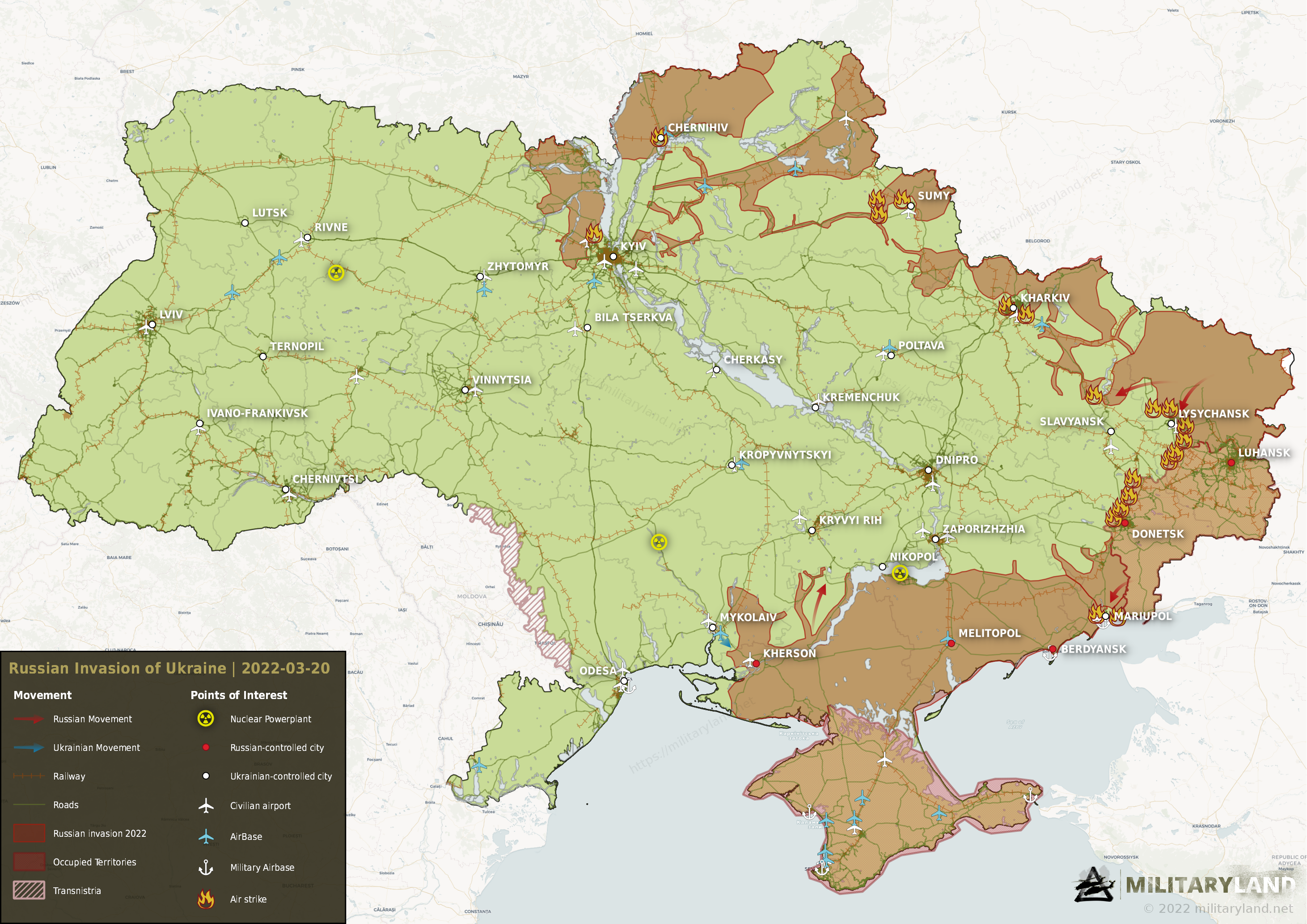 Maps and article are based on the following sources:
General Staff of the Armed Forces of Ukraine, official channels of Ukrainian regional administrations, Ukrainian Ministry of Internal Affairs, Ukrainian Ministry of Defense, Security Service of Ukraine (SBU), press released of DPR and LPR (taken with grain of salt)
Visit our Deployment map for updated interactive map of captured areas and Ukrainian units.
Make sure to follow us on Twitter for the latest updates on Ukraine.