The summary of the 23rd day of Russian invasion to Ukraine, as of 23:59 – 18th of March 2022 (Kyiv time).
Ukrainian officials confirmed today they are not able to lift the siege of Mariupol by military means, and also clarified the situation in the vicinity. Russian forces continue to try to break through Ukrainian lines in Donbas, without a success so far.
Polesia Frontline
includes Kyiv and Zhytomyr Oblast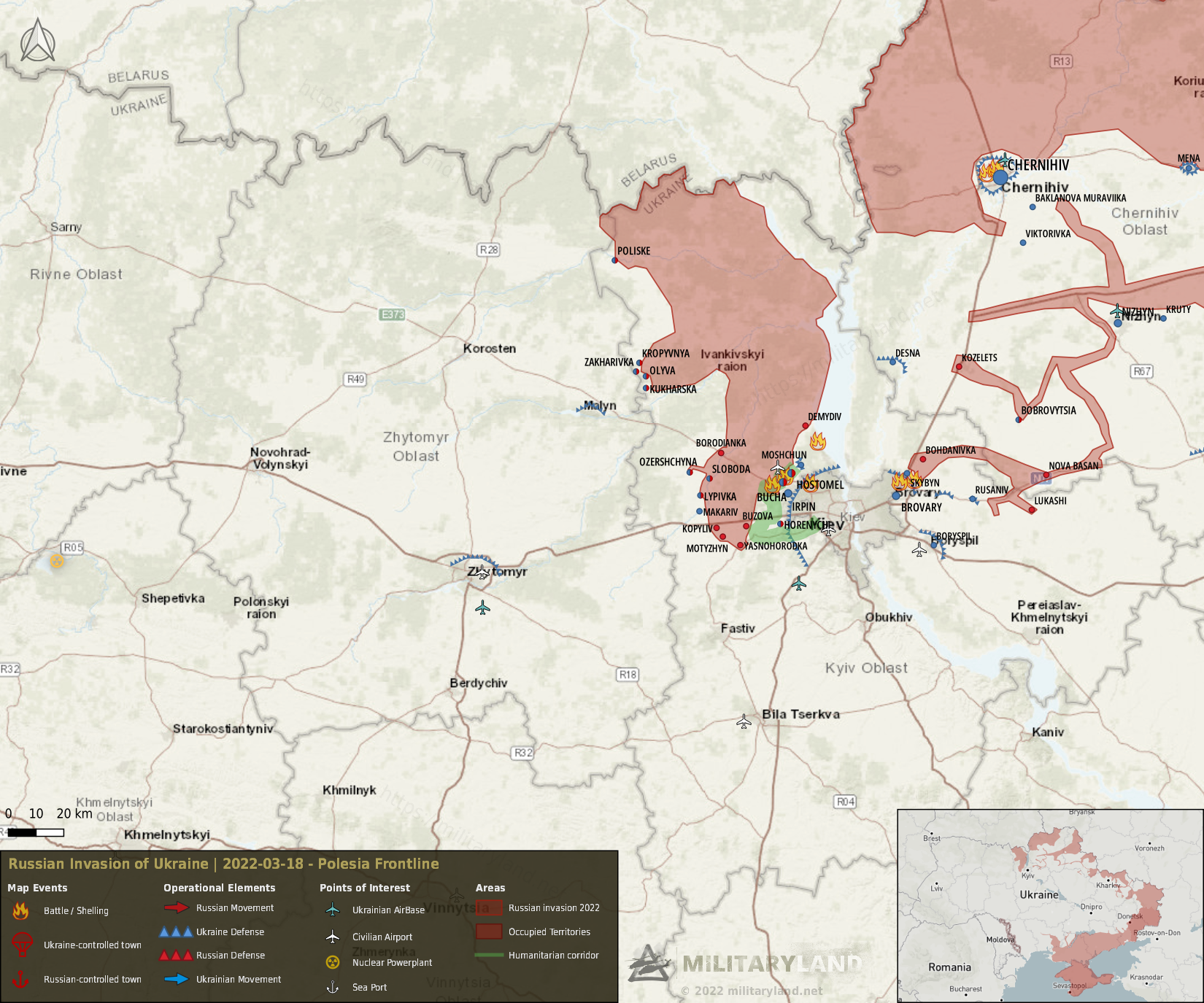 Kyiv Oblast
Russian Army didn't launch any offensive operation on the western bank of Dnieper on Friday. Ukrainian reconnaissance groups and drones spotted Russian soldiers digging trenches near Brovary, signaling the change of operations on the western bank of Dnieper.
Zhytomyr Oblast
There was no change on the ground in Zhytomyr Oblast on Friday.
---
Northern Frontline
includes Chernhiv and Sumy Oblast
Chernihiv Oblast
The partial blockade of Chernihiv continued on Friday as well. Neither side conducted an offensive operation.
Sumy Oblast
Ukrainian forces ambushed a convoy in Trostianets and destroyed a number of Russian equipment.
---
Sloboda Frontline
includes Kharkiv and Luhansk Oblast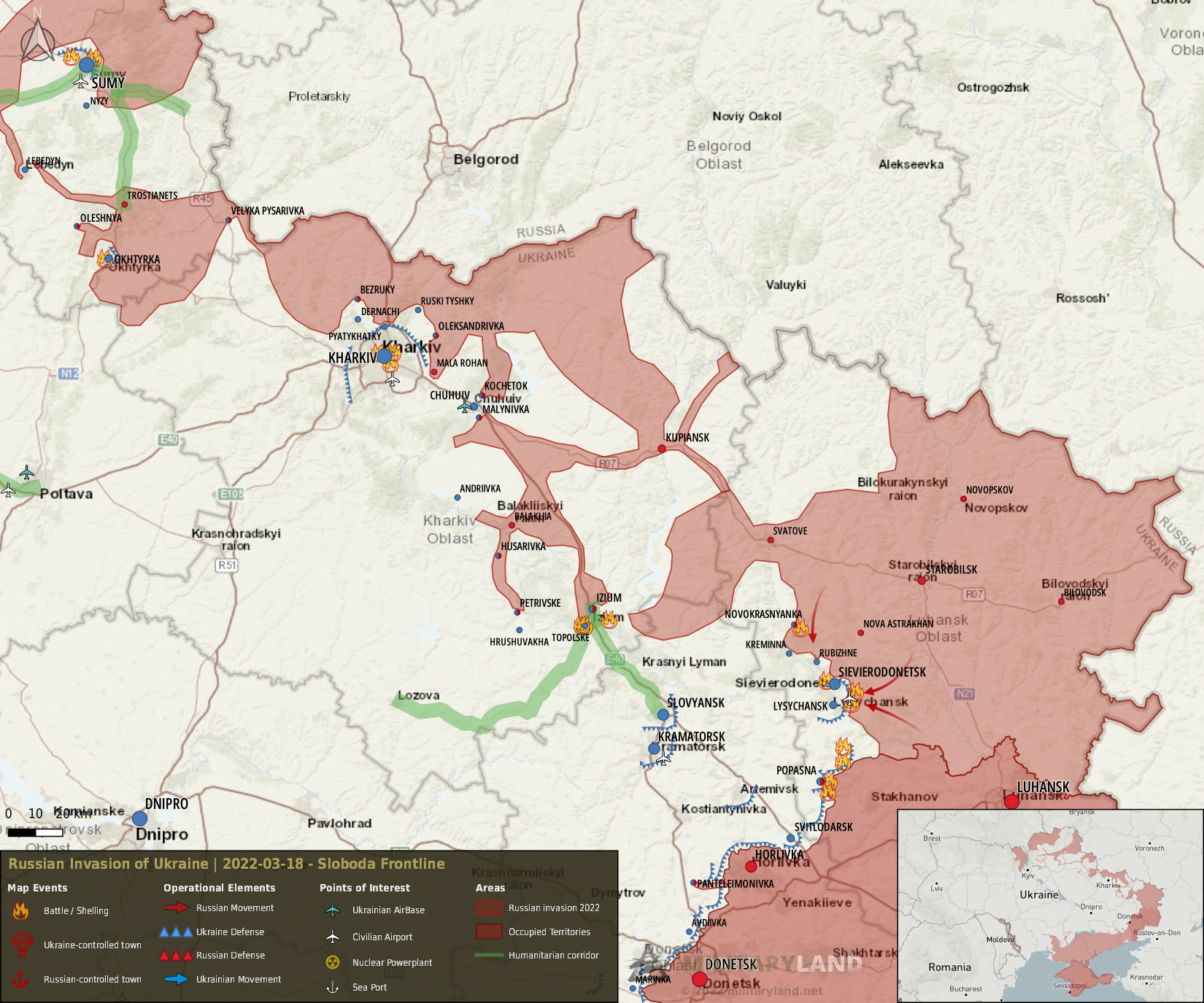 Kharkiv Oblast
Russian troops continued an offensive operation towards Izium, but didn't achieve a significant advance. They still control the northern part of the town, while Ukrainians the southern part.
Luhansk Oblast
Ukrainian officials confirmed that Russian forces entered the northern outskirts of Rubizhne yesterday, but failed to advance into urban areas in the south. Ukrainian forces repelled a Russian attack on Kreminna and Sievierodonetsk. The battle of Popasna has continued on Friday as well.
---
Pryazovia Frontline
includes Donetsk and Zaporizhzhia Oblast
Donetsk Oblast
The advisor to the Ukrainian Presidential Office, O. Arestovych, clarified the situation around Mariupol. The nearest Ukrainian units to Mariupol are located north of Volnovakha, while other units are 100 km (fits to Velyka Novosilka), 120 km (fits to Huliaipole) and 150 km (fits to Orechov) away from the city.
Russian troops attempted to advance towards a village of Taramchuk near Novotroitske, but did not sucessed.
In the north, Russian forces attempted to break through Ukrainian defense lines towards Avdiivka, Verkhnotoretske and Krymske (near Horlivka).
Based on the information published by O. Arestovych, I marked the area between Berdyansk, Mariupol and Polohy as Russian-controlled. It's clear there are no Ukrainian units in the area.
Zaporizhzhia Oblast
There was no change on the ground in Zaporizhzhia Oblast on Friday.
---
Mariupol
Russian forces captured a governmental building in the eastern part of Mariupol and also claimed they entered Azovstal Metallurgical Factory. The advisor to the Ukrainian Presidential Office, O. Arestovych, said a military operation to deblock Mariupol is currently impossible. All attempts to provide air support in the recent days failed, and Ukraine has no means to overcome Russian air superiority in the area.
---
Southern Frontline
includes Kherson, Mykolaiv and Odesa Oblast
Mykolaiv Oblast
Russian cruise missile hit the barracks of 79th AirAssault Brigade in Mykolaiv. The attack resulted in at least 40 Ukrainian servicemen killed.
Kherson Oblast
A Russian logistical convoy was ambushed by a local Ukrainian Territorial Defense unit in Snihurivka. Russian troops continued to reinforce and support the push towards Kryvyi Rih, but they didn't advance any further. Based on the recent actions by Russian forces, we can assume they have given up on Mykolaiv for now and have decided to push towards Kryvyi Rih instead.
---
Full map
The full overview map of current situation.
Maps and article are based on the following sources:
General Staff of the Armed Forces of Ukraine, official channels of Ukrainian regional administrations, Ukrainian Ministry of Internal Affairs, Ukrainian Ministry of Defense, Security Service of Ukraine (SBU), press released of DPR and LPR (taken with grain of salt)
Visit our Deployment map for updated interactive map of captured areas and Ukrainian units.
Make sure to follow us on Twitter for the latest updates on Ukraine.