The summary of the 22th day of Russian invasion to Ukraine, as of 23:59 – 17th of March 2022 (Kyiv time).
Ukrainian forces launched its first serious counter-attack and reached the border of Kherson Oblast again. Russian forces didn't advance much today.
Polesia Frontline
includes Kyiv and Zhytomyr Oblast
Kyiv Oblast
Russian forces didn't conduct any offensive operation in the area. The main focus of the enemy forces was to resupply and refuel units on the contact line and secure the rear.
The enemy sporadically shelled Ukrainian positions in the vicinity of Brovary, but didn't launch any assault.
Zhytomyr Oblast
There's been no change on the ground in Zhytomyr Oblast.
---
Northern Frontline
includes Chernhiv and Sumy Oblast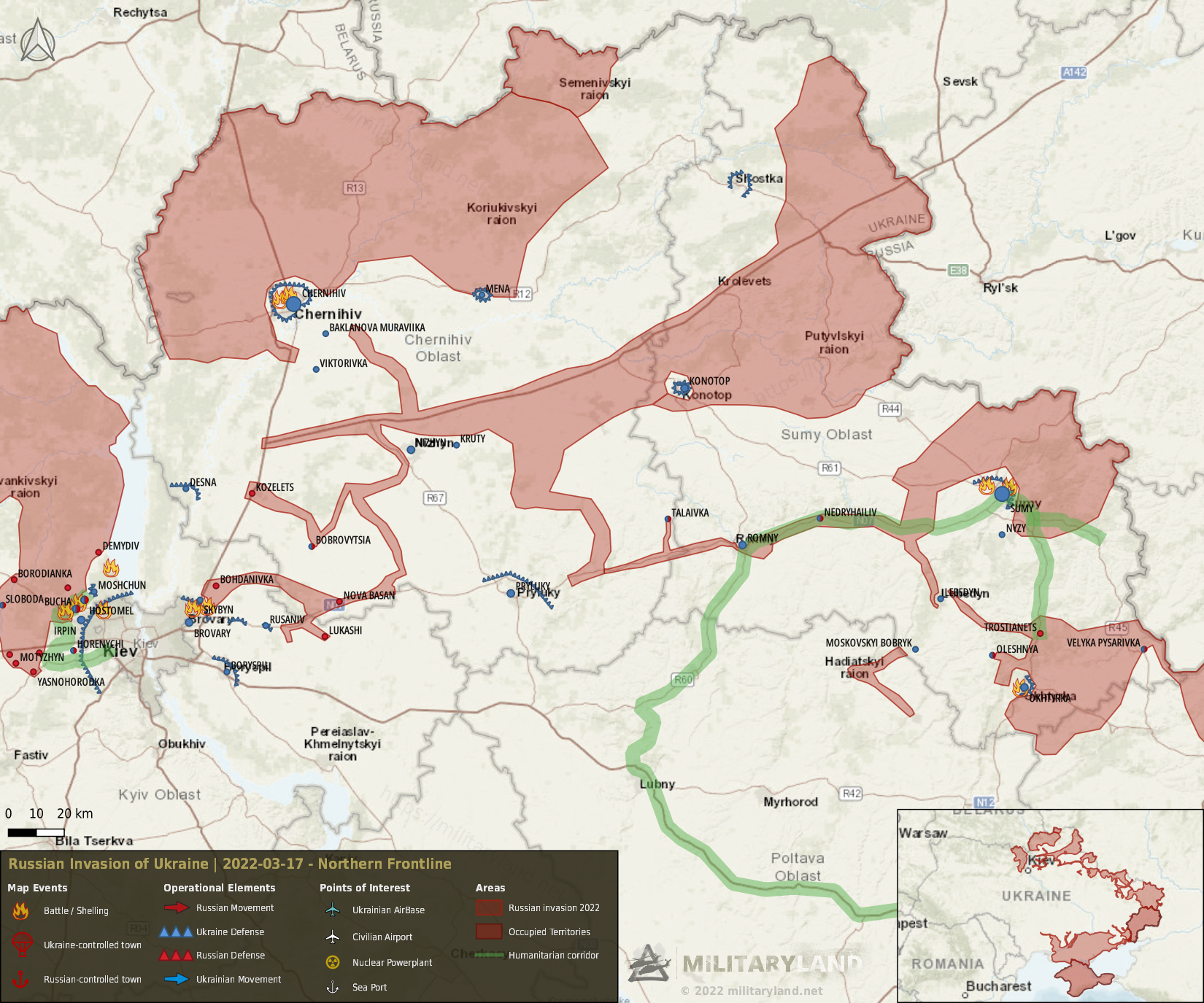 Chernihiv Oblast
Russian Army continued partial blockade of Chernihiv and shell the city.
Sumy Oblast
There's been no change on the ground in Sumy Oblast. Russian forces continued to hit Sumy with airstrikes and artillery.
---
Sloboda Frontline
includes Kharkiv and Luhansk Oblast
Kharkiv Oblast
Russian troops resumed offensive operation towards Izium, but didn't succeed to capture southern part of the town. Ukrainian forces ambushed a Russian convoy near the town and destroyed several vehicles. The enemy continued to bomb Kharkiv.
Luhansk Oblast
Russian forces entered northern part of Rubizhne. They claimed to have taken the city, but the released video shows only a small portion of the northern outskirts. Ukrainian forces successfully repelled today's attacks on Sievierodonetsk and Popasna.
---
Pryazovia Frontline
includes Donetsk and Zaporizhzhia Oblast
Donetsk Oblast
Russian troops entered the gray zone in the industrial zone near Avdiivka, but didn't gain any new ground towards the town. Situation in the south remains the same.
Zaporizhzhia Oblast
There's been no change on the ground in Zaporizhzhia Oblast.
---
Mariupol
Mariupol is witnessing heavy street fighting, house to house combat. Ukrainian held territory is slowly shrinking, but due to the lack of footage, we are unable to determinate the actual situation in the city. Ukrainian forces are reportedly preparing a de-blocking operation.
---
Southern Frontline
includes Kherson, Mykolaiv and Odesa Oblast
Mykolaiv Oblast
Ukrainian forces launched a counter-offensive towards Kherson. The operation was supported by elements of 28th Mechanized Brigade that arrived to Mykolaiv from Odesa. Ukrainian troops pushed alongside road M-14 and liberated Posad-Pokrovske (in Kherson Oblast).
It's currently unclear what is the status of Russian spearheading element in the area of Pisky and Yavkyne.
Kherson Oblast
Ukrainian forces liberated Posad-Pokrovske, as mentioned above. In the north, Russian forces reached a village of Mala Shestirnya. Ukrainian troops reportedly stopped the advance in there for now.
---
Full map
The full overview map of current situation.
If you've read this far, let me say thank you for reading the summaries and maps. I really appreciate your feedback, and I'm constantly improving the map. There is currently a new version in works, which should assure a better readability and generally a nicer look.
Maps and article are based on the following sources:
General Staff of the Armed Forces of Ukraine, official channels of Ukrainian regional administrations, Ukrainian Ministry of Internal Affairs, Ukrainian Ministry of Defense, Security Service of Ukraine (SBU), press released of DPR and LPR (taken with grain of salt)
Visit our Deployment map for updated interactive map of captured areas and Ukrainian units.
Make sure to follow us on Twitter for the latest updates on Ukraine.