The summary of the 19th day of Russian invasion to Ukraine, as of 18:00 – 14th of March 2022 (Kyiv time).
The map didn't change much today. The situation remains tense, but stable. Ukrainian forces successfully continue to repulse enemy attacks and hit logistical convoys in the rear.
Polesia Frontline
includes Kyiv and Zhytomyr Oblast
Kyiv Oblast
Heavy fighting has been reported near Brovary, but we have no details on the actual situation. In the west, Russian forces continue to regroup.
Zhytomyr Oblast
There's been no change on the ground in Zhytomyr Oblast.
---
Northern Frontline
includes Chernhiv and Sumy Oblast
Chernihiv Oblast
Russian forces shelled the city of Chernihiv overnight, but there's been no change on the ground.
Sumy Oblast
Russian planes attacked Oktyrka again. At least three civilians were killed. Russian forces shelled Nyzy village, south of Sumy.
---
Sloboda Frontline
includes Kharkiv and Luhansk Oblast
Kharkiv Oblast
Russian forces crossed a river near Izium and captured Topolske and nearby villages. Ukrainian troops launched a counter-attack in the afternoon and regained control over the villages. Russian army has continued to shell Kharkiv overnight.
Luhansk Oblast
Russian forces have continued to shell and assault Rubyzhne, Sievierodonetsk, Lysychansk, Popasna line. Ukrainian forces successfully defending its positions.
---
Pryazovia Frontline
includes Donetsk and Zaporizhzhia Oblast
Donetsk Oblast
Russian forces shelled the city center and coke-coal plant in Avdiivka, there are civilian casualties. The enemy attempted to break through Ukrainian defenses in the area of Vuhledar. Ukrainian troops successfully repelled the attack and the enemy retreated.
Zaporizhzhia Oblast
There's been no change on the ground.
---
Mariupol
Mariupol is witnessing heavy street fighting, house to house. Ukrainian forces didn't allow Russians to gain the momentum and still controls the key points in the city.
---
Southern Frontline
includes Kherson, Mykolaiv and Odesa Oblast
Mykolaiv Oblast
Ukrainian forces swept and secured the road between Mykolaiv and Nova Odesa. Local territorial defense unit set up checkpoints on the road. Civilian evacuation from Mykolaiv to Odesa has started.
Kherson Oblast
All Russian movement towards Kryvyi Rih was reportedly stopped. The enemy is now regrouping.
---
Full map
The full overview map of current situation.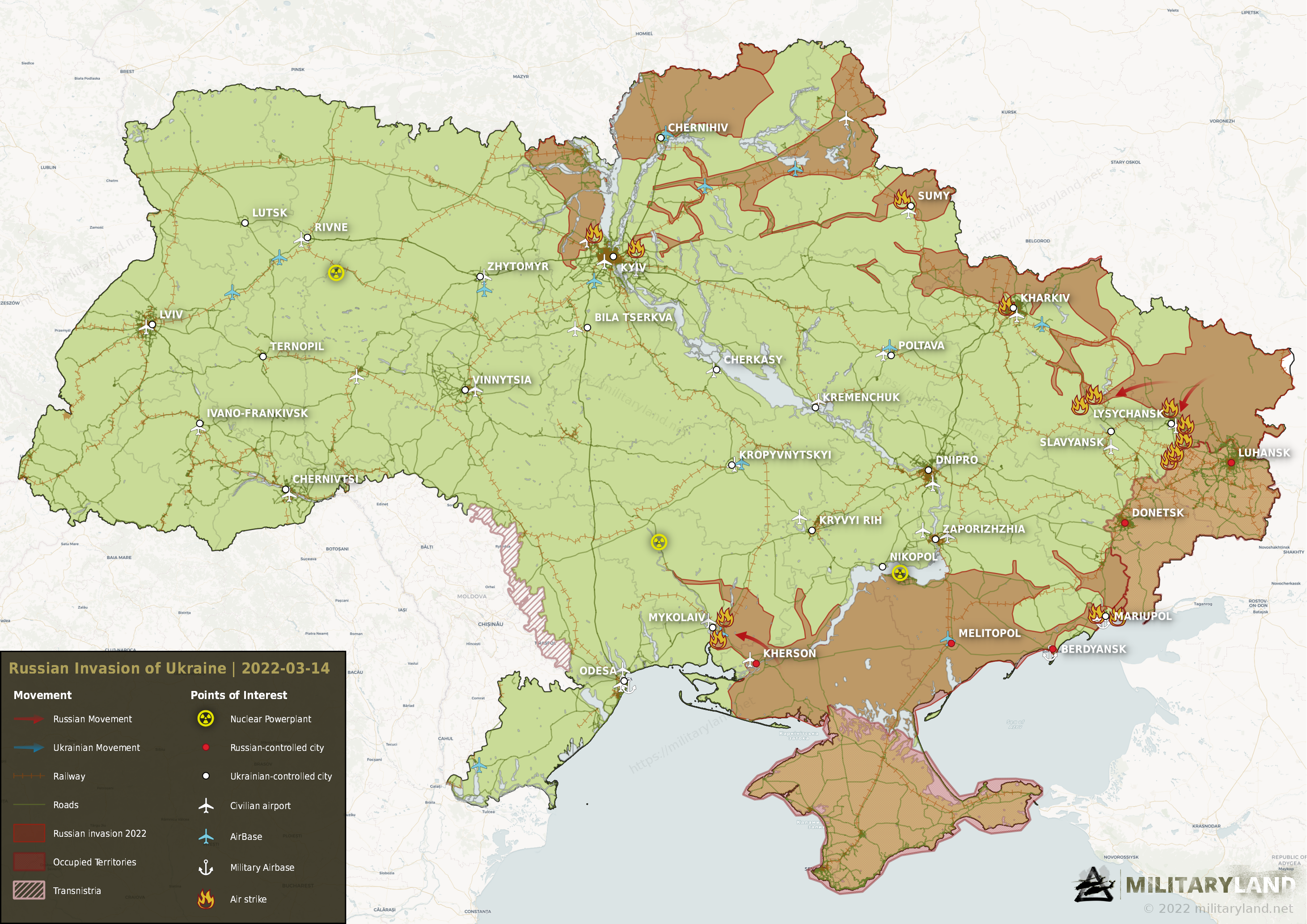 Maps and article are based on the following sources:
General Staff of the Armed Forces of Ukraine, official channels of Ukrainian regional administrations, Ukrainian Ministry of Internal Affairs, Ukrainian Ministry of Defense, Security Service of Ukraine (SBU), press released of DPR and LPR (taken with grain of salt)
Visit our Deployment map for updated interactive map of captured areas and Ukrainian units.
Make sure to follow us on Twitter for the latest updates on Ukraine.