The summary of the 16th day of Russian invasion to Ukraine, as of 23:59 – 11th of March 2022.
Russian forces seem to halt all operations to focus on the primary goals – the capture of Mariupol, Mykolaiv, Kyiv, Sumy, Chernihiv and Kharkiv. All initial attempts to break through Ukrainian lines have been denied today.
Polesia Frontline
includes Kyiv and Zhytomyr Oblast
Kyiv Oblast
No new movement reported on the western bank of Dnieper. We still don't know what, and if, Ukrainian forces gained new ground during the yesterday's counter-attack in the north. On the eastern bank, Russian forces pushing hard to reach Kyiv outskirts. Ukrainian troops ambushed a Russian convoy on the way towards Brovary and destroyed at least one tank.
Zhytomyr Oblast
Nothing new in this area.
---
Northern Frontline
includes Chernhiv and Sumy Oblast
Chernihiv Oblast
Russian forces continue to regroup its forces in the north and west of Chernihiv. The enemy attempted to close the gaps and lay full siege on Chernihiv. This move wasn't successful.
Sumy Oblast
A Russian military convoy was ambushed by local police and Territorial Defense unit near Romny. A dozen of Russian soldiers have been detained as the result. There are reports of ongoing urban combat on the outskirts of Sumy at the time of writing.
---
Sloboda Frontline
includes Kharkiv and Luhansk Oblast
Kharkiv Oblast
Ukrainian forces conduct defensive operations in the area. A Russian convoy was ambushed near Chuhuiv. The Russian push to the south from Balakliia hasn't been successful so far. Izium lays in the rubble, but every day of Izium's defense gives the Ukrainian forces stationed at Slovyansk another day to prepare the defense lines.
Kharkiv has been a target of shelling all day.
Luhansk Oblast
The mayor of Luhansk Oblast stated that Russian forces control 70% of the oblast. Ukrainian forces are currently focusing on the defense of Popasna – Lysychansk – Sievierodonetsk – Rubizhne – Kreminna line.
---
Pryazovia Frontline
includes Donetsk and Zaporizhzhia Oblast
Donetsk Oblast
Russian forces concentrate most of its troops towards Mariupol.
Zaporizhzhia Oblast
Ukrainian forces ambushed a Russian convoy near Vasylivka and destroyed several trucks. Nothing else has been reported for today in this area.
---
Mariupol
Russian forces entered the city, but Ukrainian forces are successfully defending all strategically important points. The evacuation of civilians did not happen again.
The status of the northern pocket is unknown at this moment, but it's very likely not under Ukrainian control. Evacuation of civilians did not happen again.
---
Southern Frontline
includes Kherson, Mykolaiv and Odesa Oblast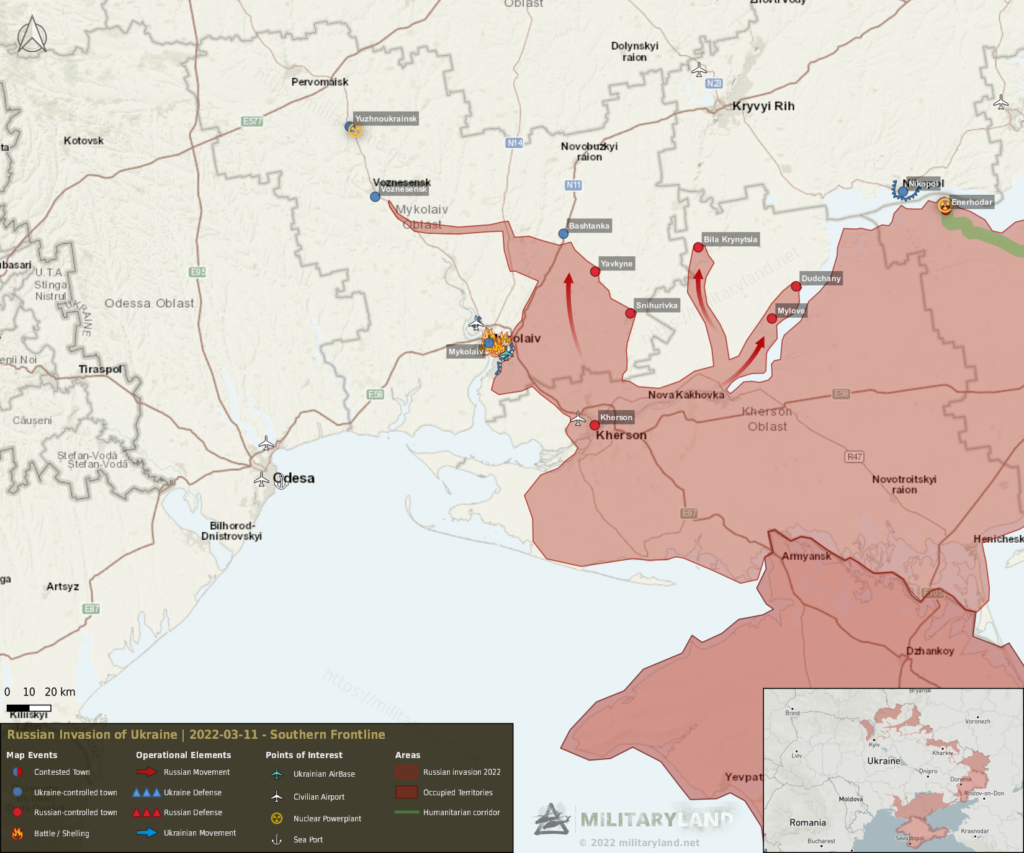 Mykolaiv Oblast
Russian forces shelled Mykolaiv through the day and have begun the military operation to capture the city. The first attempt to enter the outskirts in the evening wasn't successful, Ukrainian forces repelled the attack.
Kherson Oblast
Russian force didn't reach the administration border of Dnipropetrovsk Oblast. They seem to concentrate most of its units towards Mykolaiv.
---
Full map
The full overview map of current situation.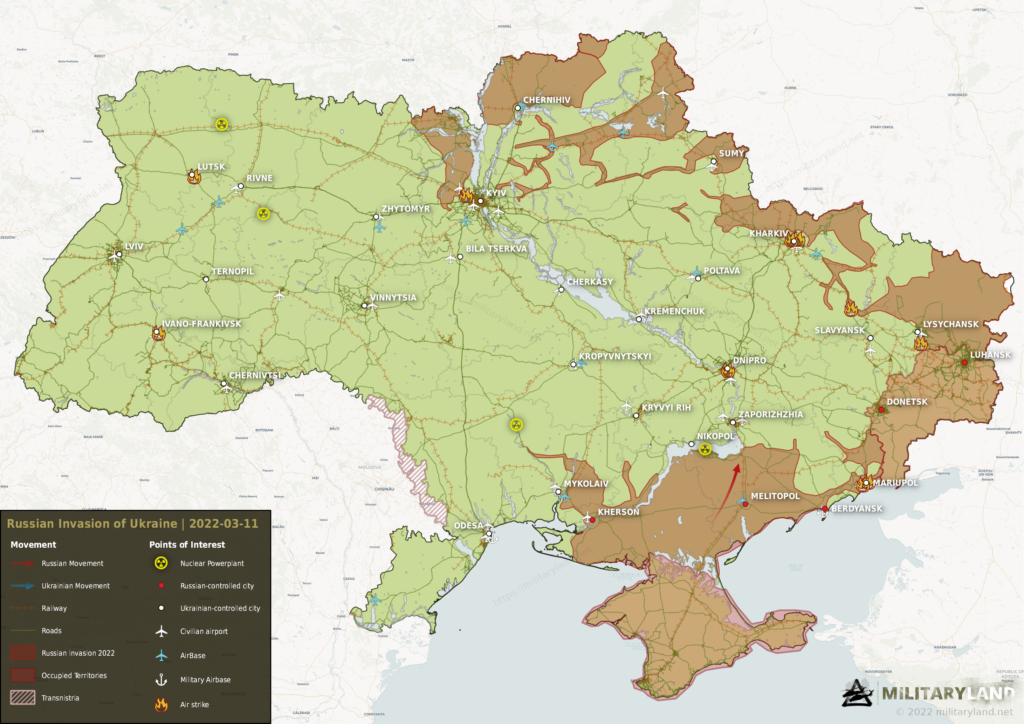 Maps and article are based on the following sources:
General Staff of the Armed Forces of Ukraine, official channels of Ukrainian regional administrations, Ukrainian Ministry of Internal Affairs, Ukrainian Ministry of Defense, Security Service of Ukraine (SBU), press released of DPR and LPR (taken with grain of salt)
Visit our Deployment map for updated interactive map of captured areas and Ukrainian units.
Make sure to follow us on Twitter for the latest updates on Ukraine.