The summary of the 14th day of Russian invasion to Ukraine, as of 23:59 – 9th of March 2022.
Both sides agreed on a silence regime and evacuation of civilian population. The humanitarian corridors worked to some degree on Polesia, Northern and Pryazovia frontline (except not Mariupol).
Russia forces pushed to suburbs of Mariupol and towards Kryvyi Rih, stretching its forces in the south even more.
Polesia Frontline
includes Kyiv and Zhytomyr Oblast
Kyiv Oblast
The situation in the area was relatively calm. The enemy continue to amass its forces in direction of Bucha, Hostomel and Yasnohorodka. The civilian evacuation from Irpin continued today. According to British/US intel, Russian forces will launch a massive attack on Kyiv no later than Sunday.
Zhytomyr Oblast
A Russian plane conducted an airstrike on Zhytomyr, damaging infrastructure in the vicinity of Berdychivsky Bridge. No ground combat reported from this area.
---
Northern Frontline
includes Chernhiv and Sumy Oblast
Chernihiv Oblast
The civilian evacuation from Chernihiv did not happen today. Russian forces continue to regroup its forces in the north of the city.
I marked Kozolets as under Russian control because I found evidence that Russian troops indeed reached it a few days ago.
Sumy Oblast
The civilian evacuation from Sumy successfully continued today. Ukrainian sources reports up to 50 thousand civilians left the city in total (yesterday and today). Romny is reportedly under siege, confirming that the Russian forces bypassed the city when moving from Sumy towards Pryluky.
---
Sloboda Frontline
includes Kharkiv and Luhansk Oblast
Kharkiv Oblast
Russian recon/sabotage group (DRG) attacked a Ukrainian checkpoint in the village of Andriivka at night. The assault was repelled by a Ukrainian Border Guard unit stationed there. Ukrainian forces conducted a successful counter-attack in the direction of Dernachi, liberating the settlement and lifting the enemy pressure in the area.
The situation in Izium reached a critical stage. Some civilians were able to left towards Slovyansk, but most remained in the town. It's unclear if there are still some Ukrainian elements in Izium. The town is heavily damaged.
A Russian spearheading element approached Petrivkse and attempted to push towards Hrushuvakha. Ukrainian forces reportedly repulsed the attack, but the situation remain tense.
Luhansk Oblast
Russian forces reached the outskirts of Rubizhne and gained fire control over the road connecting Rubizhne and Sievierodonetsk. In the south, Russian troops reportedly entered to Popasna, but we cannot verify it.
---
Pryazovia Frontline
includes Donetsk and Zaporizhzhia Oblast
Donetsk Oblast
Russian forces gained control of Nikolske. A spearheading element pushed north and reached Staromlynivka, where a Ukrainian ambulance was ambushed. This push puts Ukrainian units at Huliapole under pressure, and it might complicate things for Ukrainian forces stationed south of Donetsk.
Zaporizhzhia Oblast
A humanitarian corridor was working today from Enerhodar towards Zaporizhzhia. The frontline remains unchanged in this area.
---
Mariupol
Ukrainian units continue to repel attack from all sides. The planned evacuation of civilians didn't happen again. Instead, Russian bombed a maternity hospital and damaged several buildings.
Based on the ongoing events in the north of Mariupol, and unless Ukrainian forces suddenly shift its defensive tactics to more offensive ones, the situation for Mariupol doesn't look good.
---
Southern Frontline
includes Kherson, Mykolaiv and Odesa Oblast
Mykolaiv Oblast
Russian forces shelling Mykolaiv from the north-east and north, Ukrainian forces continue to dig trenches and setting up barricades. The moment of Russian attack on the city is approaching.
Meanwhile, the enemy pushed north of Mykolaiv, alongside Inhulets river and connected with its forces near Bashtanka. Fighting was also reported from Voznesensk, but Ukrainian forces are successfully holding the ground.
Kherson Oblast
Russian troops pushed north towards Kryvyi Rih from Nova Kakhovka. They captured Mylove, Dudchany and Bila Krynytsia, despite Ukrainian air strikes in the area. The cities of Nikopol and Kryvyi Rih prepares for defense.
---
Full map
The full overview map of current situation.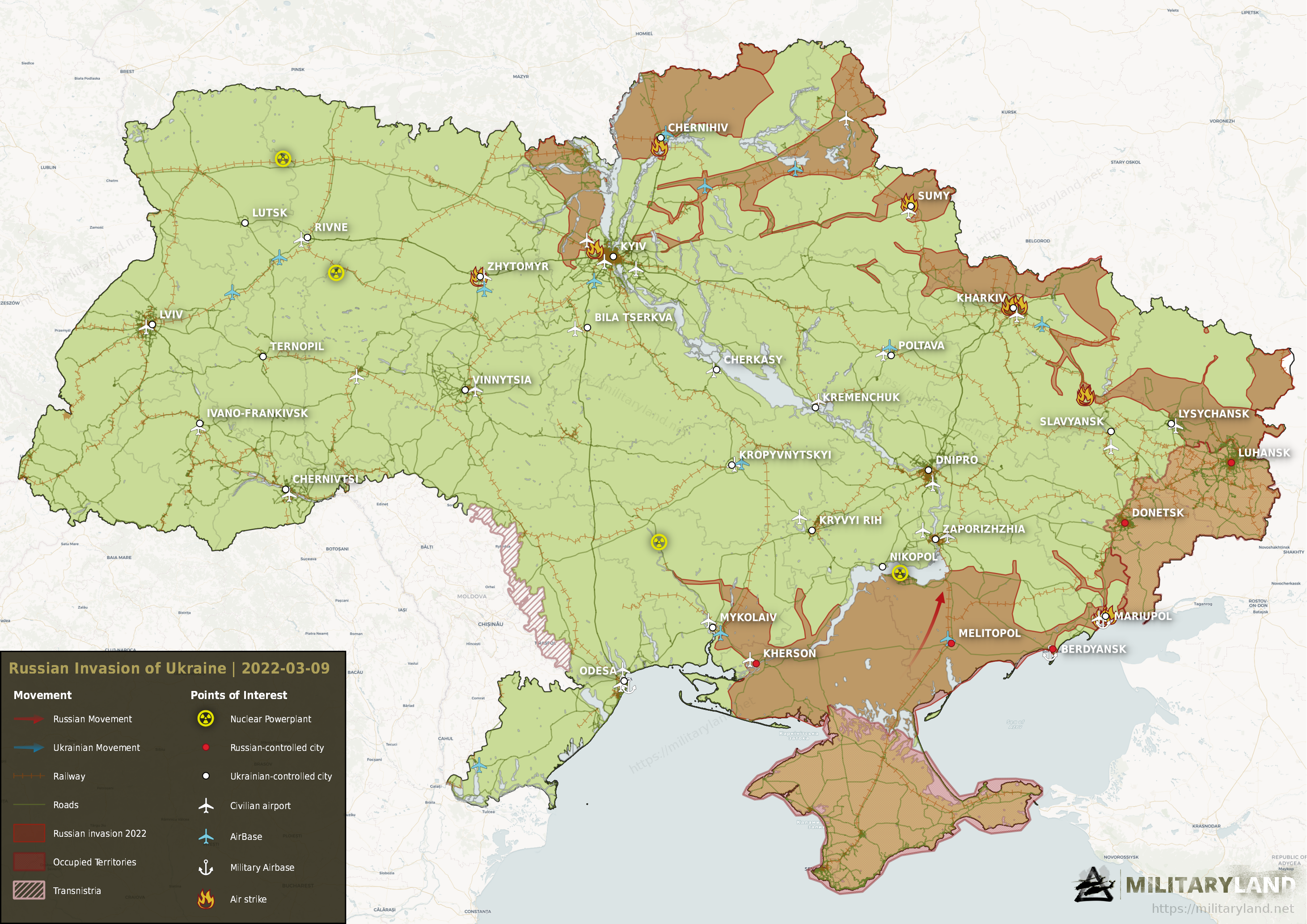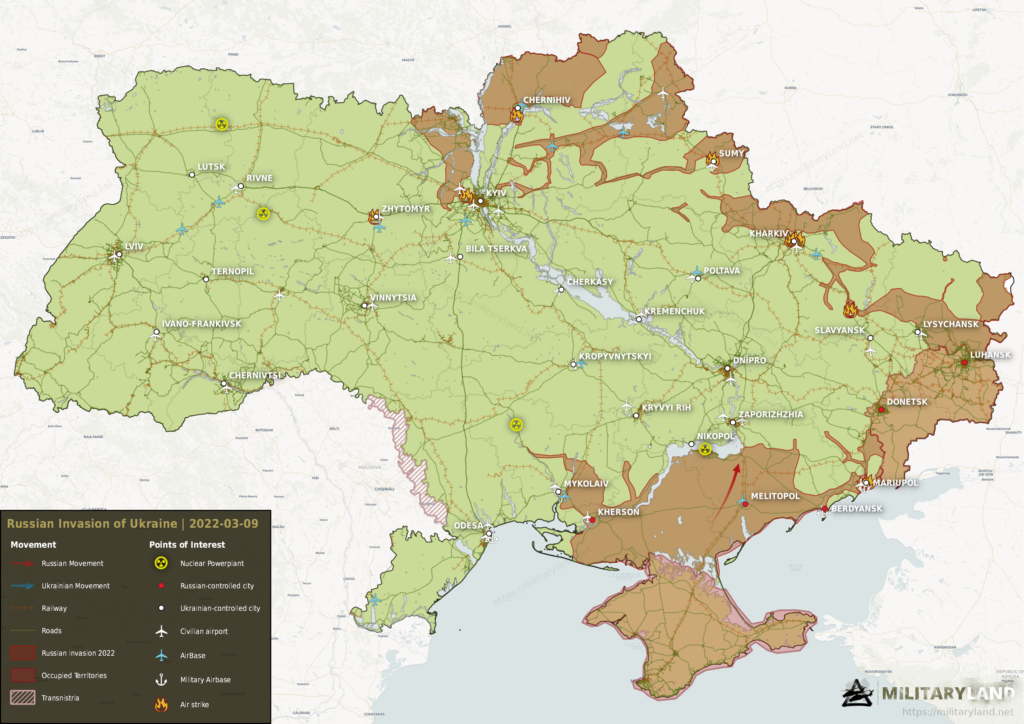 Maps and article are based on the following sources:
General Staff of the Armed Forces of Ukraine, official channels of Ukrainian regional administrations, Ukrainian Ministry of Internal Affairs, Ukrainian Ministry of Defense, Security Service of Ukraine (SBU), press released of DPR and LPR (taken with grain of salt)
Visit our Deployment map for updated interactive map of captured areas and Ukrainian units.
Make sure to follow us on Twitter for the latest updates on Ukraine.