The summary of the 13th day of Russian invasion to Ukraine, as of 23:59 – 8th of March 2022.
The first humanitarian corridor has begun to work in Sumy. Mariupol is reaching a critical stage and Russian forces continue to regroup its forces in order to attack regional capitals.
Polesia Frontline
includes Kyiv and Zhytomyr Oblast
Kyiv Oblast
On the right-bank of Dnieper, it's confirmed Russian forces are in control of Borodianka, Kopyliv, Demydiv and they also entered to Bucha. Despite heavy losses in manpower and equipment, Russian troops were able to capture Yasnohorodka.
On the left-bank, Russian forces entered Bohdanivka and setup positions on the highway M-01 (Kyiv – Chernihiv).
Zhytomyr Oblast
Another strike was reported near Zhytomyr, but no details has been published yet.
---
Northern Frontline
includes Chernhiv and Sumy Oblast
Chernihiv Oblast
Russian forces tried to assault the city from the east, but Ukrainian defense repelled the attack.
Sumy Oblast
Russian planes bombed residential areas of Sumy and Okhtyrka. The airstrike in Sumy killed 21 people. Ukrainian forces attacked a small village of Kharkivshchyna (south of Sumi) and killed several Russian soldiers.
A humanitarian corridor has been opened today and civilians were able to leave Sumy. About 3 500 civilians used this opportunity.
---
Sloboda Frontline
includes Kharkiv and Luhansk Oblast
Kharkiv Oblast
A Russian assault group of about 120 soldiers landed in Vovchansky district by three helicopters and tried to enter the city. Ukrainian response was quick and, together with Territorial Defense Units, they repelled the attack. A dozen of Russian soldiers were killed, the rest retreated towards the Russian border. The enemy continues to shell the city.
Difficult situation remains in Izium. Russian troops attempted to capture the town, but Ukrainian forces repulsed the attack. The town is without food, water, gas and heat.
Luhansk Oblast
Russian advanced elements reached Izium and Rubizhne, but both towns remains under Ukrainian control. Sievierodonetsk and Lysychansk are under the treat of being besieged.
---
Pryazovia Frontline
includes Donetsk and Zaporizhzhia Oblast
Donetsk Oblast
Russian forces reportedly captured Novotroitske, Volnovakha and reached Staryi Krym from the north.
Zaporizhzhia Oblast
Russian forces continue to regroup its forces near Vasylivka and Tokmak. No gains or loses reported from this area.
---
Mariupol
Ukrainian forces had to dismantle fortifications and demine the main road to allow civilian evacuation from Mariupol. Russian forces used this opportunity and assaulted the town from Stary Krym and reached the outskirts of Mariupol. In the west, Russian forces captured Manhush and pushed alongside the Sea of Azov to Pokrovske. The maneuver puts the Ukrainian forces stationed at the Mariupol airfield at risk of being encircled. The planned evacuation of civilians didn't happen.
---
Southern Frontline
includes Kherson, Mykolaiv and Odesa Oblast
Mykolaiv Oblast
The night was relatively quiet. Russian forces are reportedly preparing a large scale attack on Mykolaiv. Ukrainian forces set up additional checkpoints, fortifications and are ready to defend the city. Additional Ukrainian reinforcements arrived to the city during the day and there are talks about possible counter-offensive towards Kherson.
Kherson Oblast
Residents of Kherson came to the streets again to protest against Russian occupation. No military action has been reported from this area.
---
Full map
The full overview map of current situation.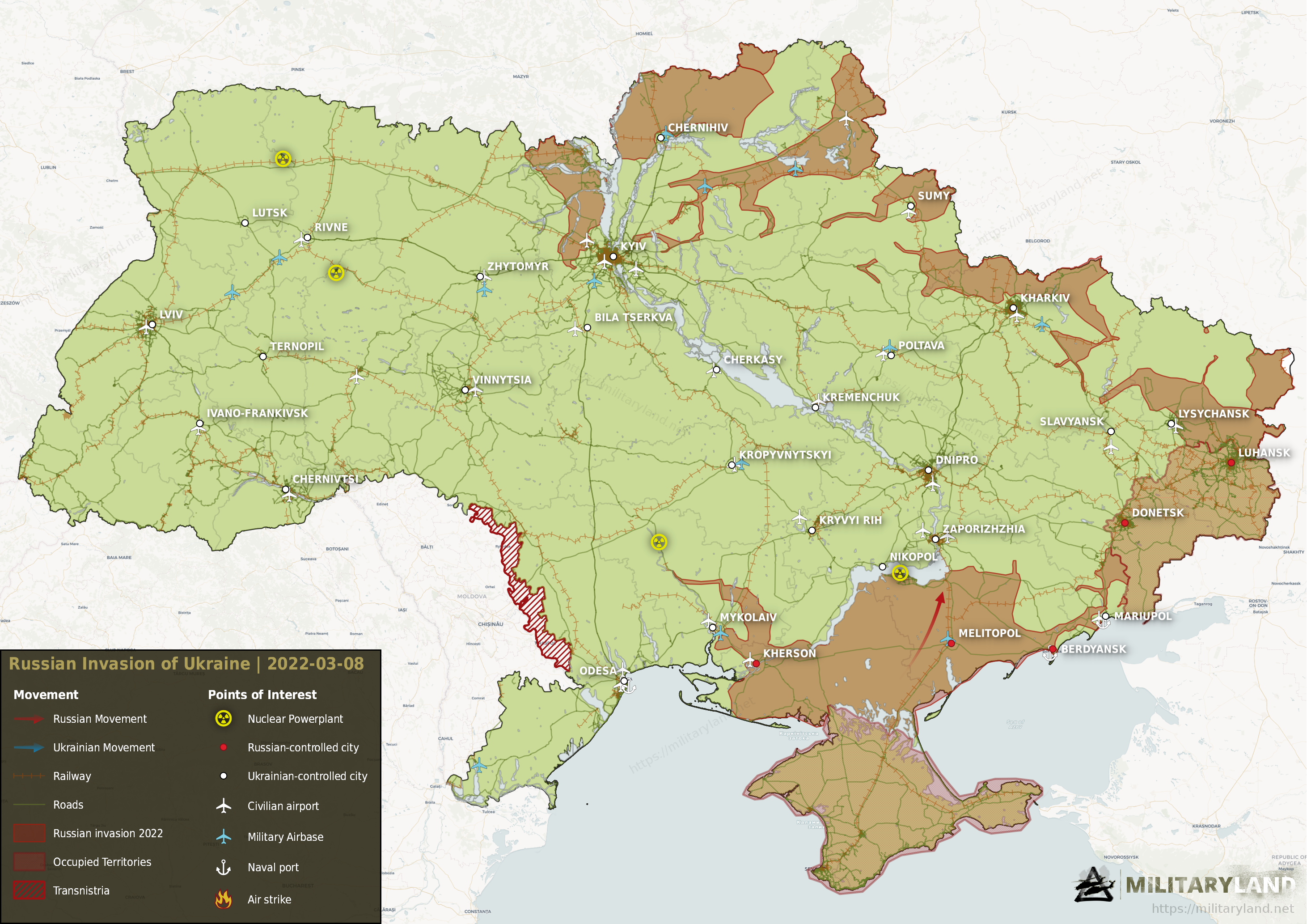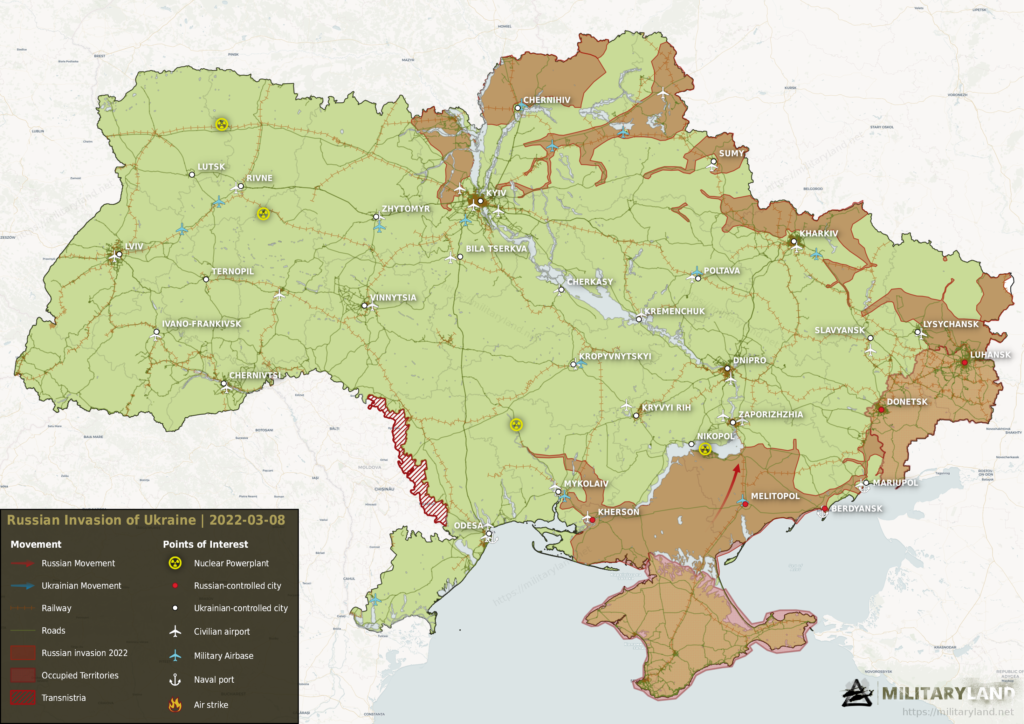 Maps and article are based on the following sources:
General Staff of the Armed Forces of Ukraine, official channels of Ukrainian regional administrations, Ukrainian Ministry of Internal Affairs, Ukrainian Ministry of Defense, Security Service of Ukraine (SBU), press released of DPR and LPR (taken with grain of salt)
Visit our Deployment map for updated interactive map of captured areas and Ukrainian units.
Make sure to follow us on Twitter for the latest updates on Ukraine.