The summary of the 102nd day of Russian invasion to Ukraine, as of 22:00 – 5th June 2022 (Kyiv time).
Day summary:
Russian army focusing its forces primarly on Sievierodonetsk and the Siversky Donets area. Ukrainian forces have a local success in Kherson Oblast, in the area of Bilohirka.
Russian army continues to target border areas of Ukrainian Chernihiv and Sumy Oblasts.
Kharkiv Frontline
includes the area of Kharkiv and Chuhuiv

mostly cloudy | ~24 °C
Shelling: Korotych, Tsyrkuny, Cherkaski Tyshky, Rusky Tyshky, Stary Saltiv, Chepil
There was no change on the ground in Kharkiv Oblast.
---
Siverskyi Donets
includes the area of Slovyansk, Kramatorsk and Bakhmut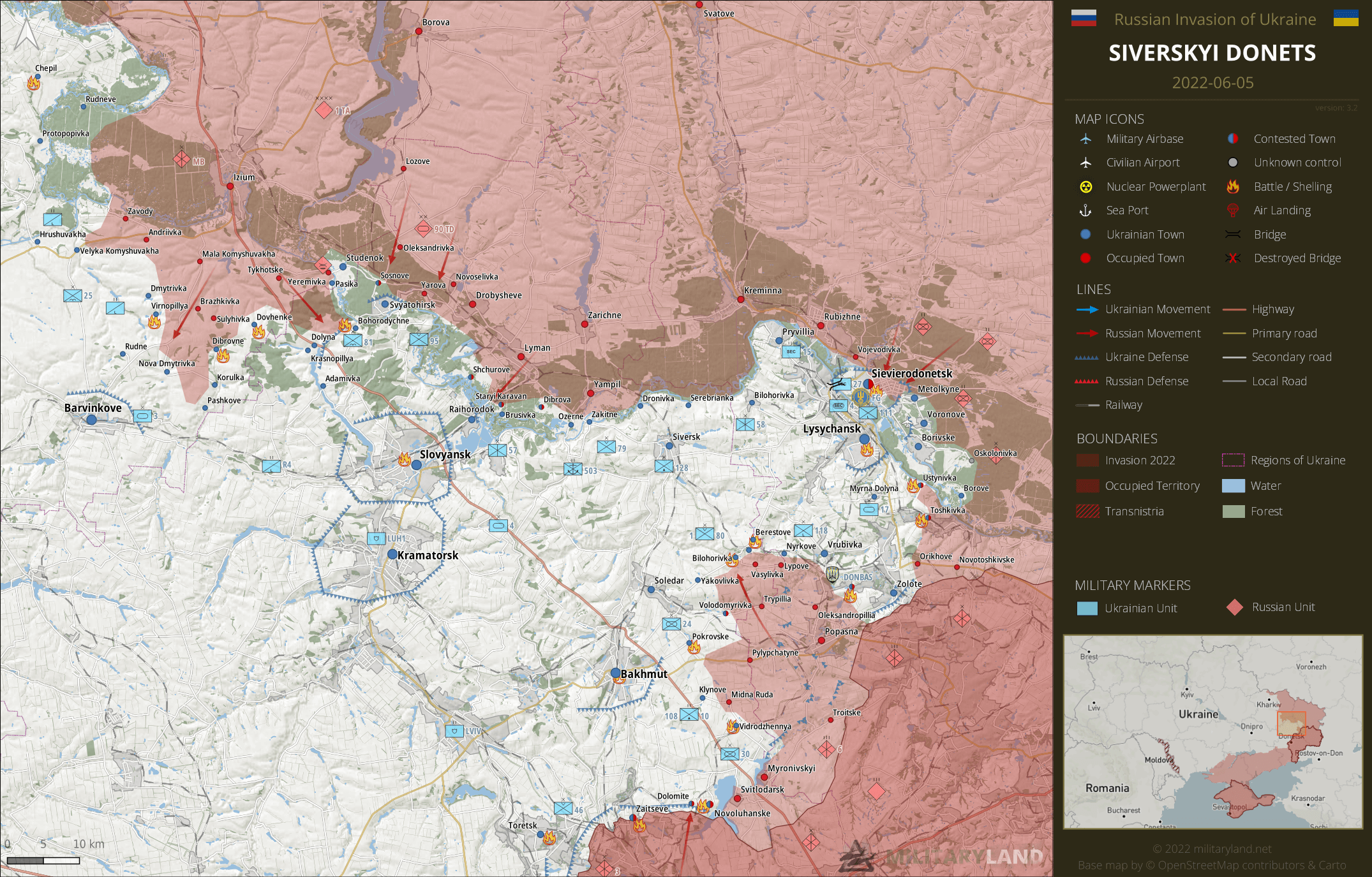 partly sunny | ~27 °C
Shelling: Virnopillya, Dibrovne, Dovhenke, Bohorodychne, Slovyansk, Sievierodonetsk, Lysychansk, Ustynivka, Toshkivka, Bilohorivka, Berestove, Pokrovske, Bakhmut, Dolomitne, Zaitseve
Barvinkove direction

Russian troops resumed offensive operation in the direction of Barvinkove and attempted to break through Ukrainian lines near Virnopillya. The attack was repelled.
Slovyansk direction
Russian forces attacked Bohorodychne, Dovhenke, but without success and retreated.
The enemy intensifies attacks on the left bank of Siversky Donets towards Svyatohirsk and Stary Karavan, trying to push Ukrainian forces to the right bank. Russian sources claim that Ukrainian troops retreated from Shchurove.
Based on the available footage, it's safe to assume Russian forces captured Yarova near Svyatohirsk.
Sievierodonetsk direction
Ukrainian forces conducting counter-offensive operations in the city of Sievierodonetsk. The enemy concentrates its main force in the eastern district.
Fighting continues in Ustynivka and Komyshuvakha.
Bakhmut direction
Russian forces again attempted to seize Nyrkove and nearby area, but failed.
---
South-Eastern Front
includes Donetsk and Zaporizhzhia Oblast
partly sunny | ~28 °C
Donetsk Oblast
Shelling: Zelene Pole, Novosilka, Vremivka, Marinka, Krasnohorivka, Avdiivka, Novoselivka, Niu-York, Toretsk
Russian army has reportedly changed its tactic and focuses on targeting units in the rear, trying to disrupt Ukrainian supply lines.
Zaporizhzhia Oblast
Shelling: Kamyanske, Orikhiv, Huliaipole, Bilohiria, Malynivka
There was no change on the ground in Zaporizhzhia Oblast.
---
Kherson Frontline
includes the vicinity of Kherson and Mykolaiv

partly sunny | ~29 °C
Shelling: Mykolaiv, Luch, Blahodatne, Shyroke, Tokareve
Ukrainian General Staff reported fighting in the vicinity of Sukhyi Stavok and Lozove. Russian troops reportedly attempted to recapture previously lost positions, but the attack was repelled.
---
Full map
The full overview map of current situation.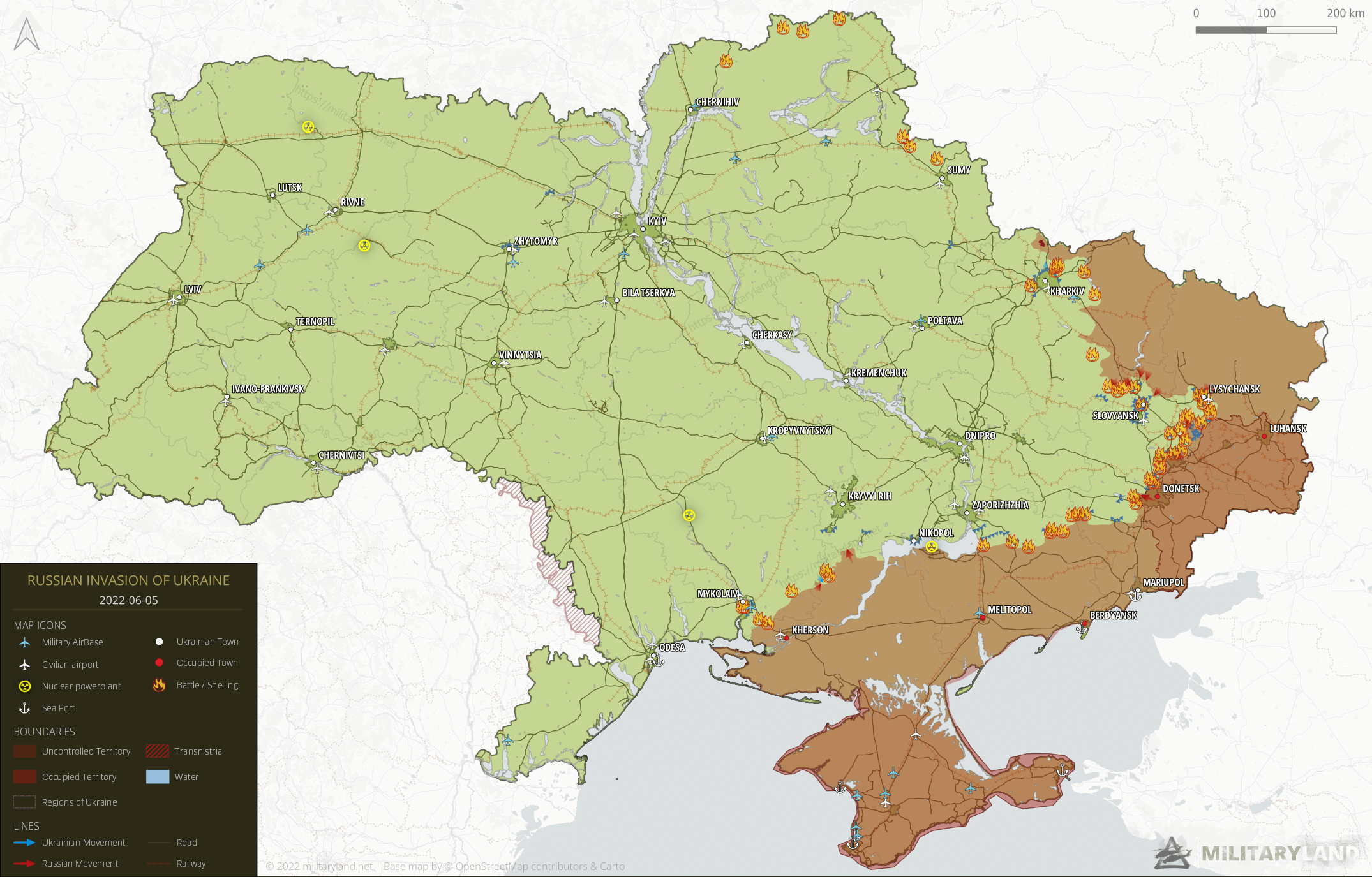 Maps and article are based on the following sources:
General Staff of the Armed Forces of Ukraine, official channels of Ukrainian regional administrations, Ukrainian Ministry of Internal Affairs, Ukrainian Ministry of Defense, Security Service of Ukraine (SBU), press released of Russian Army, DPR and LPR (taken with a grain of salt)
Visit our Deployment map for updated interactive map of captured areas and Ukrainian units.
Make sure to follow us on Twitter & Telegram for the latest updates on Ukraine.