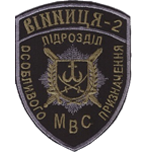 Vinnytsya-2 company (Рота Вінниця-2) is a police company formed from police officers as well as some volunteers. The unit is regularly deployed alongside its sister's unit, Vinnytsya battalion. Apart from that, no information is available about this company.
[tabs class="tabs-unit"]
[tab title="RECENT NEWS" active="true"]
List of news posts which mentions the unit.
[/tab]
[tab title="STRUCTURE"]
Most likely two or three platoons.
[/tab]
[tab title="UNIFORMS"]
Multicam
Locally made Multicam uniform is a cheap and popular variant for soldiers in Ukraine. The camouflage is designed for usage in various environments.
Flecktarn
Locally made Flecktarn uniform is very popular among volunteers across Ukraine. It's cheap and widely available. The pattern works well in the various environment.
Vinnytsia-2 company shares uniform patterns with Vinnytsia battalion.
[/tab]
[tab title="EQUIPMENT"]
BTR-80
Type: APC | Quantity: 1
[/tab]
[tab title="WARPATH"]
The unit regularly patrols in Donbas but there are no reports of being involved in some battle.
[/tab]
[tab title="CASUALTIES"]
Manpower
There are no reports of losses for this unit.
Equipment
There are no reports of losses of equipment for this unit.
[/tab][/tabs]