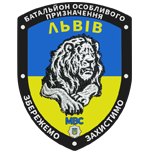 Lviv battalion (Батальйон Львів) is a police battalion formed from volunteers of Lviv region as well as former officers of internal troops. The battalion initially lacked proper clothing and equipment, which caused dozen volunteers to quit. Lviv battalion was never reformed and has the same structure since its creation in 2014.
List of news posts which mentions the unit.
The structure of this battalion is unknown.
Flecktarn
Locally made Flecktarn uniform is very popular among volunteers across Ukraine. It's cheap and widely available. The pattern works well in the various environment.
Border Guards type
Camouflage developed specially for border guards of Ukraine. Due to the lack of other uniforms, it is also used by other units.
There is no information available about the equipment of this unit.
Krymske
April 2014 – 22 July 2014
A small village in Luhansk region was liberated by Ukrainian forces and volunteer units in summer 2014. It later became an important stronghold for Ukrainian forces.
Debaltsevo 2015
1st January 2015 – 18th February 2015
Russian forces launched an offensive to capture important railway crossroad, the city of Debaltsevo. Ukrainian forces had not enough manpower in the area and they had to withdraw.
Manpower
One soldier of the battalion died during the liberation of Krymske. Another during an attack by separatists on a checkpoint near Stasnya Luhanska. Two soldiers of Lviv battalion died during the battle of Debaltsevo in 2015.
Equipment
There are no reports of losses of equipment for this unit