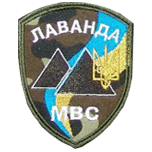 Lavender company (Батальйон Лаванда) is a consolidated detachment of traffic and special police in Rivne region. The unit was formed on the basis of disbanded Berkut unit in Rivne. While Lavander is the official name of the unit, it didn't gain much popularity and consolidated detachment is used instead. Insignias weren't distributed although they exist. The unit wears standard Ministry of Internal Affairs insignias.
[tabs class="tabs-unit"]
[tab title="RECENT NEWS" active="true"]
List of news posts which mentions the unit.
East company's and Lavender company's pages have been added to our site. The pages contain the unit's structure, equipment, uniforms, and warpath.
[/tab]
[tab title="STRUCTURE"]
The current structure of the unit is unknown.
[/tab]
[tab title="UNIFORMS"]
Flecktarn
Locally made Flecktarn uniform is very popular among volunteers across Ukraine. It's cheap and widely available. The pattern works well in the various environment.
Border Guards type
Camouflage developed specially for border guards of Ukraine. Due to the lack of other uniforms, it is also used by other units.
[/tab]
[tab title="EQUIPMENT"]
There is no information available about the equipment of this unit.
[/tab]
[tab title="WARPATH"]
The unit was not deployed to the frontline.
[/tab]
[tab title="CASUALTIES"]
Manpower
There are no reports of losses for this unit.
Equipment
There are no reports of losses of equipment for this unit.
[/tab][/tabs]