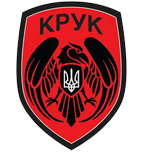 4th Operation Battalion "Kruk" (батальйон Крук) is a military battalion of the National Guard of Ukraine. Military reservists and volunteers from all over Ukraine, including Crimea, joined the unit. The battalion is supported by the local Cossacks organization. The unit was deployed on the frontline in the Luhansk region and to Popasna. Their duty was to maintain checkpoints and protect public order. Six soldiers were wounded during the course of the first months of deployment, but none was killed.
List of news posts which mentions the unit.
1st Company
There is no info about the 1st battalion.
2nd Company
There is no info about the 2nd battalion.

3rd Company
There is no info about the 3rd battalion.
Multicam
Locally made Multicam uniform is a cheap and popular variant for soldiers in Ukraine. The camouflage is designed for usage in various environments.
Viper Dark
National Guard received a dark variation of Viper camouflage in 2014 among other variants. The uniform works well in urban combat.
BTR-60
Type: APC | Quantity: 2
Popasna
18 July 2014 – 22 June 2014
On July 8, 2014, the Pro-Russian forces captured the town and set up checkpoints on its outskirts. Ukrainian side responded with force and liberated the town.
Manpower
No soldier of the battalion was killed during the anti-terrorist operation but one died during training in the Ivano-Frankivsk region in 2015.
Equipment
There are no reports of losses of equipment for this unit.