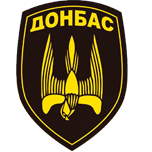 Donbas battalion (батальйон Донбас) was founded by Semen Semechenko, originally as national militia in Donetsk region. In April 2014, the unit was renamed to Territorial Battalion of Donbas but the leadership of Donetsk region did not support Semechenko's initiative and the volunteer unit was forced to relocate to Dnipropetrovsk region. Nowadays, Donbas Battalion is far from what it was in 2014. While there still remains some veterans, who participated in Illovaysk and Debaltsevo, many of them left the battalion.
List of news posts which mentions the unit.
Operation Report is a summary of what happened in Joint Forces Operation Zone (previously known as Anti-Terrorist Operation zone or ATO) during the last week.
Many sites refer to subordinate units of Donbas as battalions, not companies. Three are known to exist.
1st Battalion
There is no info about the 1st battalion.
2nd Battalion
Participated in the battle of Debaltsevo.

3rd Battalion "Dome"
The third battalion is also known as Detachment Dome.
Flecktarn
Locally made Flecktarn uniform is very popular among volunteers across Ukraine. It's cheap and widely available. The pattern works well in various environments.
Multicam
Locally made Multicam uniform is a cheap and popular variant for soldiers in Ukraine. The camouflage is designed for usage in various environments.
British DPM
Locally made British DPM is popular among Ukrainian volunteers. It's cheap and widely available, the same as Flecktarn. Works well in the natural environment.
Standard Olive
Most common uniform of National Guard units. Lacks any kind of pattern and is relatively cheap.
BTR-80
Type: APC | Quantity: 1
BTR-70
Type: APC | Quantity: 1
BTR-60PB
Type: APC | Quantity: 1
BRDM-2
Type: APC | Quantity: 1
Kraz Spartan
Type: LAV | Quantity: 1
MT-LB-ZU-23
Type: APC | Quantity: 1
Karlivka
23rd May 2014 – 23rd July 2014
Armed forces of Ukraine in cooperation with volunteer battalions Pro-Russian forces had to retreat as Ukrainian military formations bypassed Karlivka and encirclement was possible.
Kostian tynivka
5th July 2014 – 8th July 2014
Pro-Russian forces captured the governmental buildings inside the city on 28th of April. Ukrainian forces, with help of volunteer battalion Donbas liberated the city in early July.
Popasna
18th July 2014 – 22 June 2014
On July 8, 2014, the Pro-Russian forces captured the town and set up checkpoints on its outskirts. Ukrainian side responded with force and liberated the town.
Pisky
21st July 2014 – today
The operation to de-block Donetsk Airport and clear the outskirts of Donetsk has started on 21st of July. The contact line was changing almost daily until the Minsk-2 agreement.
Lisichansk
22nd July – 24th July 2014
24th Mechanized Brigade with the support of Donbas battalion entered the city on the morning of 23rd of July. The Ukrainian flag was raised above the city in the evening of 24th of July.
Pervomaysk
26th July 2014 – 14th August 2014
Armed Forces with the support of Donbas battalion liberated the city on July 12th. Pro-Russain forces conducted counter-offensive on August of 14th but it was repelled by Ukrainian forces.
Illovaisk
6th August 2014 – 3rd September 2014
An initially successful large-scale operation to liberate strategically important train crossroad ceased when Russian regular forces crossed the border into Ukraine and encircled Ukrainian forces there.
Bakhmutka Highway
7th October 2014 – today
Ukraine forces set up multiple checkpoints on the highway connecting Luhansk with Lisichansk. The checkpoints have been under constant attack since.
Vuhlehirsk 2015
18th January 2015 – 31st January 2015
Russian forces began an assault on Vuhlehirsk from multiple directions. Ukrainian defense lines collapsed after several days. Multiple counterattacks were launched but all failed.
Debaltsevo 2015
1st January 2015 – 18th February 2015
Russian forces launched an offensive to capture important railway crossroad, the city of Debaltsevo. Ukrainian forces had not enough manpower in the area and they had to withdraw.
Logovino
9th February 2014 – 15th February 2015
Russian forces captured Logovino and defacto surrounded Ukrainian forces in Debaltsevo. The operation to de-block Debaltsevo was launched the next day but was not successful.
Shyrokyne
10th February 2015 – today
Regiment Azov met heavy resistance in Shyrokyne during their offensive in 2015. After a year of static battles, militants withdrew from the town.
Manpower

Equipment
There are no reports of losses of equipment for this unit.