Azov originated from Biletsky's national organization Patriot of Ukraine. Its members participated in EuroMaidan and many of them joined the volunteer battalion. The unit was also supported by members of Automaidan and ultras of FC Metalist Kharkiv. The unit was reformed into a regiment in late 2014 and received military equipment from the government of Ukraine, including T-64B1M tanks, D-30 artillery, and various LAVs.
List of news posts which mentions the unit.
The list of Ukrainian units who have been heroically defending the besieged city of Mariupol for longer than 40 days and counting.
First Battalion
The battalion had originally four companies but as a result of expansion in October, the second battalion was formed and the number of companies reduced to three.
1st Company
The company regularly attends training. Their history is unknown.
2nd Company
There is no info about the 2nd company of the first battalion.
3rd Company
The third company was deployed to Odesa in 2016. The unit has five platoons.
Second Battalion
The newest battalion of Azov Regiment. The battalion underwent special training conducted by Georgian, Canadian and American instructors. The commander of the battalion is a soldier nicknamed Kirt.
1st Company
Originally part of the Tank Battalion but later reformed into a standalone unit and moved to the second battalion as first company.
2nd Company
The "Iron Hundred" led the offensive on Shyrokine and nearby areas. Many members are part of the Azov since 2014.
3rd Company
A formerly 4th company. The cadets underwent a special training and call themselves as "Spartans".
Special units
Tank Company
The company is equipped with T-64B1M tanks and recovery vehicles.
Artillery Division
Division equipped with heavy D-30 artillery and 120mm mortars.
Mortar division
It's unclear if there is just one mortar division or more and divided into battalions.
The regiment began its operations in pure black uniforms, mainly seen in Mariupol and Torez. The black colour did not perform well in outside the towns and Azov's leadership decided to change the uniforms to Flecktarn.
Flecktarn
The uniform was used commonly during operations in 2014 and during 2015 was slowly replaced by Multicam. Some units, however, kept the uniform, mainly reservist and some veterans.
Multicam
The battalion decided to unite uniforms in order to get a more professional look. Locally made Multicam was selected and all frontline units received this camo.
Most vehicles use unified camouflage but some still have not been painted yet and use either standard National Guard camouflage or a custom one.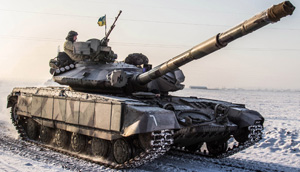 T-64B1M
Type: MBT | Quantity: 10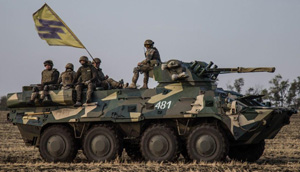 BTR-3E1
Type: APC | Quantity: 5+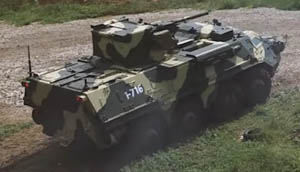 BTR-4
Type: APC | Quantity: 1+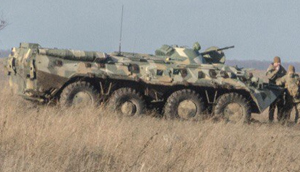 BTR-80
Type: APC | Quantity: 1
BTR-70
Type: APC | Quantity: 1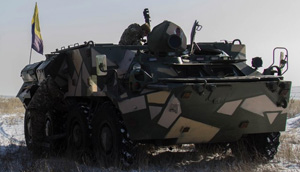 BTR-3M1
Type: APC | Quantity: 1+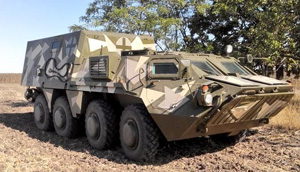 BMM-4S
Type: APC | Quantity: 1+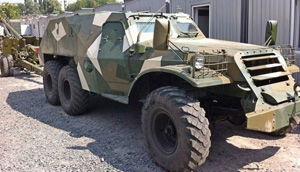 BTR-152
Type: LAV | Quantity: 1
MT-LB-ZU-23
Type: APC | Quantity: 5+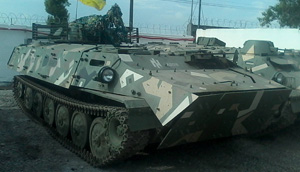 MT-LB
Type: APC | Quantity: 2+
BRDM-2
Type: LAV | Quantity: 2+
Kraz Coughar
Type: LAV | Quantity: 4+
Kraz Cobra
Type: LAV | Quantity: 2+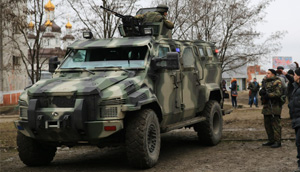 Kraz Spartan
Type: LAV | Quantity: 5+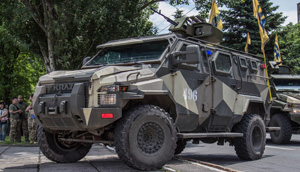 Kraz Spartan Sarmat
Type: LAV | Quantity: 1+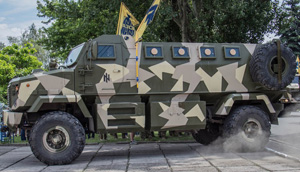 Kraz Shrek
Type: LAV | Quantity: 2+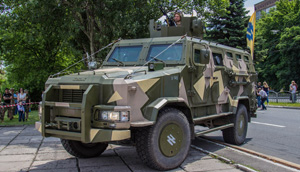 Kozak-2
Type: LAV | Quantity: 2+
Varta
Type: LAV | Quantity: 4
BTS-4
Type: Recovery | Quantity: 1+
Mariupol
6 May 2014 – 14 June 2014
Militants captured governmental offices and forced local National Guard units to leave the city. After a week, Ukrainian Army in a joint operation with volunteer battalions forced militants to flee the city.
Torez
23 May 2014
Members of Azov Battalion secured Torez's city council but didn't have enough manpower to hold the area. Militants set up checkpoints in the area and the unit was forced to retreat.
Marinka
April – 5th August 2014
The combined operation of Armed Forces and volunteer battalions to liberate the city. After several days of minor clashes, militants were forced to retreat to nearby Donetsk.
Illovaisk
6th August 2014 – 3rd September 2014
Initially successful large-scale operation to liberate strategically important train crossroad ceased when Russian regular forces crossed the border into Ukraine and encircled Ukrainian forces there.
Shyrokyne
10th February 2015 – today
Regiment Azov met heavy resistance in Shyrokyne during their offensive in 2015. After a year of static battles, militants withdrew from the town.
Manpower

Equipment
| | | | | | |
| --- | --- | --- | --- | --- | --- |
| Type | Number | Image | Event | Status | Info |
| T-64B1M | n/a | | Unspecified clash near Mariupol 2015 | Damaged | |
| BTR-3E1 | n/a | | Battle of Shyrokyne 2015 | Destroyed | Destroyed during the offensive inside Shyrokyne village and used as propaganda material on Russian media. Recovered by Ukrainian Army in 2017. |
| Kraz Spartan | n/a | | Battle of Shyrokyne 2015 | Damaged | Heavily damaged during the battle of Shyrokyne in 2015, crew died inside. The vehicle was recovered by Right Sector later the same year. |
| Kraz Spartan Sarmat | n/a | | Battle of Shyrokyne 2015 | Abandoned | The LAV was left behind during counter-offensive by Russian forces. It was first Kraz Spartan captured. |