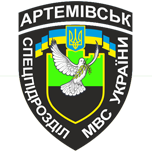 Battalion Artemivsk (Батальйон Артемівськ) was a battalion of special police units formed in May 2014. The main purpose of the battalion was to protect public order in towns near the frontline but due to lack of manpower, they were deployed to the frontline and supported regular army units. It was the first Special Police unit that received heavy equipment such as tanks and APCs. In October 2015, Artimivsk Battalion was disbanded by order of Ministry of Internal Affairs. Most experienced fighters were selected to a newly formed unit of rapid reaction.
A page of Artemivsk Battalion of Former Volunteer Units was added to our site. The page contains the unit's structure, uniforms, warpath, and more.

1st Company
The first infantry company of Artemivsk Battalion.

2nd Company
The second infantry company of Artemivsk Battalion.

Armoured Platoon
The armoured platoon of Artemivsk Battalion equipped with three T-64B tanks and one BMP-1.
Multicam
Locally made Multicam uniform is a cheap and popular variant for soldiers in Ukraine. The camouflage is designed for usage in various environments.
Flecktarn
Locally made Flecktarn uniform is very popular among volunteers across Ukraine. It's cheap and widely available. The pattern works well in the various environment.
UCP
Universal Camouflage Pattern (UCP) is digital camouflage and not commonly used in Ukraine. The pattern performs well in the urban environment but general performance was many times questioned.
T-64B
Type: MBT | Quantity: 3
BMP-1
Type: IFV | Quantity: 1
BRDM-2
Type: LAV | Quantity: 2
Lyman
3 June 2014 – 19 June 2014
The operation to liberate Lyman began on June 3 with support of helicopters. The town was liberated on the 5th of June but fighting in the surrounding villages lasted for a few more days.
Horlivka
12 April 2014 – today
Pro-Russian forces captured a police station and important buildings in April. Ukrainian forces tried to enter the town several times but they were never successful.
Debaltsevo 2015
1st January 2015 – 18th February 2015
Russian forces launched an offensive to capture important railway crossroad, the city of Debaltsevo. Ukrainian forces had not enough manpower in the area and they had to withdraw.
Manpower
Equipment
| | | | | | |
| --- | --- | --- | --- | --- | --- |
| Type | Number | Image | Event | Status | Info |
| BRDM-2 | n/a | | Debaltsevo 2015 | Damaged | One BRDM-2 was left behind in the vicinity of Debaltsevo in 2015. |